This Muslim Territory Put Jewish U.S. Congressman Eliot Engel On A Stamp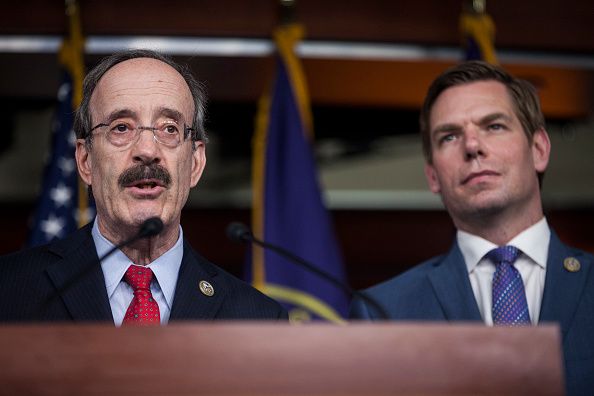 A Muslim nation just put a Jewish leader on one of its postage stamps for the first time — and not just any Jewish leader, but low-level, obscure, glad-handing New York Congressman, drum roll please, Eliot Engel!
The government of Kosovo—which broke away from Serbia and is recognized as an independent country by the U.S.—honored the 28-year congressman with the stamp, citing his support for the country's independence, at least according to Engel.
"My work to promote the U.S.-Kosovo relationship has been among the most meaningful endeavors of my years in Congress. I'm happy to have helped people's lives and promote prosperity in the region," Engel told the Jewish Telegraphic Agency in its report about the stamp.
Engel was among the first U.S. lawmakers to urge the Clinton administration to intervene when Kosovo's Muslim population was fighting Serbian forces under Slobodan Milosevic in the late 1990s. He urged the White House to attack Serbian positions in Kosovo and to impose a no-fly zone for Serbian aircraft there. Engel likened the slaughter of the Balkan Muslims to the atrocities committed by Nazi Germany against European Jews during the Holocaust, which also could have been prevented.
The congressman was also among the first to support Kosovo when it unilaterally declared independence from Serbia in 2008. Most recently, he helped secure $49 million in U.S. government assistance to the country. Aside from the stamp, Engel has a street named after him in the Kosovar town of Peja, though that honor is somewhat muted; the town also has important streets named after Gen. Wesley Clark, President Bill Clinton and Madeleine Albright.
Engel may be celebrated in Kosovo, but he hasn't gained the same level of admiration back home. If he is known for anything, it is his 28-year tradition of staking out a spot at the annual State of the Union address — sometimes waiting hours — just so he would be in position to shake the commander-in-chief's hand. He dispensed with the tradition this year, however, citing his hostility to Congress as an institution.
Pro-American sentiment, however, is common throughout Kosovo, where much of the ethnic Albanian population feels grateful to the U.S. for supporting its bid for independence and spearheading the NATO bombing campaign against Serbia that originally gave it autonomy. Kosovo's capital has streets dedicated to former President Bill Clinton and to retired U.S. army General Wesley Clarke, and many buildings and homes in Kosovo display the U.S. flag.
Currently, 114 countries recognize Kosovo's independence, including all but five members of the European Union.
Don't expect Engel's face to be on too many letters whizzing around Kosovo. His stamp is a 2 euro variety, but regular mail in Kosovo requires only a .40 euro stamp. Even an international letter costs just 1.30 euro within Europe.
Meanwhile, the U.S. and its European allies have poured money into the territory in support of democracy building, infrastructure, and security.
"U.S. involvement in Kosovo remains a key pillar of our efforts to stabilize the Balkan region and ensure a Europe that is whole, free, and at peace. U.S. priorities in Kosovo are focused on strengthening the rule of law, fostering economic growth, and improving regional security," the U.S. State Department said last month.
Nevertheless, some reports suggest that the area has become vulnerable to Islamic extremism. Since the rise of the Islamic State, at least 300 Kosovars out of almost 2 million have gone abroad to support ISIS.