As Kourtney Gets Engaged, Here's Every Kardashian Engagement Ring
Kourtney Kardashian has announced her engagement to boyfriend Travis Barker.
Sharing a photo of the happy couple to her Instagram story, Barker's daughter Alabama wrote: "So happy for you guys! I love u both!"
Kardashian and Barker began dating in January and have been packing in the PDA ever since.
Sharing the moment Barker proposed on Instagram, Kardashian posted pictures of the couple on a beach in Montecito, California, surrounded by roses and candles and captioned "forever."
Sisters Kim, Kendall and Kylie all celebrated by sharing clips and photos of the oldest Kardashian sister and her new fiancé to their Instagram Stories, zooming in on her new ring.
Here's a look at her ring and every other engagement ring to grace a Kardashian finger.
Kourtney Kardashian
Kourtney's new ring appears to be a sparkling oval-cut diamond set on a simple band.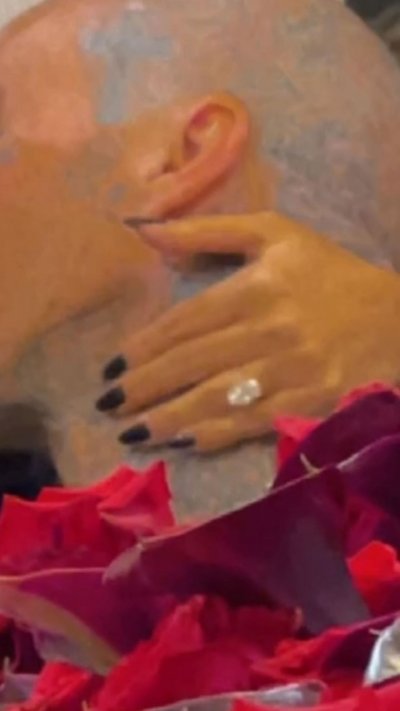 She and Barker topped off the celebrations by dining with their family and friends, around a table covered in roses.
Alabama shared a photo of the evening's menu, which included a pear salad, burrata and persimmon salad, honeynut squash vellutata, butter sage pasta, lobster; and plant-based cacio e pepe.
Kim Kardashian
Kim, who announced plans to divorce her husband Kanye West earlier this year, has been married three times.
Her first marriage was to Damon Thomas. They eloped when she was just 19 years old. Kim later said she was on ecstasy during their ceremony.
It's not known if she ever had an engagement ring. She filed for divorce in 2003.
Engagement to Kris Humphries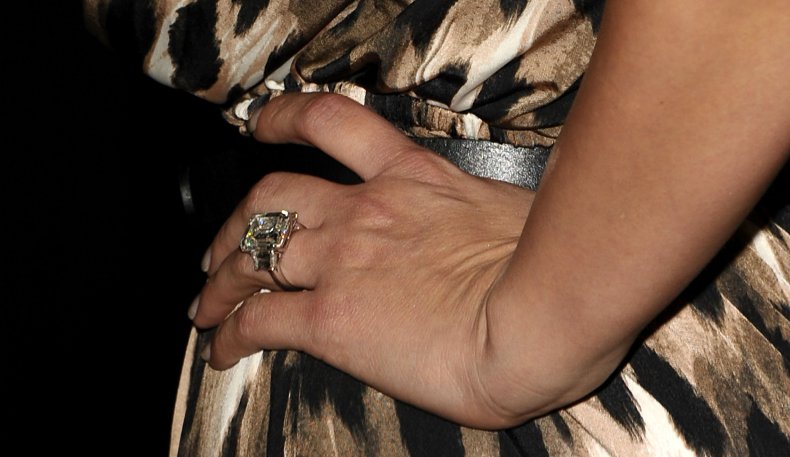 Kim began dating NBA player Kris Humphries in October 2010.
In May 2011 he proposed with an art deco ring by jewelry designer Lorraine Schwartz.
It was reportedly worth $2 million and had19.8 carats, with a 16.2-carat center diamond.
The pair were famously only married for 72 days before Kim filed for divorce citing irreconcilable differences.
She returned the ring to Humphries after their break-up, and once their divorce was finalized, he sold it at auction.
The ring was sold for $620,000 at Christie's with an undisclosed sum from the sale donated to charity.
Engagement to Kanye West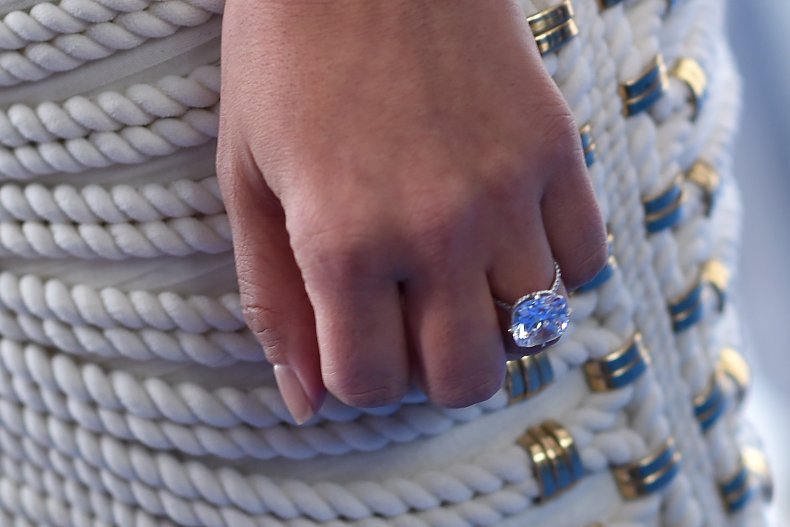 West proposed to Kim on her 33rd birthday at AT&T Park in San Francisco in 2013.
A 50-piece orchestra played Lana Del Rey's "Young and Beautiful" as he popped the question, while the scoreboard said "PLEEEASE MARRY MEEE!!!"
Once again, her ring was designed by Lorraine Schwartz, who collaborated with West on the 15-carat creation reportedly worth $3 million.
A representative of the designer told E News at the time: "The ring is flawless. Not just internally flawless, it's flawless. It's a D-stone, the best diamond there is, type 2A.
"It's a perfect cushion-cut diamond."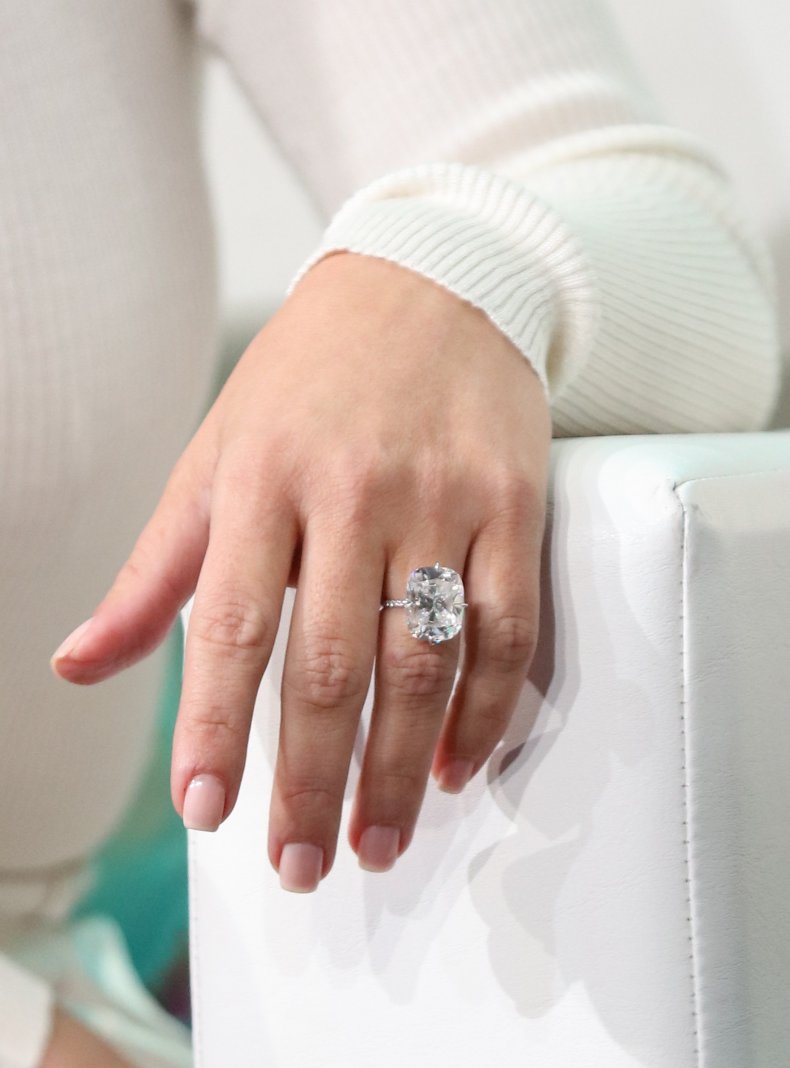 Three years later, West gifted his wife a new ring, again by Lorraine Schwartz.
This one was reportedly closer to 20 carats and emerald cut.
This newer ring was among the items stolen when Kim was targeted by thieves in Paris in 2016.
Armed robbers tied Kim up and stole $10 million worth of jewelry from her hotel room while she'd been in the city attending Paris Fashion Week.
After the robbery, she began wearing less jewelry but was photographed wearing her original engagement ring in November 2019.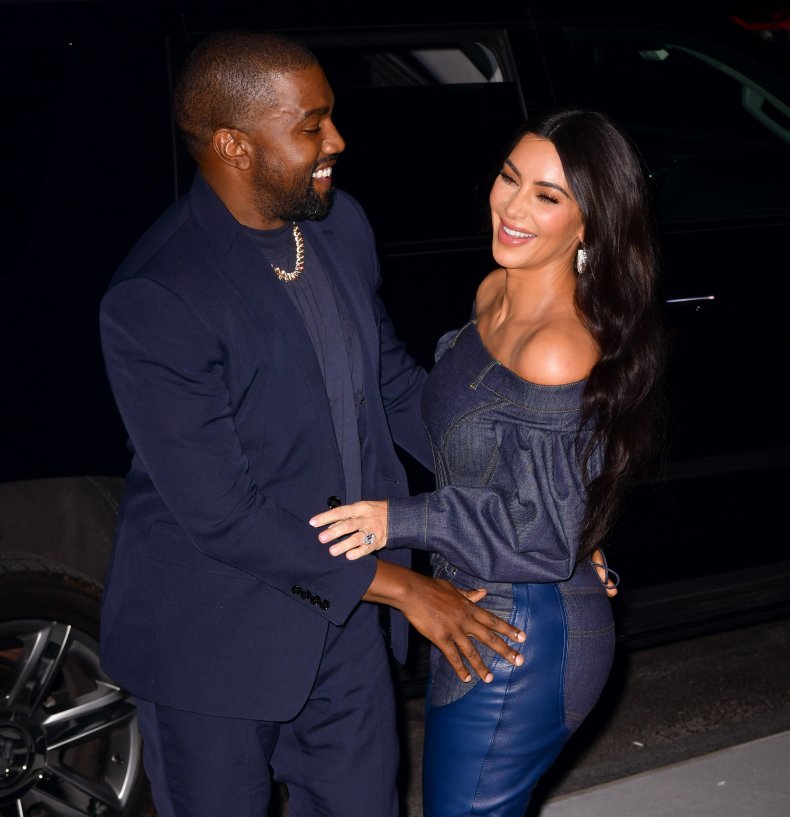 Khloe Kardashian
Khloe married NBA star Lamar Odom in 2009 exactly one month after they met.
Lamar proposed with an Asscher-cut ring, reportedly worth $850,000.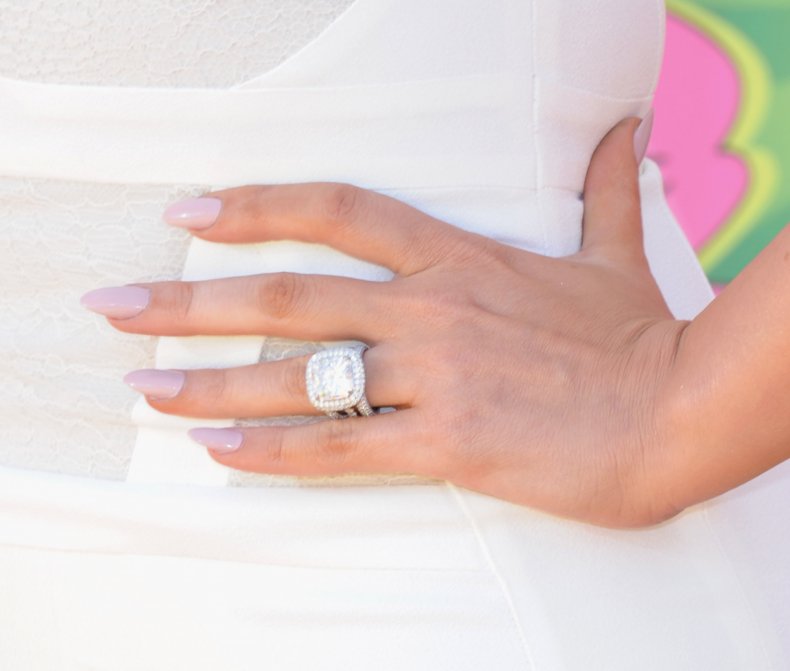 The couple divorced in 2016.
Khloe began dating Tristan Thompson in 2016 and their share daughter True Thompson, 3, together.
Since then, their relationship has been tumultuous amid rumors of cheating, but Khloe was spotted wearing a 13-carat pear-shaped diamond ring in July 2020.
The ring is reportedly worth $2.5 million and sparked speculation that she and Thompson were engaged.
However, a source told Page Six that she's always had the ring and it wasn't a gift from Thompson.