How Kourtney Kardashian's Wedding Veil Is a Subtle Tribute to Travis Barker
Kourtney Kardashian and Travis Barker have tied the knot for the third time with a romantic ceremony in Italy. This time around, the entire Kardashian and Barker families and friends were in attendance to see the couple officially become husband and wife.
Of course, Kourtney Kardashian walked down the aisle in style, sporting a one-of-a-kind corset mini-dress dress by Dolce & Gabbana and hand-embroidered veil. Barker also looked the part, wearing a double-breasted jacket and classic trousers, also by Dolce & Gabbana.
Fans of Kourtney, Travis and the entire Kardashian-Jenner family have been obsessing over the wedding pictures online and in particular, everybody is talking about Kourtney's wedding dress and veil, which included a subtle tribute to her husband.
Newsweek has everything you need to know.
Inside Kourtney Kardashian's Wedding Veil Tribute
To accompany her custom-made Dolce & Gabbana wedding dress, Kourtney wore a gorgeous veil that was hand-embroidered with floral lace appliqués, inspired by the Portofino gardens.
In the middle of the veil was a large embroidered image of the Virgin Mary, with the words "family", "loyalty" and "respect" underneath as a touching tribute to her husband.
The design on the veil is particularly symbolic it was inspired by the Virgin Mary tattoo Travis has on his skull.
Dolce & Gabbana told Entertainment Tonight, that the image was "cross-stitched" and is a symbol of "alliance, respect and common devotion."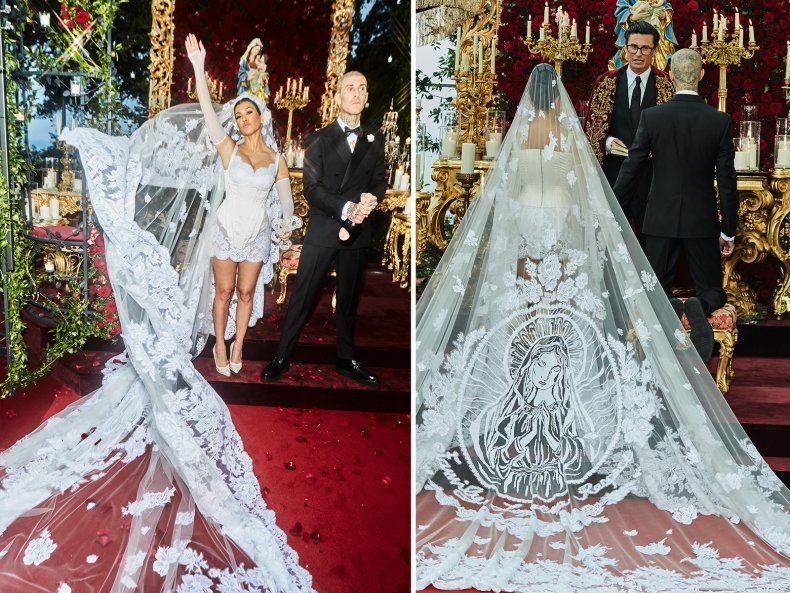 Speaking to Vice in 2015, Travis explained he wanted to have the Virgin Mary tattooed on his skull because of his religious upbringing.
He shared: "I got the Virgin Mary tattooed on my foreman when I was 18, 19, and I was brought up Catholic. I definitely pray; I believe in God. I definitely think I was blessed. So I'm not at church every day and I'm not pushing religion on people. But I believe in God and I pray and my kids pray."
Fans have been sharing their love for Kourtney's veil and the sweet connection to Travis online.
One admirer tweeted: "I'm not normally a veil person but this veil from Kourtney Kardashian's wedding is going to live in my head rent-free. I'm obsessed."
A second fan said: "Kourtney Kardashian's veil ATE honestly."
A third admirer added: "don't think I've seen a prettier veil than Kourtney Kardashian's"
Instead of opting for a floor-length gown, Kourtney chose to go for a short, white corseted dress with silk and lace. Vogue reported the dress was "inspired by 1960s Italian lingerie."
She also wore netted gloves and laced heels to complete her bridal look.
Kourtey and Travis's wedding was held at the Villa Olivetta, a home on the Portofino estate of Domenico Dolce and Stefano Gabbana.
Both families were in attendance, including Kourtney's sisters Kim and Khloe Kardashian and Kendall and Kylie Jenner. Kris Jenner walked her eldest daughter down the aisle.
Kourtney and Travis's kids were also in attendance, including Mason Disick, 12, Penelope Disick, 9, and Reign Disick, 7, who Kourtney shares with her ex, Scott Disick, alongside Travis's son, Landon Barker, 18, daughter Alabama Barker, 16, who he shares with ex-wife Shanna Moakler, and his stepdaughter Atiana De La Hoya, 23, all in attendance.
There were plenty of other famous faces at the lavish Italian ceremony, including rapper Machine Gun Kelly, Blink-182's Mark Hoppus, actress Megan Fox and opera singer Andrea Bocelli.
Kourtney and Travis have already said "I do" twice this May, as the pair officially wed on Sunday, May 15, at the Superior Court of California in Santa Barbara, but it was an intimate affair with only Kourtney's grandmother MJ, and Travis's father Randy in attendance.
They had previously gotten married in Las Vegas in April 2022, but it was not a legal marriage.
Hopefully, fans of the couple will get a bigger glimpse at the wedding if it features in the second season of Hulu's The Kardashians, but for now, fans will just have to keep scrolling through Instagram to see pictures of the day.
The Kardashians airs Thursdays on Hulu and Disney+.