MAMA 2019: How to Vote and Who Can Challenge BTS?
BTS have bagged a string of nominations at the upcoming Mnet Asian Music Awards this December, including Artist of the Year, Song of the Year, Worldwide Fans' Choice, Best Male Group and Best Dance Performance Male Group.
The announcement of the nominees has caused a storm on Twitter, with nearly 2.03 million posts about it already on Thursday.
Fans have been posting about their excitement using the hashtags #MAMA2019 and #MAMAVOTE, both of which are now trending on Twitter, to encourage people to vote for their favorite artists.
BTS member Min Yoon-gi (also known as Suga) was also nominated twice in the Best Collaboration category for the tracks "Song Request (featuring Suga)" and "We Don't Talk Together" by female K-pop star Heize, which was produced by Suga.
The latest award nods come as no surprise with the seven-member K-pop sensation having just added another accolade to their growing list of Guinness World Records, now also holding the official world record for the fastest time to reach one million followers on the video platform TikTok, the record book announced yesterday.
Monsta X, another seven-piece K-pop boy band who recently performed on the Ellen talk show last month, were also nominated in the same categories as BTS.
Formed in 2015, two years before BTS made their debut, Monsta X has released songs in collaboration with some of America's biggest artists including will.i.am and French Montana. They made history last year becoming the first K-pop group to perform on the main stage of the annual Jingle Ball concert series, joining female K-pop star BoA and "Gangnam Style" rapper/singer Psy as the only Korean artists to perform at the Jingle Ball event.
K-pop girl group Blackpink were nominated in the same categories as BTS and Monsta X, as well as the female categories for Best Group and Best Dance Performance. The band has been climbing several music charts since their debut in 2016 and became the highest-charting female K-pop group on the Billboard Hot 100 and Billboard 200 album charts, as well as the first and only female K-pop group to have four No. 1 singles on Billboard's World Digital Song Sales chart, according to Billboard.
K-pop rock group Day6, who this week released their new album and a new music video, were also nominated in the Best Band Performance and Worldwide Fans' Choice categories.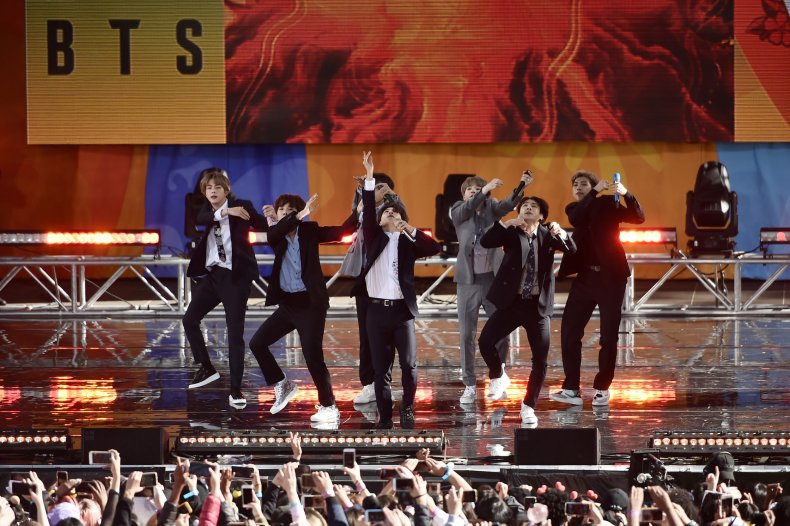 All of the nominees for Best New Male and New Female Artists of the Year also grabbed spots in the Artist of the Year category, while Kim Jae Hwan, the former member of the now-disbanded K-pop group Wanna One, was additionally nominated in the Song of the Year category for his track "Begin Again."
Heize was nominated twice in the same category for Song of the Year for her tracks "She's Fine" and "We Don't Talk Together" featuring Giriboy and produced by Suga. The female rapper and singer/songwriter has been active in 2014 and rose to fame following her appearance on the South Korean reality rap show Unpretty Rapstar.
Other award nominations among the 18 categories include Best Vocal Performance by both a solo artist and group, Best Hip Hop & Urban Music, Best Collaboration and Best OST (original soundtrack).
Fans are able to vote for their favorite artists on the Mnet website until 11:59 p.m. Korean time on December 3.
The Mnet Asian Music Awards will take place on December 4 at 6 p.m. at the Nagoya Dome in Nagoya, Japan.