#DAY6 Trends As K-pop Band Releases New Album 'The Book of Us: Entropy', Fans Praise 'Sweet Chaos' Video
Day6 have unveiled their highly anticipated new album The Book of Us: Entropy today, the South Korean rock band announced on its official website.
The new record showcases an eclectic mix of music genres including L.A. metal, disco, bossa nova and reggae, South Korea's Yonhap News Agency reports.
The latest album "features the process of changes a person's relationship with another person weaves," Young K, the band's main songwriter, said at a press unveiling of the album, according to Yonhap.
The album's first six tracks are said to cover the positive side of this process while the rest focus on the more "chilling" feelings "The process is sometime heartwarming, but other times, it's chilling," Young K said at the event.
The main song "Sweet Chaos," described as a swing number and as the fastest of the band's previous tracks, has been released with a music video. Both the song and album have been well-received by fans already on Twitter, with one user @leeeflexing describing the song's change in tempo as "a masterpiece," and user @jjaehyungie agreed saying: "The effects here were amazing, oh my god hands down best part of the music video." Another user @leeminhykz already named it as "the song of the year!!"
Describing "Sweet Chaos," which starts off with strong drum beats, the band's drummer Dowoon said: "When actually playing it, it is not as fast as it sounds. But the major challenge playing the part was to play it in a honest (unembellished) manner."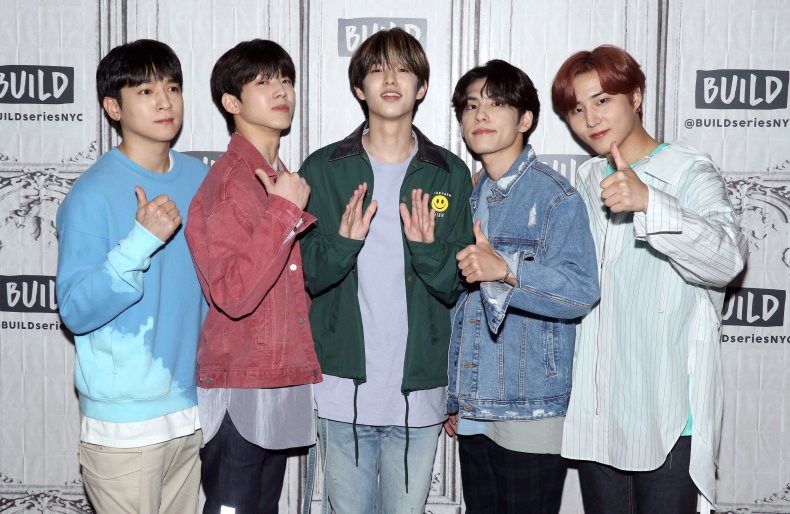 Excitement for the latest release has been building with the band revealing a sample from the album on YouTube as well as teasers of the new music video and images from the album on the group's official account on Twitter, where fans have been posting their thoughts on the new release using several hashtags including #day6, #DAY6, #Sweet_Chaos, #Entropy and #The_Book_of_Us, all of which have been trending on Twitter.
The latest album is the second instalment in the band's The Book of Us series, the first of which was released earlier this year in July. Entropy features 10 other songs in addition to the main track, including "Deep in Love," "Emergency," "Rescue Me," "Not Fine" and "Not Mine."
Day6 is currently on its second world tour—the Gravity World Tour—which will see the group perform in 26 cities around the world, culminating the tour in Madrid on January 31, 2020.
The band was formed in 2014 by JYP Entertainment and is one of the few, if not only, K-pop rock bands who are active on the international music scene, according to Yonhap News Agency.