Kpop Fans Spam Grand Rapids Police Department With Fancams After Crashing Dallas Police App
Police are attempting to use apps and online portals to collect footage of protesters, but Kpop fans are flooding them with fancams instead.
Kpop fans are known for flooding Twitter hashtags with "fancams"—videos of their favorite singers performing—and they typically target other celebrities. But now they are coming together to take on the police, amid nationwide protests following George Floyd's death.
It began on Saturday when the Dallas Police Department said on Twitter: "If you have video of illegal activity from the protests and are trying to share it with @DallasPD, you can download it to our iWatch Dallas app. You can remain anonymous."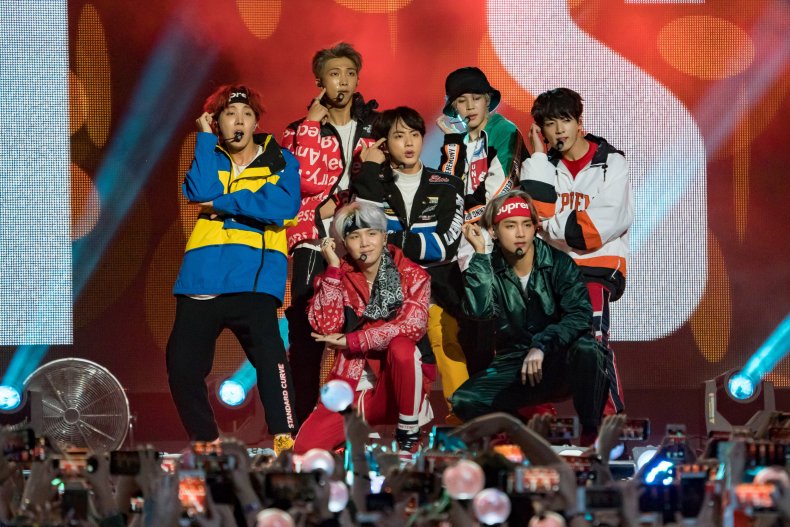 A Kpop fan account shared the police's tweet and said: "guys download the app and f****** FLOOD that s*** with fancams make it SO HARD for them to find anything besides our faves dancing."
Soon after, the Dallas Police Department said on Twitter that "due to technical difficulties" the app would be down temporarily.
Now, Kpop fans are responding to police departments across the U.S. with videos of their favorite singers.
On May 31, Philadelphia Fire Department asked for videos of people setting fires during the protest. On June 1, Kirkland police asked its Twitter followers to use the hashtag #calminkirkland to share information about rioting and looting. Instead, both departments received videos of singers from groups such as BTS and Blackpink.
The fandom's latest target is the Grand Rapids Police Department, which similarly to the Dallas Police Department, set up a portal for the public to submit "video evidence of crime in downtown during protests."
Again, Kpop fans responded with one account saying: "you know the drill! SEND IN ALL OF YOUR FANCAMS!!! CRASH THE WEBSITE!!! MAKE THEM TAKE IT DOWN!!! PROTECT THE PROTESTERS!!!" in a tweet that has more than 111,000 likes and 40,000 shares.
The evidence portal set up by the Grand Rapids police requires users to enter a phone number, and Kpop fans are encouraging each other to enter the numbers of other police departments, as well as the numbers of government buildings and city halls.
Grand Rapid Police's original tweet has now been flooded with videos of Kpop groups, as well as Nicki Minaj lyrics, plus videos that appear to show police instigating violence.
While the Kpop fandom's spamming technique often annoys other Twitter users, this time it seems to be winning people over, as one user said: "I apologize to all the hate I've given Kpop stans. Y'all are comrades" and another said: "For once, Kpop stans spamming videos is a good thing."
Amy Snow-Buckner, Managing Director of Communications for the City of Grand Rapids, told Newsweek: "Any potential 'spamming' or other attempts to interfere with the uploading of evidence is not a concern. The outside vendor we work with has a robust system that includes multiple layers of security and firewalls to protect against such measures.
"We are confident the system will stay in place and successful criminal prosecutions will be the only outcome."