Endangered Breeding Gorilla Among Dozens of Animals Burned to Death at Zoo, Banned Fireworks Suspected Cause
A zoo in Germany has said that all the animals inside a monkey sanctuary have died after a fire broke out there on New Year's Eve.
Chimpanzees, orangutans, gorillas, fruit bats and birds were among the estimated 30 animals killed after the fire broke out in the 6,500 square foot enclosure at Krefeld Zoo that was built in 1975, the BBC reported.
Locals raised the alarm just after midnight on Wednesday. When firefighters arrived, the blaze in the enclosure could not be contained before the building had burned down to its skeletal structure.
German media outlet Deutsche Welle reported that an initial police investigation found that sky lanterns may have ignited the roof of the enclosure and caused the rest of the structure to go up in flames, although the zoo has not confirmed this.
Witnesses described how the cylindrical paper lanterns with little fires inside were seen flying near zoo, according to Gerd Hoppmann, the city's head of criminal police.
Fatal fires in the past spurred authorities in the state of North Rhine-Westphalia where Krefeld is located to ban the miniature hot air balloons in 2009, DW added.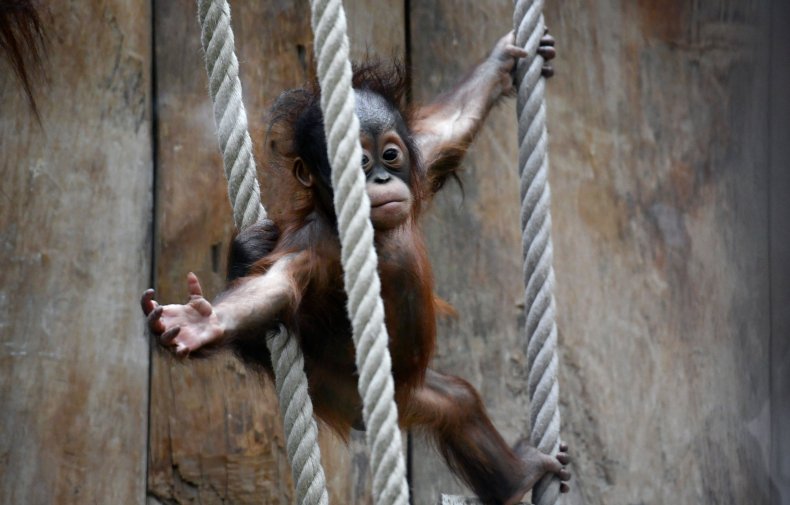 In a statement on its Facebook page, Krefeld Zoo said: "Our worst fears have become reality. There are no surviving animals in the monkey house. An unbelievable tragedy rolled us shortly after midnight. Our human monkey house has burned down to the basic scaffolding."
In a Facebook update on Wednesday afternoon, the zoo said the fire "destroyed monkey house completely—two chimpanzees survived."
It said that "like a miracle" two chimpanzees named Bally and Limbo managed to survive the fire and were only "slightly injured and are now housed in two boxes in the gorilla garden," which had not been damaged.
However, 48-year-old Massa, the oldest living silverback gorilla in the European endangered species breeding programme, died in the blaze, according to German media as cited by The Guardian.
"At the moment, active help at the fire site is not possible, as the house is at risk of collapse," the zoo's statement said, adding, "We are grateful for donations at all levels" and that it would eventually build a new monkey house.
The zoo it was thankful for the offers of assistance, but added: "We are still in shock and cannot yet say exactly if and where help is needed."
The zoo will remain closed on New Year's Day. Newsweek has contacted Krefeld Zoo for an update.