#KremlinKevin Trends After People Point Out Top House Republican Kevin McCarthy Took Donations From Lev Parnas
The hashtag #KremlinKevin trended on Twitter after users pointed out that Rudy Giuliani's indicted associate Lev Parnas donated money to the "Kevin McCarthy for Congress" committee.
Many people posting with the hashtag also shared a clip of House GOP leader Kevin McCarthy comparing the contents of the Horowitz Report to the Watergate scandal.
#KremlinKevin was ranked at 20 on the United States Twitter trending list at the time of writing, with 13,000 tweets using the phrase.
The hashtag came largely in response to a Fox News clip posted by the House GOP leader in which he drew a comparison between the Watergate scandal and revelations in Inspector General Michael Horowitz's report on the opening of the Trump-Russia investigation, also known as "Crossfire Hurricane."
Newsweek subscription offers >
Released earlier this month, the report found no evidence of political bias playing a part in the FBI's decision to begin Crossfire Hurricane, but did criticize the agency over Foreign Intelligence Surveillance Act (FISA) warrant applications.
Horowitz specifically identified 17 "inaccuracies and omissions" in four FISA warrant applications targeting Trump adviser Carter Page. The FISA court is now investigating the applications, The Hill reported Friday.
Speaking to Fox News on Sunday about the Horowitz report, McCarthy said: "They [the FBI] broke into candidate Trump's campaign, spied on him, and then covered it up. It is a modern-day Watergate and you got Democrats who aren't even willing to look into that.
"It's a modern-day coup—the closest this country's ever came to."
He went on to claim the FBI "broke into" the Trump campaign by "bringing people into it" and accused the agency of covering that up. But the Horowitz Report found "no evidence" of undercover employees being placed "within the Trump campaign."
However, the report found that the FBI did "task" undercover employees, leading to "interactions" with "Carter Page, George Papadopoulos, and a high-level Trump
campaign official who was not a subject of the investigation."
Reacting to the clip posted by McCarthy, which has so far been liked 75,000 times, Twitter users dubbed the California Rep. "#KremlinKevin."
Portland State University health advisor Nick Walden Poublon tweeted: "With statements like this it's no wonder that #KremlinKevin is trending."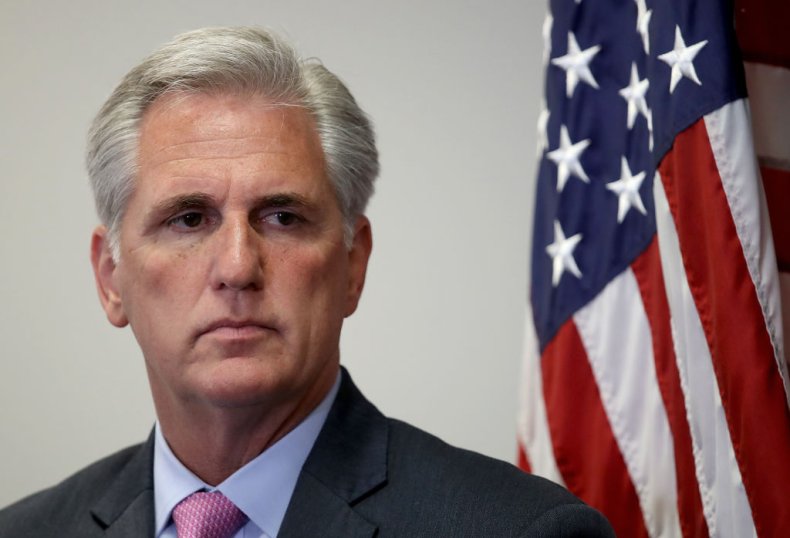 "Here's @GOPLeader Kevin McCarthy lying about how the FBI broke into Trump's campaign, spied on him and tried to cover it up, calling it "a modern-day Watergate," tweeted writer Amee Vanderpool. "The report says the exact opposite-we did look into it, it was discounted. #KremlinKevin."
Other users posted a picture of a $2,700 donation made by Giuliani's associate Lev Parnas to the Kevin McCarthy for Congress campaign.
Federal Election Commission data shows he also made an $11,000 donation to the Protect the House committee that McCarthy helped set up, according to a statement from his spokesperson to CNN.
But the House Minority Leader clarified two months ago that all money donated by Parnas and fellow indicted Giuliani associate Igor Fruman would be given to local charity.
Newsweek has contacted Kevin McCarthy's office for responses to the hashtag and the contents of posts, but did not receive an immediate response.
#KremlinKevin Trends After People Point Out Top House Republican Kevin McCarthy Took Donations From Lev Parnas | U.S.