Kremlin Orders Belarus to Release Alleged Russian Mercenaries
Russia has demanded Belarus release a group of men Minsk accuses of plotting to disrupt presidential elections. Strongman leader Alexander Lukashenko is facing an unexpected challenge from a woman candidate he previously underestimated.
Intrigue is building by the day in Belarus ahead of the ballot on August 9, in which the president, for the first time in his 26 years in power, faces a genuine opposition challenger who is not a token candidate.
Svetlana Tikhanovskaya, initially a stand-in candidate for her husband Sergei Tikhanovsky, who had been barred, has captured the imagination of people around the country. She has appeared on stage with the wives of two other opposition figures, Veronika Tsepkalo and Maria Kolesnikova.
"People, what revolution? We want honest elections," Tikhanovskaya told more than 63,000 people at her rally in Minsk's Park of Peoples' Friendship on Thursday, where she appeared flanked by the women.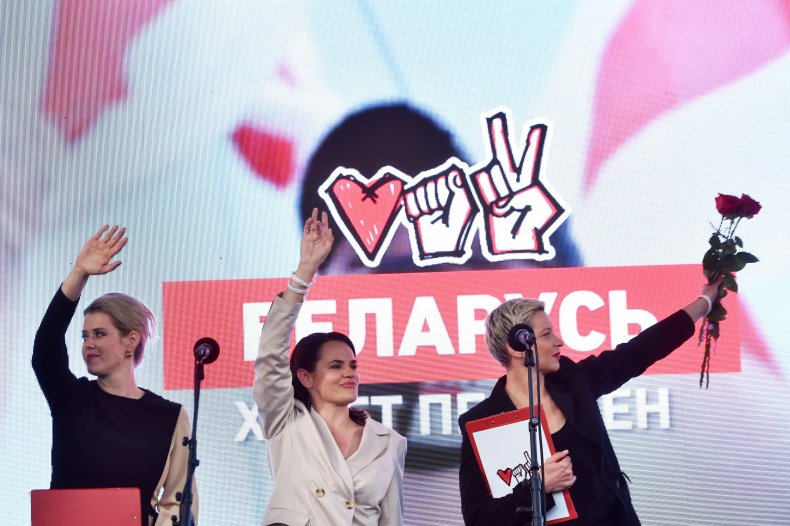 Within this context, Belarus' KGB security service says that the nearly three dozen men arrested in a sanatorium outside the capital the day before the rally were members of the Wagner Group, a private military company blacklisted by the U.S. State Department.
It is thought to be managed by the Russian businessman Yevgeny Prigozhin and whose fighters have appeared in conflicts in Syria, Ukraine and Libya.
Lukashenko says the men were sent by Russia to destabilize the country in the run-up to next Sunday's polls.
However, the fact that Belarus investigators said the men were working with Tikhanovsky, and another barred opposition figure, Mikola Statkevich, has raised concerns that the case is being used as a pretext for a clampdown, which could impact Tikhanovskaya's campaign.
On Friday, Kremlin spokesman Dmitry Peskov told reporters that the "groundless detention of Russian citizens does not quite fit the parameters of allied relations."
"We hope that in the very near future this incident will be explained by our Belarusian allies and that the citizens will be released," he added, describing the men as "employees of a private security company" who were temporarily in Belarus before heading to Istanbul.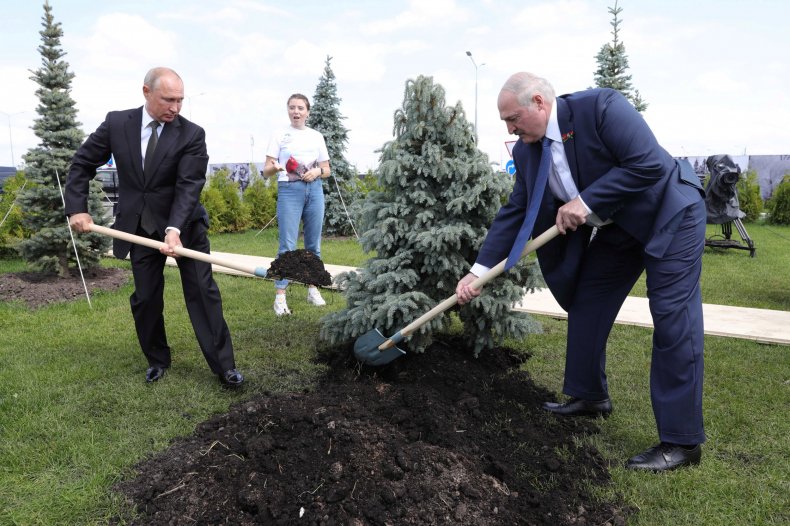 Lukashenko has tried to resist attempts by Russia for Belarus to give up its independence and the Kremlin will be keeping a close eye on Tikhanovskaya's campaign. Despite tensions between the Belarus leader and Russian President Vladimir Putin, Moscow needs Lukashenko to retain power.
"Russia can't play against Lukashenko. They can try to make it more difficult for him to get elected, to show him that without Russia he faces some risks and he should consider Russian help," says Tatiana Stanovaya, head of R.Politik and nonresident scholar at the Carnegie Moscow Center.
However it is part of Putin's plan to move towards integrating his neighbor, and Lukashenko, who is rumored to be warming to the idea, is key to that.
"Putin's plan is to wait until Lukasheno gets elected again," she told Newsweek, adding, "after the elections Putin would like to move forward with the integration."
"Putin would like to obtain some political control on Belarus for him. He can't do that without Lukashenko," she said.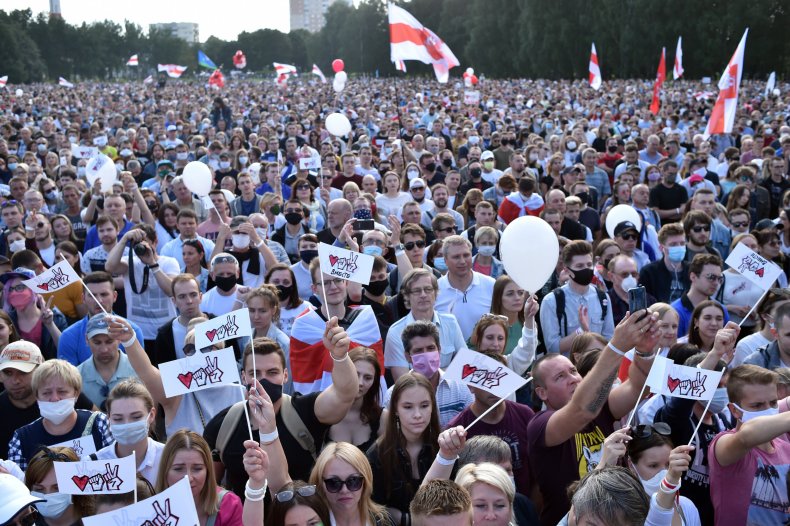 That Lukashenko will be declared the winner on August 10 is almost certain. What is less certain is what he will do next to engineer the victory. The lack of international observers from groups like the Organization for Security and Co-operation in Europe (OSCE) and the use of coronavirus concerns to minimize the numbers of overseeing ballot boxes will give him much scope to ensure that he wins.
George Kent, U.S. deputy assistant secretary overseeing policy toward Belarus, told Radio Free Europe: "We deeply regret that the OSCE will not have the opportunity to send observers to see this election."
However Tikhanovskaya's popularity could cast a shadow over a Lukashenko victory and pave the way for stronger opposition movements in future. The population, which had benefited from cheap oil and gas from Russia for years, now faces tougher economic times.
"A lot of people have looked around and said 'what is happening in our country?' Now people think about the value of an election, that it is important to vote for somebody who will represent you," said Valiantsin Stefanovic, from the Minsk-based rights group Viasna.
"It is an unusual election because the traditional opposition, all these people, were not well known before. They are new faces, this might be why they are so popular," he told Newsweek.
"There is a lot of sympathy for Tikhanovskaya. It's a very beautiful story, how a woman came to be a candidate because she wanted to release her husband who was in prison and other political prisoners."
Her campaign has chimed with those who are not satisfied with the policies of Lukashenko for the last few years, Stefanovic said, adding: "now Tikhanovskaya, and the women she is working with, hold the hopes for people's futures."