Kremlin: Russian Airstrikes Target Groups in Addition to ISIS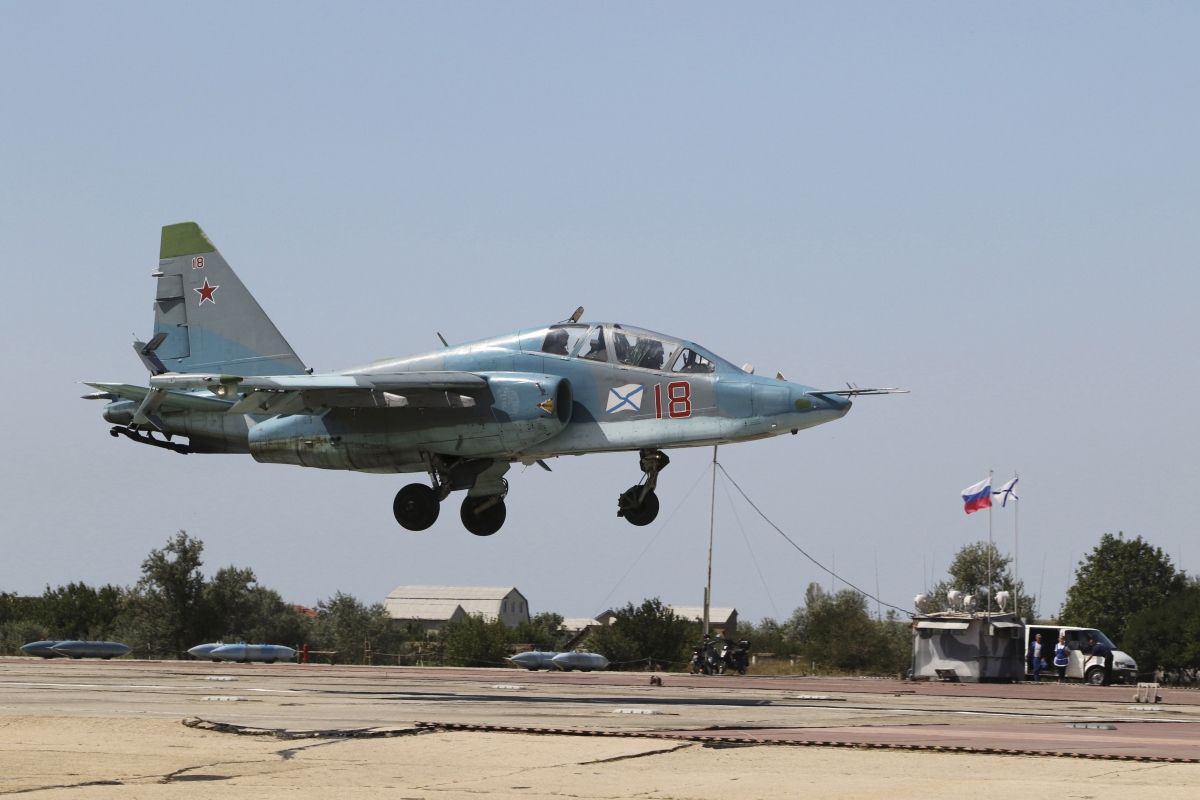 Russia's airstrikes in Syria are targeting organizations in addition to ISIS, Kremlin spokesman Dmitry Peskov said during his daily press briefing on Thursday, according to state news agency Itar-Tass.
The Kremlin's statement came after reports from activists on the ground and government officials abroad during the first day of strikes that Russia was predominantly targeting civilians and other opposition groups in northwestern Syria, despite Moscow's claims to be targeting ISIS.
Groups opposed to both ISIS and the Syrian government of Bashar al-Assad are active in the region.
"It is important to remember that this operation is in support of the Syrian armed forces against ISIS and other extremist organizations," Peskov said. When asked if there is a list of these organizations, Peskov answered: "Of course there is. These organizations are well known. And of course the targets are determined in cooperation with the armed forces of Syria."
Peskov did not elaborate when asked further questions about the list. Peskov added that "false" information about Russia's strikes had been published online and said it was too early to assess the success of the operations.
Saudi delegate Abdallah al-Mouallimi told the U.N. General Assembly on Wednesday that Russia has carried out strikes in Homs and Hama, where he said "innocent victims" had been hit, not ISIS. Russian Foreign Minister Sergei Lavrov called the claims "unfounded" at the time.
On Wednesday, Syrian opposition website All4Syria accused Russia of striking the village of Zafarana in northern Homs and areas in rural Hama that are not held by ISIS. Unidentified U.S. officials told The New York Times that U.S.-backed rebels in Hama had been hit overnight.
Syrian opposition leader Khaled Khoja also posted on Twitter that Russian strikes in northern Homs had hit areas where ISIS and Al-Qaeda were not present, and had killed 36 civilians.
Lebanon-based al-Mayadeen TV reported on Thursday morning that Russian airstrikes had been carried out in the town of Jisr al-Shughour against groups opposed to ISIS and allied with Al-Qaeda affiliate the Nusra Front and Islamist group Ahrar al Sham, according to The Guardian.
However, an analyst for the Brookings Institute, Charles Lister, reported that Jisr al-Shughour and the surrounding area has a "heavy Chechen/Russian jihadist presence." Voice of America correspondent Fatima Tlis reported that a village with a large diaspora of people from the Caucasus called Der Foul had also been hit, adding to evidence that Russia is targeting homegrown fighters.
The Russian Ministry of Defense posted a video of its strikes in Idlib and in the province of Hama on YouTube in the early hours of Thursday and said some of the strikes in the footage were against ISIS. Lavrov said he did not have any information on civilian casualties.
The Ministry of Defense has announced that Russia has sent over 50 planes and helicopters to Syria to perform airstrike,s according to Tass, while the independent daily Kommersant reported that the modern Su-34 twin strike fighter was among the combat aircraft.