Kremlin Signs Agreements on 4 Ukrainian Regions Joining Russia
What follows is NewsGuard's summary and translation of top news stories from Russia's state TV Channel One. NewsGuard presents these stories in the order that they appear on the program. NewsGuard shares this summary as part of our mission to monitor and report all categories of misinformation, including Russian disinformation. Please note that these summaries of Russian state TV broadcasts may well contain falsehoods or propaganda, and NewsGuard does not vet them for accuracy or balance.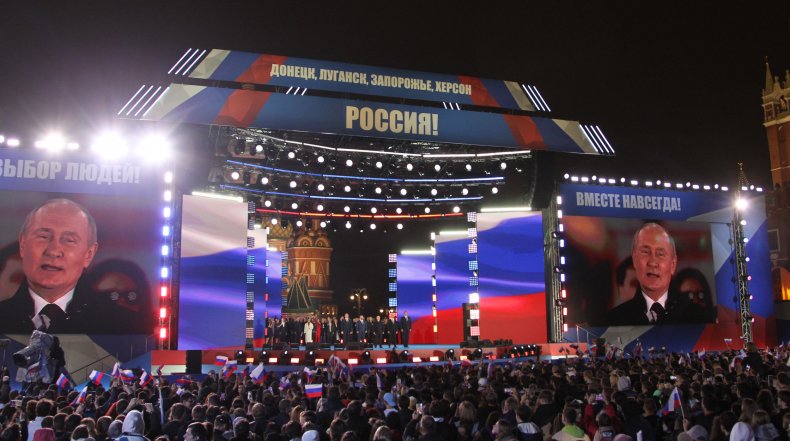 Kremlin signs agreements on 4 regions of Federation joining Russia
There is a new page in the history of our country. The Donetsk and Lugansk people's republics, Zaporozhye and Kherson are together with Russia forever. The Kremlin signed agreements on the entry of four subjects of the Federation into our state.
The agreement will be ratified in the State Duma and the Federation Council, but already millions of people in Donetsk and Mariupol, in Lugansk and Kherson, in Melitopol and Berdyansk, are Russians. They showed the whole world what the will of the people is. And they fought to the death for their ideals.
A common destiny, a thousand-year history, a spiritual connection with our country—all this is behind the choice that these people made. (Russian President) Vladimir Putin spoke about this in the (Kremlin's) St. George's Hall. In his speech, the president noted that now we are "fighting for a fair and free path, first of all for ourselves."
Denis Pusholin, head of the Donetsk People's Republic, said, "We have been aligned with Moscow, and for us, Moscow has always been the capital of our motherland."
Specialists work in liberated regions of Zaporozhye, Kherson, Donbas
Specialists from all over Russia have long been establishing a peaceful life in areas of Donbas, Zaporozhye and Kherson, where there are no militants. They are restoring and building houses, schools, kindergartens, hospitals—everything that the nationalists destroyed for many years.
Two multifunctional medical centers were created in record time in Mariupol and Lugansk, with modern equipment and rooms. More and more families are receiving keys to new apartments. Of course, as the cold weather approaches, work is being done more actively to restore heat and water supply. Many facilities require major repairs because of strikes by the Ukrainian army. But our specialists are coping and continue to work even under shelling.
U.S. responds to Zelensky's application on accelerated NATO entry
After the signing ceremony in the Kremlin, only a few hours passed, as Ukrainian President Volodymyr Zelensky again decided to join NATO—he sent an application for accelerated entry into the alliance. And as expected, in response, he was turned away from the gate.
(U.S. President Joe) Biden's national security advisor, Jake Sullivan, was brief and blunt: "Now," he said, "is not a good time." The fact that there will be no suitable time for Ukraine's membership in NATO has long been clear to everyone except Zelensky.
Jens Stoltenberg, NATO Secretary-General said: "We have an aggressor, Russia, and we have a country which is the victim of aggression, Ukraine. That's the reason why we are so clearly supporting Ukraine. The illegal annexations of Ukrainian territory doesn't change the nature of this war."
According to the American press, Zelensky's application for accelerated entry into NATO was an unpleasant surprise for Washington, which immediately made it clear it was a bad idea.
(House Speaker) Nancy Pelosi said, "this is a big project. Let's just win the war now." Sullivan said, "our view is that the best way for us to support Ukraine is by providing practical support for its army and that the process in Brussels should be taken up at a different time."
Recruits being trained at Defense Ministry training centers
Thousands of men are ready to stand up in Russia to defend what is now their own land. Partial mobilization continues. There are also a lot of volunteers—those who feel like they cannot be just an observer in the current conditions, but who want to take action and be useful.
In the Defense Ministry's training centers and at training grounds throughout the country, active training of recruits began this week: combat coordination, shooting, and medical assistance. They are learning some things from scratch; for example, how to control drones.
And, of course, the process of partial mobilization must be organized smoothly. This week, the president (Putin) set the task of correcting shortcomings. New clarifications about who is subject to conscription are being regularly released. The Defense Ministry and local authorities are checking on how everything is going, and on the living conditions of the mobilized personnel.
One officer said, "The atmosphere is very good. We're helping each other. There are many military officers who are giving practical advice. In terms of those who evade, who don't have a desire [to serve], we don't need them." One officer in training said, "I called my brother and said the motherland is calling on us, we need to fulfill our duty. He said yes, let's collect our things and go."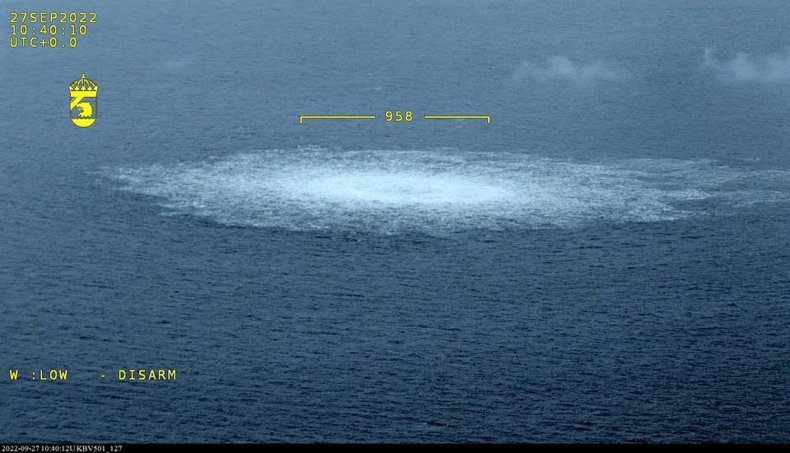 Putin calls attack on Nord Stream 2 act of international terrorism
It's not just sabotage, but an act of international terrorism. This is how Putin described the attack on the Russian gas pipelines of the Nord Stream system.
The Anglo-Saxons, according to the president, have actually begun to destroy the European energy structure. While the Baltics have been seething for days over the blown-up gas pipelines, confused European politicians seem to be unwilling to seek the truth. But the American trace is already so obvious that it is simply impossible to cover it up. The overseas patron deprived European countries of the hope of using Russian gas. And European politicians seem to be ready to publicly justify their patron.
The segment features a clip of a former U.S senator, saying, "A significant object of the United States in promoting this war with Russia in Ukraine was killing off Nord Stream 2, to strengthen its ability to sell gas to Europe."
Mass protests in Europe due to rising inflation, approaching winter
Hunger, cold and humiliation. Massive street protests are taking place almost all over the Old World. People are tired of paying outrageous sums for utilities and food and they demand higher wages. But so far, only prices in stores and mortgage rates are rising. Inflation has hit a record level. The American dream is getting more and more unattainable. As time goes on, the situation only becomes more difficult; they still have to survive the winter somehow.
One protester in London said, "I'm here because what is happening to ordinary people in the U.K. is a disaster. People are completely at breaking point. They've had a decade or more of stagnating wages and now an economic crisis. People can't cope."
Another protester in London said, "I don't want to just survive, I want to live, like all these workers. Now we have to make ends meet, so we have no choice but to protest."
A Channel One correspondent said, "Cheap mortgage loans are the foundation on which the economic well-being of many Western countries rests, and above all, the United States. Owning a house with a beautiful lawn and a barbecue in the backyard is the embodiment of this most cherished American dream. However, now this dream for many families has become unrealizable unattainable."
The segment features a clip from CNBC, in which one homeowner said, "We want to buy a bigger house so there's room for everyone, but the new [mortgage] rate just makes it impossible."