Kris Jenner ate a cricket so she didn't have to answer a question about the diamond ring on her finger when she appeared on The Late Late Show with James Corden Tuesday.
The late night talk show host, James Corden, had Jenner play a game of "Spill Your Guts or Fill Your Guts." Since so much of her and her family's lives are "in the public eye, we thought it might be fun to just dig a little deeper at the parts that aren't so public," he told the TV personality. They took turn asking each other personal questions and choosing something disgusting for the other to eat if they chose not to answer.
"You've been spotted wearing a massive diamond ring on your wedding finger. Are you and Corey Gamble engaged?" Corden asked, adding, "The ring's right there. It's a bit of a giveaway." She refused to answer, but said, "This isn't the ring."
"But there is a ring?" He asked. She didn't answer and ate a cricket.
Jenner was spotted wearing a diamond ring on July 25, People reported. She and Corey Gamble have been together since 2014.
The question about her ring wasn't the only one she refused to answer on Corden's show. "You're the executive producer of Keeping Up with the Kardashians," he said. "If you had to cut one of your daughters from the show, who would it be and why?" She chose to drink a sardine smoothie. "I am not going to turn on one of my girls," she said and denied they'd have understood. "I couldn't have gone home."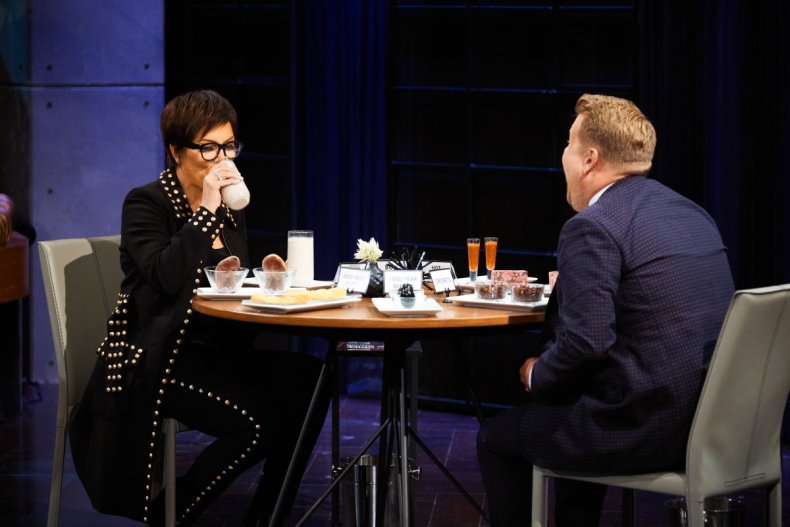 Corden showed a clip from the series of Kim and Kourtney fighting about a Christmas card photo shoot. He again tried to make her choose between her daughters by asking Jenner whose side she took. "A mother never wants to take sides," she said.
Corden, on the other hand, had no problem answering at least one question instead of eating a 1000-year-old egg. "Why haven't you done a carpool karaoke with Kanye yet?" Jenner asked him. They'd tried, he revealed, but Kanye West canceled a couple times. "He canceled once as I was turning the corner to his house," he said. He was told, "He's not in the zone for it right now."
Kanye sent him a cube of flowers and a pair of Yeezy sneakers. "People [said], 'They're so expensive,'" Corden said to Jenner. "Yeah, they cost my show $45,000. But we love him. He's my dream."