Kris Kobach Loses Senate Kansas GOP Primary After Dems Attacked Opponent
Conservative Republican Kris Kobach was defeated in the Kansas Senate primary on Tuesday by Republican Representative Roger Marshall. Marshall will go on to face Democrat Barbara Bollier in November to fill the seat being vacated by retiring Senator Pat Roberts.
Kobach ran for Governor of Kansas in 2018, a race he lost. Counting on Kobach's losing political record, Kansas Democrats ran attack ads against Marshall in an attempt to have Republicans vote for Kobach. Strategists hoped that Kobach's presence on the ballot would persuade Kansans to vote for Bollier. Kansas has not elected a Democratic senator since 1932.
In a television advertisement sponsored by the Sunflower State PAC, a committee with ties to the Democratic Party, Marshall was described as "another Washington politician stuck in special interest muck." President Donald Trump, however, chose not to endorse either candidate for the seat.
Trump did throw his support behind Kobach's 2018 run for governor, which Kobach lost by five points to Democrat Laura Kelly.
Kobach asked his supporters to support Marshall in his concession speech on Tuesday.
"We will hold this seat and I will do everything I can to make sure that happens for the Republican party," Kobach said.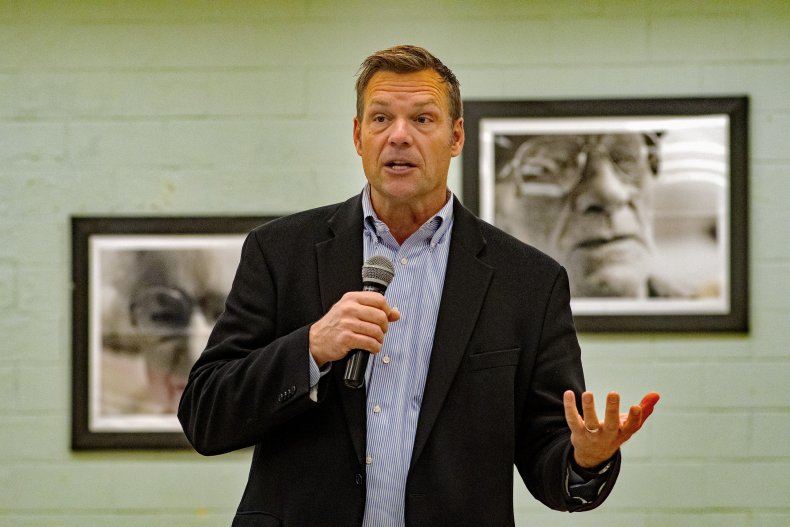 "The Kansas Republican primary was a hard fought primary with multiple good options as candidates," said Kansas Republican Party Chairman Mike Kuckelman in a statement sent to Newsweek on Wednesday. "Ultimately, Kansas Republican voters selected Congressman Roger Marshall to be our nominee to replace retiring US Senator Pat Roberts. Congressman Marshall will be an excellent US Senator and he has support from Republicans throughout Kansas."
Kobach was the vice-chair of the Presidential Advisory Commission on Election Integrity during the Trump administration. Trump launched the commission in 2017 after alleging that over 5 million fraudulent votes were cast during the 2016 election. No voter fraud was discovered by the commission.
Known for his hardline views against immigration, Kobach helped write a law in Arizona requiring officials to verify the legal citizenship status of any individual they thought may be in the U.S. without documentation. Trump reportedly had Kobach in consideration for an "immigration czar" position in 2019 which would have seen Kobach helping coordinate immigration policies within governmental agencies.
Reports at the time indicated that Kobach had a list of demands before taking the job including a 7-person staff, continual access to a government jet and the promise of a promotion to the position of the Secretary of the Department of Homeland Security.
U.S. Secretary of State Mike Pompeo was rumored to enter the Kansas senate race but failed to meet the deadline for qualification. During a July speech, Pompeo said he loved "working for President Trump to deliver American foreign policy all around the world."
Updated 12:05 a.m. EST 08/06/2020: This story has been updated with a statement from the Kansas Republican Party.