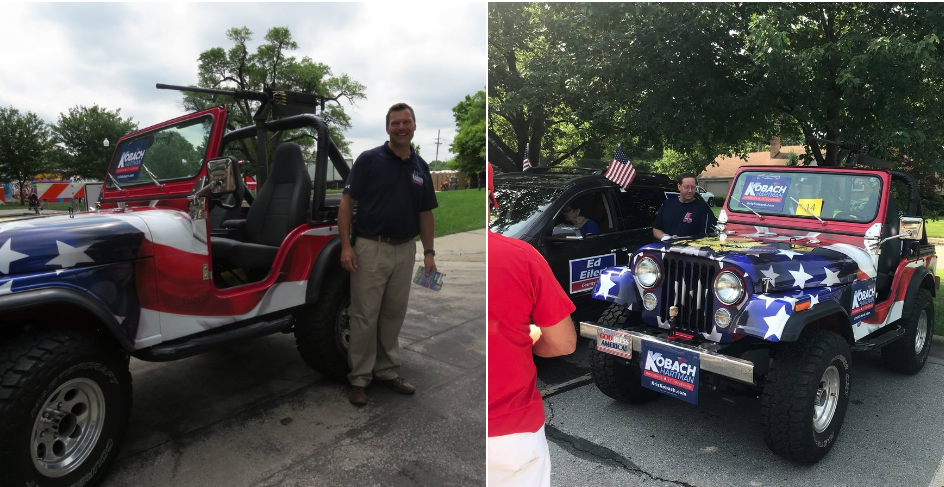 Kansas Secretary of State and candidate for governor, Kris W. Kobach, waved to families at a parade outside Kansas City while riding in a red, white and blue Jeep Wrangler fitted with a mounted machine gun Saturday.
The city of Shawnee, which hosted the Old Shawnee Days Parade this weekend, issued an apology to the community for Kobach's seemingly weaponized vehicle. The former chairman of the Kansas Republican Party issued a statement through his gubernatorial campaign spokesperson saying the large mounted machine gun was only a replica. But Kobach doubled down on his staunch support for gun rights and refused to apologize.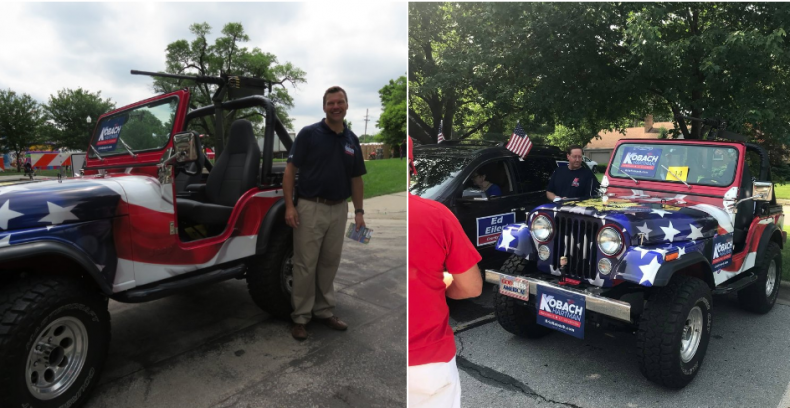 "We want to apologize for the concern and frustration involved with Mr. Kris Kobach's parade entry at the Old Shawnee Days Parade on Saturday, June 2, 2018," the city of Shawnee wrote on Twitter. "In no way does this or any parade entry or float directly reflect the views and values of the City, the Old Shawnee Days Board or the Old Shawnee Days Society. Please know that the safety of our residents is always our highest priority and we apologize if this made anyone feel unsafe or unsettled. We will be taking steps in the future to try to ensure something similar does not happen again."
The self-described "full-throttled Conservative" touted the 2nd Amendment right to bear arms, taking to Twitter to bash critics of his fake firearm Jeep setup. "Had a blast riding in the Old Shawnee Days Parade in this souped up jeep with a replica gun. Those who want to restrict the right to keep and bear arms are deeply misguided. The only thing that stops a bad guy with a gun is a good guy with a gun," Kobach tweeted Saturday.
In April, Kobach held a pro-gun rights rally on the steps of Capitol Hill on the same day students nationwide had walkouts for gun control in the wake of the Marjory Stoneman Douglas High School shooting that left 17 people dead in Parkland, Florida, the Kansas City Star reported. Kobach heckled the students saying "I have an idea. Instead of walking out of class, why don't you stay in class and spend that half hour studying the history of the Second Amendment?" Kobach told the students they were being exploited by national gun control advocates.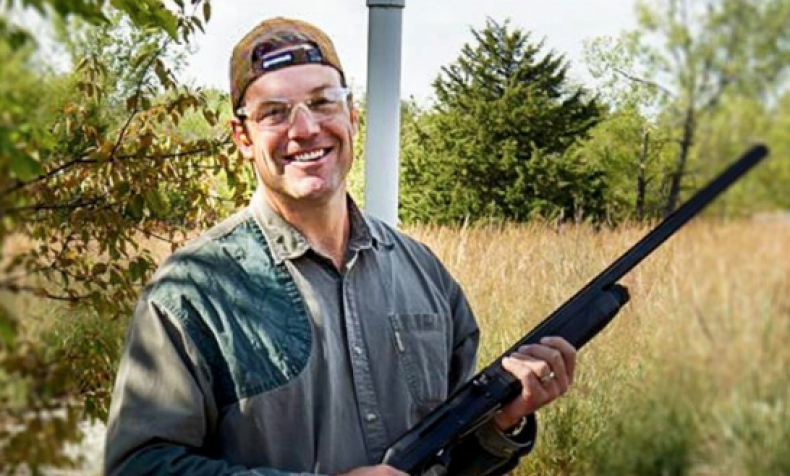 Kobach will face off against at least four main Republican candidates for the Kansas governorship ahead of the August primary election. One of those candidates is Jim Barnett, who announced Friday his selection of his wife as his lieutenant governor, the Wichita Eagle reported. Kobach holds degrees from Harvard, Yale and Oxford universities and has raised more than $350,000 for his campaign.
Update | Kobach told KMBC-TV's William Joy, "I think it's kind of amusing that snowflakes today think that people be afraid at the sight of a gun...99 percent of the people were reacting very positively."