Kris Kobach Will Be Donald Trump's Immigration Czar—but Only If He Gets a Private Jet, West Wing Office and Weekends Off: Report
Former Kansas Secretary of State Kris Kobach was reportedly set to become President Donald Trump's new "immigration czar"—but only if the White House can meet an exacting list of conditions he is said to have laid out.
For Kobach to accept this key job, the White House would have to meet a list of 10 conditions that Kobach delivered to the president, according a report from The New York Times.
Among those conditions were 24-hour access to a government jet, an office located in the West Wing and the promise of weekends off so he could spend time with his family, The Times reported, citing three sources familiar with the list.
Other conditions included having a staff of seven reporting to him, a security detail when necessary, "walk in" access to the Oval Office on demand, and the title of assistant to the president.
Kobach, who lost his gubernatorial bid last November, would also require that he be the main TV spokesperson for the Trump administration on any immigration matters, and would also want assurance that Cabinet secretaries with portfolios covering immigration would defer to him, with the president expected to step in should any disputes arise.
Kobach also reportedly wanted a guarantee that he would be made Department of Homeland Security secretary by November, replacing ousted DHS chief Kirstjen Nielsen and her acting successor, Kevin McAleenan.
According to The Times' report, Kobach's list has made the rounds of Trump administration officials, with some expressing shock at its "presumptuousness."
Kobach, who previously served as an adviser to Sheriff Joe Arpaio, an immigration hardliner, had long been floated as a potential Trump pick to lead Homeland Security.
A staunch immigration hardliner himself, Kobach railed against the "caravans" of migrants who made their way to the U.S. border last year. He also helped write an Arizona law that required local officials verify the citizenship of anyone they had "reasonable suspicion" of being an undocumented immigrant.
As "immigration czar," Kobach would be tasked with coordinating immigration policy across government agencies, according to The Times.
While Trump might have confidence that Kobach would bring enthusiasm to a role that required him to enforce the administration's tough immigration policies, some raised concerns that Kobach's own rhetoric on immigration could be too severe to win Senate confirmation if Trump were to nominate him to become DHS secretary. The "immigration czar" role does not require Senate confirmation.
The White House did not immediately respond to a request for comment for this article.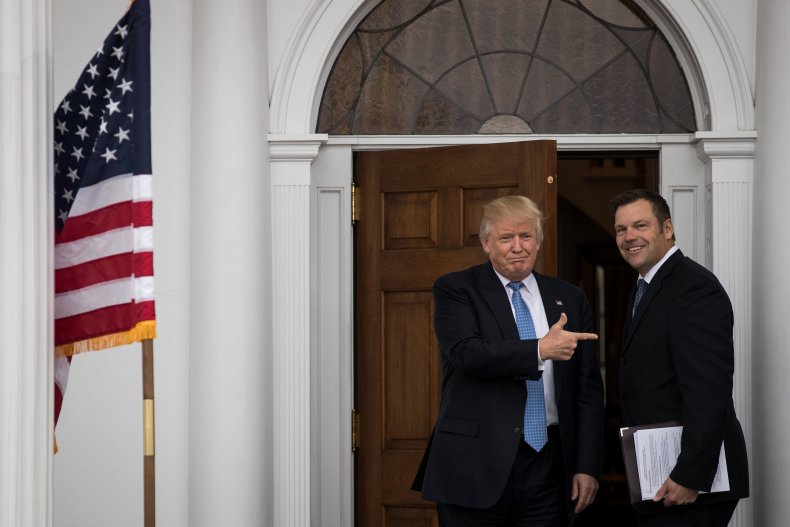 Kris Kobach Will Be Donald Trump's Immigration Czar—but Only If He Gets a Private Jet, West Wing Office and Weekends Off: Report | U.S.