Kris Statlander's AEW Women's Championship Match Delayed Due to 'Prior Commitments'
The New Year's Day edition of All Elite Wrestling Dynamite will feature an AEW Women's Championship match, but there's been a major change.
Kris Statlander, the number one contender for Riho's championship, won't be able to make the January 1 episode of Dynamite because of prior commitments to other wrestling promotions. All Elite Wrestling made the announcement on social media with the changes Friday.
Riho will still put her AEW Women's Championship on the line but in a Fatal Fourway match. The champion will take on Nyla Rose, Britt Baker and Hikaru Shida. Statlander will still have her AEW Women's Championship opportunity, but she will have to wait until the following week and will take on the winner of Wednesday's bout.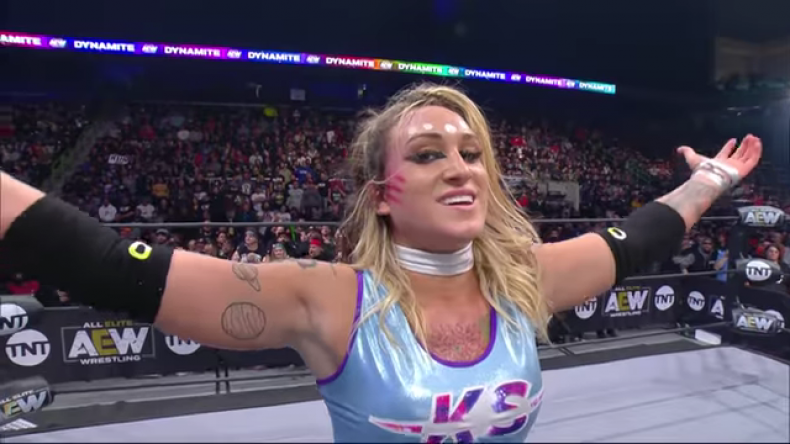 AEW President and CEO Tony Khan took to Twitter to expand on the reasoning behind the change in the women's championship match:
"Rather than force Kris to choose between her title shot or keeping her word on a commitment she made before signing here, we're allowing her to do both. The champion Riho will defend vs. #2 Britt/#3 Shida/#4 Nyla in a 4 way title match. The winner defends vs. #1 Kris on January 8."
For fans wondering what commitments Statlander has, she will take on John Silver at Beyond Wrestling's "Here Lies the Crown" show on New Year's Eve in Massachusetts. The next day, Statlander will wrestle for Bar Wrestling's "Rose Parade" against Gisele Shaw in Los Angeles.
Both promotions shared their gratitude to Statlander and AEW for allowing her to keep her commitments.
The women in January 1's Fatal Fourway match all had chances at the AEW Women's Championship in the past. Nyla Rose lost to Riho to crown the first AEW Women's Champion and since got herself suspended by the promotion for power bombing a referee through a table on a past episode of Dynamite.
The suspension lifts on January 1, so it's fortuitous for Rose that this happened when it did.
Hikaru Shida was the number one-ranked women's wrestler in AEW until Kris Statlander defeated her on an episode of AEW Dynamite. This also opened up the possibility for Britt Baker to challenge Riho.
On the December 18 episode of Dynamite, Statlander defeated Baker to determine the number one contender for the women's championship which "The Alien" won.
What do you think of AEW allowing Statlander to keep her commitments? Who do you think will win the AEW Women's Championship match on Wednesday? Let us know in the comments section.