Krispy Kreme Day of Dozens: How to Get a Dozen Original Glazed Doughnuts for $1 Today
Krispy Kreme is giving away $1 doughnut dozens to celebrate the Day of the Dozens, which is today, December 12 (12/12). Customers who purchase any dozen doughnuts can buy a second dozen Original Glazed doughnuts for $1.
A box of twelve Original Glazed doughnuts typically costs around $7.99, and a dozen specialty doughnuts can cost around $11.39. This means that today only, you could buy 24 original glazed donuts for $8.99 instead of $15.98.
Additionally, all doughnuts in the holiday collection are also included so you could try the Holiday Dozen—including a Santa Belly, Reindeer, Green Present or a White Glazed with Sprinkles.
The Santa Belly is filled with chocolate creme dipped in red icing and sugar, the Reindeer is the original chocolate glazed decorated with pretzels, the Green Present is the original glazed filled with creme, decorated with green and red icing, and the final holiday doughnut is simply an original glazed dipped in white icing and decorated with white, red and green sprinkles.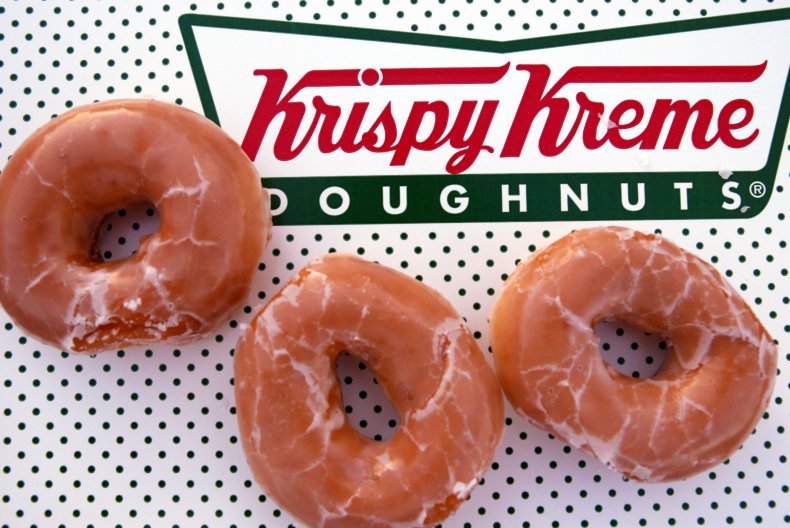 Krispy Kreme often celebrates holidays with themed doughnuts, like their pumpkin donuts, Halloween donuts, and Valentine's donuts. Plus, Krispy Kreme often teams up with other brands to produce doughnuts like the Krispy Kreme Reeses Donut, and the Oreo Cookies and Kreme doughnut.
The offer is available now and will be valid through today only. The offer is limited to two per customer, and it excludes mini doughnuts.
There are hundreds of Krispy Kreme locations across the U.S. and Canada, so find out if your local store is participating on the Krispy Kreme website.
Krispy Kreme Coupons 2019
You won't need a Krispy Kreme coupon to redeem this offer. Simply visit a participating store and purchase a box of a dozen doughnuts to claim the $1 doughnut offer.
When is Krispy Kreme Free Donut Day 2019 and National Donut Day 2019?
National Doughnut Day falls on the first Friday in June, and this year, Krispy Kreme aimed to give away a million doughnuts in celebration. While this holiday has passed, keep an eye out for when it rolls around next year.
Additionally, a second National Doughnut Day is also celebrated on November 5, and other doughnut retailers typically celebrate with deals and discounts on this day, too.
How many calories are in a Krispy Kreme glazed donut?
The number of calories depends on the kind of glazed doughnut. The Krispy Kreme Orginal Glazed Doughnut contains 190 calories and the Chocolate Iced Glazed contains 240 calories. The Powdered Strawberry Filled Doughnut has 270, the Glazed Blueberry Cake Doughnut contains 300, and the New York Cheesecake Doughnut has 320.