Krispy Kreme Graduation Donuts: How High School and College Seniors Can Claim a Free Dozen Today
As graduations for high school and college students across the U.S. are being disrupted, seniors are celebrating in alternative ways. Krispy Kreme is offering graduating students a fun way to mark the occasion by giving them free donuts today, May 19.
The 2020 Graduate Dozen donuts will also be available to purchase until Sunday, May 24, via drive‑thru and by ordering online at the Krispy Kreme website or on the app for door-side pickup or delivery.
The Krispy Kreme graduation donuts box features a variety of flavors. Graduates, and their family and friends, can enjoy chocolate iced Kreme filled, strawberry iced Kreme filled, cake batter filled, chocolate iced with sprinkles, strawberry iced with sprinkles, and yellow iced original glazed doughnuts, that spell "2020" three times.
While family and friends can buy a box to celebrate their graduates until the end of the week, high school and college seniors can claim a free dozen doughnuts by turning up to a participating Krispy Kreme location on Tuesday, May 19.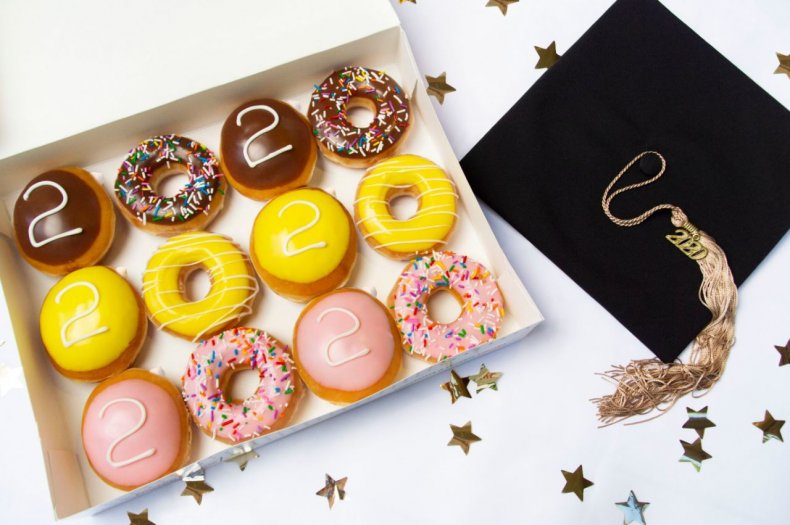 They can claim a free box by wearing a cap and gown with 2020 tassel, class of 2020 apparel, like a t-shirt or sweatshirt, a 2020 letterman jacket featuring senior status, a 2020 class ring, or any other 2020 senior swag.
Seniors can also show a graduation announcement featuring a name with a matching ID or a student photo ID featuring senior status to claim their free graduation donuts.
Dave Skena, Chief Marketing Officer for Krispy Kreme, said in a press release: "We feel for all of the high school and college seniors. We wish they had that moment of walking across the stage and getting their diploma.
"We can't replace that... But we thought we could help them safely have a little fun and enjoy a special 'Graduate Dozen' on us. Moms, dads, friends, and family can buy this 'Graduate Dozen' all week long to honor their favorite graduates, but only seniors can get one for free."
Alternatively, friends and family can gift graduating seniors with a Krispy Kreme gift card that says "Hats off to you" and features a donut wearing a green mortarboard hat.
Krispy Kreme is also inviting seniors to share how they are celebrating with their 2020 Graduate Dozen on social media, using the #KrispyKreme hashtag and tagging @krispykreme.
In late February, Krispy Kreme launched a delivery service. Customers can order from within 10 miles of one of Krispy Kreme's 350 U.S. locations and can order their doughnuts via the app or website for a $4.99 delivery fee.