Krispy Kreme is offering a sweet deal for anyone who gets one of the COVID-19 vaccines. Beginning on March 22, the company began a promotion in which anyone with a card showing they had been vaccinated can receive one free original glazed doughnut.
This isn't a one-time offer. Anyone who wishes to get a daily dose of sugary, fried dough, can return to a Krispy Kreme every single day for a free doughnut for the rest of 2021. The offer is available after full vaccinations, as well as after just the first dose of the two-shot vaccine options.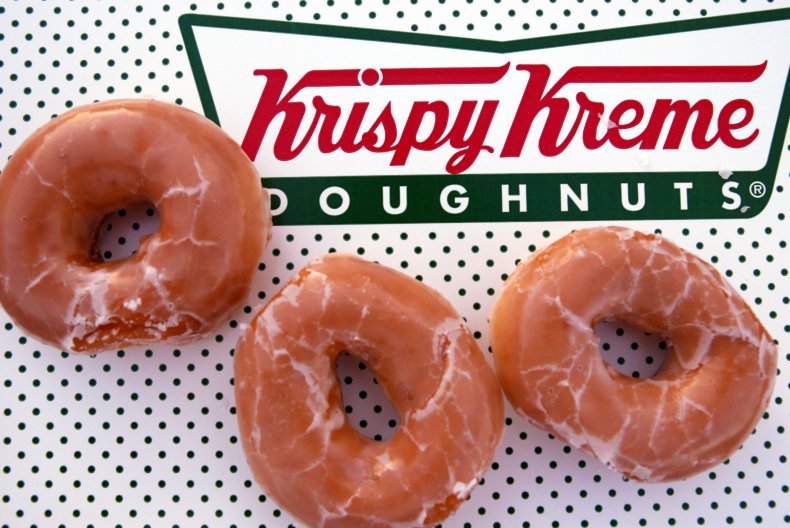 Krispy Kreme rolled out the announcement with posts all over its social media accounts. However, many comments to the posts disagreed with the company's seemingly benevolent offer. These responses noted the paradox of offering an unhealthy food as reward for public health, like one comment on Krispy Kreme's Instagram announcement that "...obesity kills far more people than Covid ever will."
Some people poked fun at the announcement, including humorists like Stephen Colbert, who tweeted it was "great news for anyone who got the shot but still has a death wish." Stand-up comedian and singer Jessica Delfino had a similar reaction on Twitter. She, like many others on social media, also evoked one of popular culture most notorious doughnut lovers, Homer Simpson.
Jon Najarian, a former NFL linebacker for the Chicago Bears and current stock exchange adviser, struck a similar chord when he wrote he hopes Krispy Kreme will help develop a vaccine for diabetes after this plan.
This writer thought of a good strategy for some counter-promotion: A gym offering free passes for vaccinated people.
Another person shared a clever plan to get a dozen free doughnuts. He joked of making a trip to Kinko's to make copies of his vaccination card.
Dr. Travey Perez Koelmoos, a professor at Uniformed Services University, commented in support of the promotion that while "there is no carrot and there is no stick" in terms of getting people vaccinated, "now there is a donut."
Actress Piper Perabo couldn't resist an obvious pun. She tweeted, "Donut feel good to get vaccinated."
Humor writer Jason O. Gilbert joked that Johnson & Johnson will in turn have to vaccinate anyone who shows them a Krispy Kreme receipt.
Former NBA player and current Twitter influencer Rex Chapman voiced his support of the promotion. He wrote: "Krispy Kreme for the win…"
However, Dilbert creator and outspoken social media commentator Scott Adams thought Krispy Kreme's strategy was flawed.
Many people on social media appreciated the clever name shown on the mock vaccination card for the Krispy Kreme post. The name? "Jane Dough."
Conservative commentator Bill Kristol applauded the sentiment behind the promotion, even though he also acknowledged his preference for Krispy's rival Dunkin' Donuts.
Filmmaker Jessica Ellis also felt the chain restaurant's intentions were good, and people were on Twitter were "being weird about it."
This writer voiced an opinion likely shared by many Americans. Her anecdote expressed that while news of free doughnuts for vaccines may sound surprising, after the hard year-plus everyone has endured, a doughnut could be a welcome bite of comfort food.