Kristen Bell Is 'Proud' of Emmy-Nominated Co-Star Ted Danson: He's 'the Best Boy at All the Best Things'
Kristen Bell posted in support of her co-star Ted Danson's Emmy nomination ahead of the awards ceremony September 17.
"This best friend of mine is the best boy at all the best things," she wrote Thursday. "So proud of you @TedDanson." She included a tune-in reminder for the one-hour Season 3 premiere of The Good Place on September 27 on NBC.
Bell attached the video NBC put together to celebrate Danson's nomination for outstanding lead actor in a comedy series. The other nominees in the category are Anthony Anderson (Black-ish), Larry David (Curb Your Enthusiasm), Donald Glover (Atlanta), Bill Hader (Barry) and William H. Macy (Shameless).
"We're forking stoked" for Danson's nomination, the video begins, using The Good Place's equivalent of an obscenity. It then lists the "other categories he could win," with clips from the comedy series. The actor plays Michael, the Architect of what the other characters thought was the Good Place but turned out to be a way to torture them in the Bad Place in the afterlife.
Michael could be nominated for Best Non-Human Obsessed with Human Stuff for his reaction to receiving car keys. "I can lose them and say, 'Has anyone seen my car keys?'" Danson's character said. He could be the Best Demon Obsessed with the Show Friends. "You just don't break a promise, unlike Ross when he promised Emily not to talk to Rachel," Michael told Bell's character, Eleanor.
He could win Best Explanation of a Kiss for "You just mash your food holes together" or Best Speech to Give an Eternal Judge Goosebumps with "Hundreds of millions of people have been wrongly condemned to an eternity of torture."
The other categories NBC proposed are Best Evil Laugh, Best Out-of-Context Use of the Word "Nuggets" and Best Demon in a Bow Tie.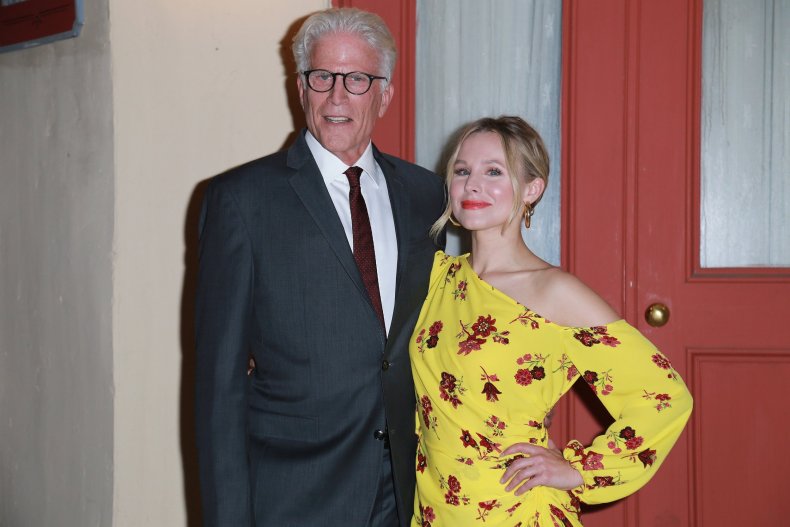 Bell, who calls Danson her "Teddy bear," spoke about what she learned from him in an interview with E! News in January. "I learned you never really have to grow up. That you can stay as excited about this career when you're 70 years old," she said. "You should be excited to have this job every day, otherwise you don't really deserve it, in my opinion."
"Ted is such a shining example of that, he loves what he does, and I mean that not just from a craft perspective, whereas he will put the work into figuring out the funniest way to have a mental breakdown on camera, but I also mean that in his demeanor on set," she continued. "He's incredibly excited to be at work all day.…His real-life personality is so joyful."
The Good Place Season 3 premieres on Thursday, September 27, at 8 p.m. ET on NBC.