Kristen Bell Talks 'Good Place' Character's 'Emotional Growth,' Previews Hulu's 'Veronica Mars' Revival
Kristen Bell is the motherforking truth. Whether she's making you die over laughing on NBC's The Good Place, preaching the ups-and-downs of motherhood or making the world scream "#RelationshipGoals" because of her marriage with actor Dax Shepard, one can't deny that she is a forking captivating celebrity.
Bell, who's appeared in movies like Forgetting Sarah Marshall and television shows such as House of Lies, has maintained a long and steady career for a reason. Not only is the 38-year-old arguably an underrated acting talent with dazzling pipes, but her genuine nature always shines through—making her that much more lovable on- and off-screen. She became a household name through her starring role in the acclaimed WB series Veronica Mars, but the actor has come a long way since then, as she's now earned her first-ever Golden Globe nod for her portrayal of Eleanor Shellstrop on The Good Place. However, she's set to return to where it all got started by reprising her role as the edgy Nancy Drew-type character on Veronica Mars for Hulu sometime in 2019.
Bell spoke with Newsweek about her involvement in The Good Place and Veronica Mars, but she also talked about why the anticipated Frozen has taken so long to surface.
This interview was shortened for brevity.
What has been the most enjoyable part about playing Eleanor in The Good Place?
The massive emotional growth that she's had. You rarely get to play a character that grows this much [from] someone who is narcissistic, hard to be around and borderline anti-social to someone who is building a team, investing in people and for the first time in her life caring about others.
Are you and Eleanor alike in any way—or do you wish you had any of her qualities?
No, I don't need anymore Eleanor qualities. The qualities I share with Eleanor, I try to keep quiet. I do love that Eleanor is blunt. I think I could use more of that in my life. She cuts to the chase. It's not necessarily a quality that I want, but it is very fun to play someone who is selfish. She's just looking out for number one.
Chidi and Eleanor are finally together. In your opinion, what makes them a good match?
Ying and yang are missing parts of one another. They're so opposite, that they challenge one another. That's part of the fun of earth is being challenged. I certainly have a similar situation with my husband [Dax Shepard] in being borderline opposite but share a committed mutual respect for one another. It makes life very interesting. Life is not dull when you're constantly challenged. I think some of the best relationships I've known are with people who are really different. [Eleanor and Chidi] are a tiny version of what the entire show means. They are people who need one another. Eleanor needs Chidi to remind her how to be nice, that she's not the only person on the planet, and how to be social. Chidi needs Eleanor to knock some sense into him when he can't make decisions or when he's swirling in his brain when he's overthinking things. They actually need one another. It's very beneficial that they have opposing instincts.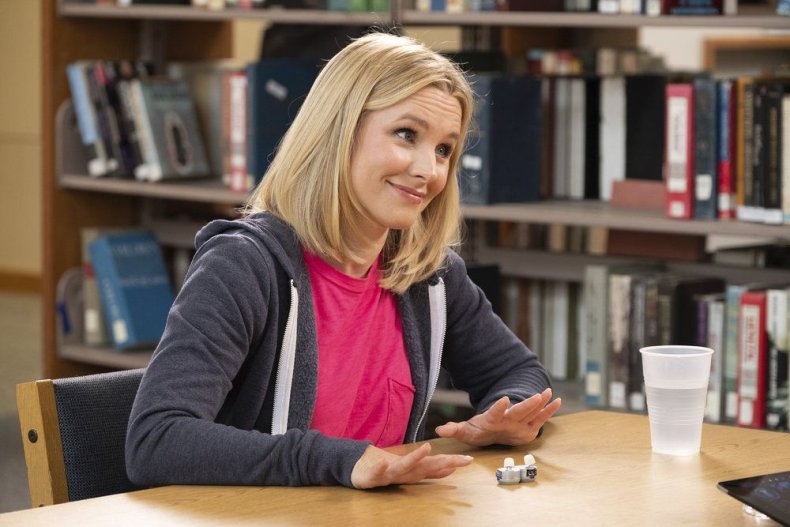 Do you have any good stories about working with the cast?
Every day is kind of a good story. We're very close as a cast, and it's an incredibly childish cast in the best way. The greatest thing about our whole group is no one takes anything seriously. Some of our best moments come out when D'Arcy Carden and Jason Mantzoukas, who plays Derek, have a scene together. The rest of us are crowded at the monitor to watch how they'll improv off the page because none of us are really improvers. When they have scenes together, some of their stuff is improved and it's just a delight to watch. We're very close as a cast. Ted invited us all over for a sleepover this year at his house. It's a really, really lovely family. We went out to support Marc Evan Jackson's non-profit in Detriot, where I'm from as well, for after-school theater programs….What I love most about this cast is that we actually show up for each other. We've taken the lessons from the show.
Who is your favorite character on The Good Place, other than your own, and why?
I love Jason Mendoza [played by Manny Jacinto] because he's like fairly lucid. He's living on another planet, which I love. I would probably say my favorite character, if I had to pick, would be Derek. Derek is just doing his damnedest to try to keep up with everyone while still holding most of the knowledge in the universe and yet comes off like a complete buffoon. There's something striking about that recipe to me.
Veronica Mars fans are arguably among the most loyal fans in TV history, which makes a revival a dream come true. How long had this been in the works before it was announced?
It has never not been in the works as far as [creator] Rob [Thomas] and I been concerned. As far as Warner Bros. is concerned, it was not in the works for a decade. Behind the scenes, Rob and I often exchanged texts about how we can do it again because it never lost its spark for us. We had some ground rules going in that we felt we wanted to fight for, which was we did not want to crowdfund it. I do not think our fans should be responsible a second time around because we were so grateful for what they did with the movie. We wanted to have the show grow up. Hulu had been a great platform because we could create a more adult world. That, to us, was easily justifiable the audience from Veronica Mars has also grown up. Even people that watched it on the younger side are in their 20s now. It lends itself to keeping the same audience [while] having a slightly more adult, cable show which I think we're creating. I'm quite proud of this season.
Can you share anything about the new Veronica Mars series?
We have some pretty extraordinary people involved. All the originals, Patton Oswalt joined the cast this year, J.K. Simmons joined the cast [and] Max Greenfield is back. It's very exciting. The whole first month we were shooting, I kept looking around going: "What are we doing? Who let us do this? This is absurd." Shows are not brought back from the dead. They're just not. The show is huge. It's a big undertaking. It's a lot of locations. It's got a lot of drama. We're doing a much more cinematic version of what Neptune, California, throughout the town looks like. It's a big undertaking, but for me, it's worth it. I think about for six months I'll only be able to tuck my kids in two times a week, but I get to put [Veronica] out there again. There are a lot of understandable criticisms of people who use large platforms to state their personal and political opinions—opinions on the state of the world. The most common criticism is "just do it with your art." I have never felt more confident that I am doing it with my art. I know that my girls are going to be able to watch the show when they're older. That's how I sort of justify the sacrifice to undertake a monster show like this again.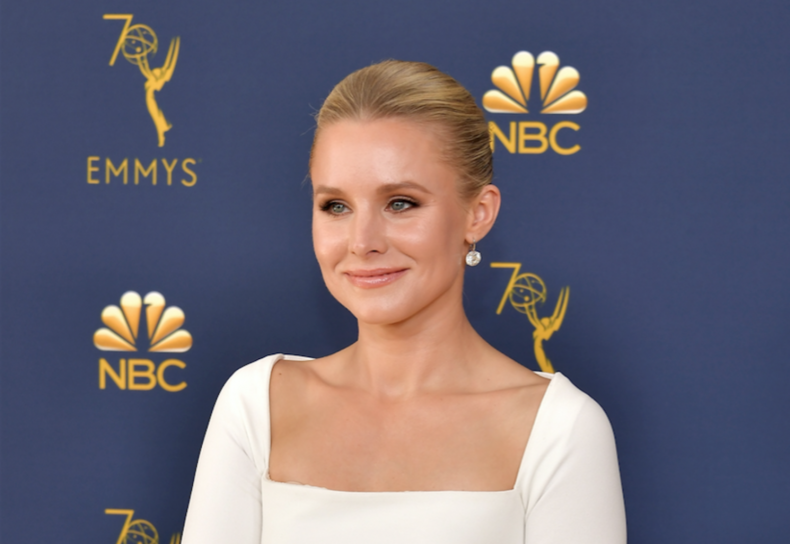 The series comes five years after the Veronica Mars movie debuted in 2014, and the show concluded in 2004. What was it like to step back into this role once again? How will Veronica have changed?
We pick up where we left off at the end of the movie where she has decided to come back to Neptune. Something in her gut, which she always follows, is drawing her back to this small town. She tries leaving, she's got a law degree and just when you think you're out, they pull you right back in. The overarching story is of the haves and have nots and who is fighting for what, which I think is very relevant.
I was very much Team Piz, and I know I'm not the only one who thinks this as there are several articles dedicated to this. Will we see Chris Lowell appear on the new show?
I'm Team Piz probably because Chris Lowell is adorable but also he treats Veronica very well. We are shooting episode six right now, he has not been back. But Logan, Wallace, Weevil, Keith obviously, Dick, [and actor] Kirby Howell-Baptiste is a new character. Kirby is on every TV show...She's literally killing it. It's very earned because she's a spectacular actress.
Looking back now, what would you say was the most important lesson you received as a young actress and who gave it to you? Or was there an event or a part that changed how you thought about acting?
Being in this business or any business is a learning curve. What I learned on [Veronica Mars] particularly the first time around was you better be ready to work. You better be ready to hang up your outside relationships and work 15 or 16 hour days because that's what it takes to accomplish your dreams. If my dream was to be doing this, no one's going to hand it to me. I better be willing to work for it….Something that's always stuck with me was when I was on Burlesque, Cher looked at me one day—probably frustrated about something—she said: "Honey, if it doesn't matter in five years, then it doesn't matter." I was like, "That's so true." It's very helpful for me because there are a lot of mini stresses that come with the job I have to do and letting them go is the road to happiness.
'Frozen' fans know a sequel is coming, but what has taken 'Frozen 2' so long to get here?
There had never been a sequel made of a Disney movie, ever. There had been Pixar sequels. There had been straight-to-DVD Lion King cartoons, but there had never been a Disney sequel. I think that was looked at as something very serious for the company. The second question, emotionally, for everyone was what story needs to be told because no one from the top down had an interest in doing episode two of Frozen. We tried to make the movie that needed to be made with the first one. What needs to be said now? The rest of the time was eaten by brilliant creatives not rushing themselves, to be honest. It also does take three-and-a-half or four years to make these movies.