Kristen Stewart Details Wedding Plans After Announcing Engagement to Dylan Meyer
Kristen Stewart is excitedly preparing for her wedding to fiancée Dylan Meyer, after announcing that she and her partner are planning to tie the knot.
The actress made the surprise announcement that she and Meyer are engaged on Tuesday during an appearance on SiriusXM's The Howard Stern Show.
"We're marrying, we're totally gonna do it," Stewart told titular host Howard Stern, per USA Today.
"I wanted to be proposed to, so I think I very distinctly carved out what I wanted and she nailed it. We're marrying, it's happening."
Going on to discuss her wedding plans, Los Angeles-born Stewart revealed that she hopes to keep the celebratory occasion a "chill" one with a "party after."
"I want to stay home. I want to be in L.A. so everyone can come and... I want it to be pretty chill," she explained. "I don't want anyone walking anyone down any aisles like we're just gonna stand, do vows."
And don't expect the bride-to-be in a traditional white dress—Stewart has revealed that she plans to exchange nuptials in "the best pair of Levi's ever, an old T-shirt that has a tuxedo printed on it."
"I want to see her laugh hysterically when she sees me in a faux tuxedo T-shirt," the screen star added during her interview with Stern.
Stewart's romance with screenwriter Meyer was made Instagram official in October 2019, when Meyer posted a photo of the couple kissing, adding the caption: "Find me under the covers hiding from the happiness police."
The following month, Stewart, who portrays Princess Diana in the upcoming movie Spencer, spoke about her relationship in another interview with Stern.
She said at the time: "We're both from L.A. and we really love L.A. We're both kind of like, scumbags. We both felt like trolls as kids. We're so similar but different. She's a writer, she's brilliant."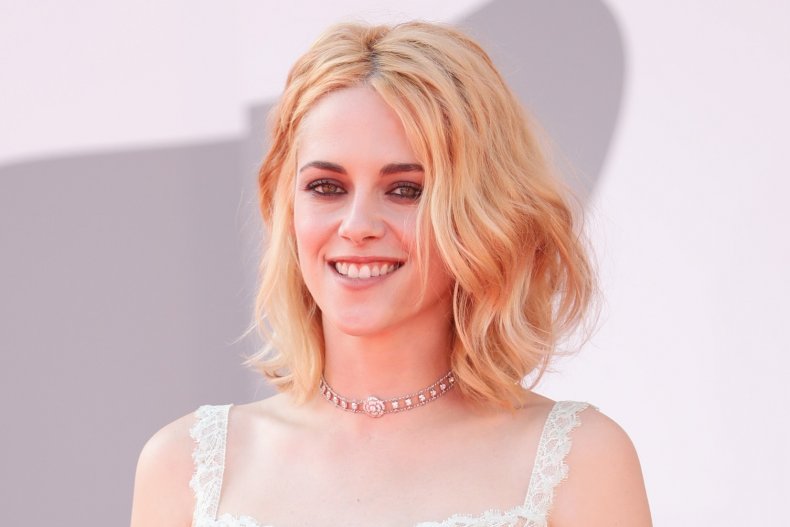 Even back then, Stewart revealed that she already had plans to propose to Meyer, telling Stern, per E! News: "I have a couple plans that are, like, just the coolest things to do. It's pretty undeniable."
"When you know, you know. You know what I mean?" Stewart went on. "There is nothing like feeling sure about anything, because we don't know anything. And that is the only thing you can feel like you know, is that if you're in love with someone."
Stewart revealed that she first met Meyer about eight years ago while working on a movie, though they didn't meet up again until six years later.
"She rocked up at a friend's birthday and I was like, 'Where have you been and how have I not known you?'" Stewart recalled.
Stewart then recounted how she told Meyer she loved her as they spent time together in a bar late at night.
"Her friends were there or whatever. They walked out and I was just like, 'Aw man, I'm so f****** in love with you.' Like, done," the screen star recalled.
During her interview with Stern, Stewart admitted that she also "wanted to" marry her Twilight co-star Robert Pattinson, from whom she split in 2013.
"I'm not a super duper traditionalist, but at the same time... every relationship I've ever been in, I thought that was it," said the actress. "I've never really been the most casual person."