Kristen Welker gained thousands of social media followers after she moderated the final presidential debate between President Donald Trump and former vice president Joe Biden on Thursday night.
The moderators choose the debate topics, so Welker, NBC's White House Correspondent, decided that Trump and Biden would discuss fighting COVID-19, American families, race in America, climate change, national security, and leadership.
Welker was praised by both Republicans and Democrats for keeping the debate on track and keeping the presidential candidates in control.
MSNBC journalist Mika Brzezinski said: "Kristen Welker debate moderator, she was on point, sharp, didn't make herself the story, kept it moving, asked excellent questions and follow-ups, did not waste a moment—exceptional performance!!! THIS IS HOW IT'S DONE!"
Christian conservative writer Carmine Sabia tweeted: "There is time left but Kristen Welker has given a master class on how to moderate a debate fairly. Is Chris Wallace watching?"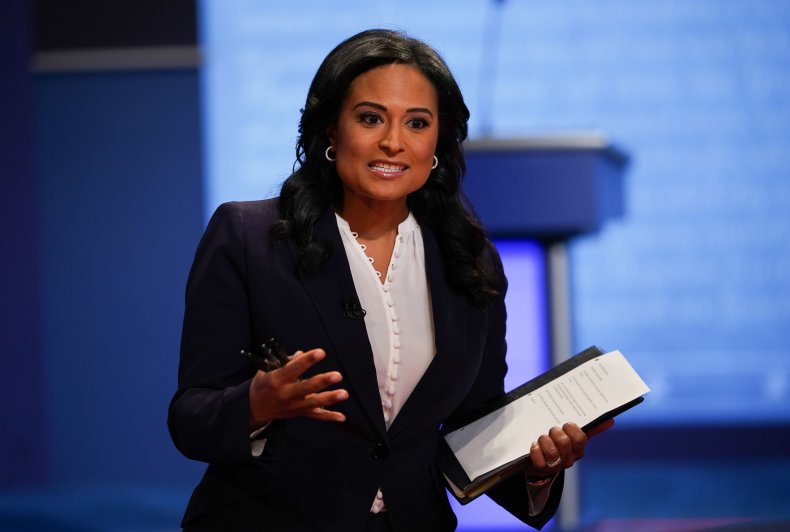 Welker's performance was especially welcomed following the chaotic first debate in which Trump and Biden frequently spoke over one another, which resulted in moderator Chris Wallace, of Fox News, facing criticism for failing to keep the debate running smoothly.
Wallace commented on Welker's performance at the debate, telling Fox News that he was jealous of how she did and that he would have liked to "have been able to moderate that debate and get a real exchange of views instead of hundreds of interruptions."
Viewers of the debate were clearly impressed with Welker's performance at the debate, as her social media following soared in the aftermath, seeing Welker gain thousands of followers.
Data from Social Blade shows that Welker gained more than 63,500 Twitter followers after the debate, with her followers increasing by 148.9 percent over the past 30 days, bringing her follower count to a total of 346,500 at the time of writing.
Social Blade predicts that Welker will gain another 100,000 followers over the next three months and that in a year's time, Welker will have approximately 539,500 Twitter followers.
Welker gained thousands of followers on Twitter despite not tweeting since September 22, when she acknowledged her Outstanding Journalist in Broadcast Television Award at the Washington Women in Journalism Awards and said: "I am so honored to receive this award and am looking forward to Thursday!"
NBC journalist Savannah Guthrie had similar success following her tough questioning of Trump at NBC's town hall event on October 15. Guthrie gained around 50,000 Twitter followers in the days following the town hall event, with her total follower count now standing at 972,100 at the time of writing.