Kristi Noem, Who Gutted South Dakota's Transgender Sports Ban, Takes Stand on Marijuana
Republican South Dakota Governor Kristi Noem is pushing back on the state's new voter-approved medical marijuana law a week after partially blocking a GOP proposal to ban transgender women and girls from sports.
South Dakota voters approved Initiated Measure 26, which legalizes medical marijuana, by an overwhelming majority of almost 70 percent last November. Noem wrote a letter to the state legislature of Friday urging them to block parts of the new law before it goes into effect on July 1, proposing preventing anyone younger than 21 from smoking or vaping medical marijuana, limiting the number of marijuana plants allowed in the homes of medical users to three and allowing the South Dakota Department of Health to track marijuana from "seed to sale."
"My administration is preparing to implement IM 26 when it takes effect on July 1," Noem wrote in a copy of the letter obtained by Newsweek. "As we prepare to do that, there are three legislative changes that I would ask you to consider if the opportunity arises... in my opinion, these are necessary changes to allow for a successful implementation of IM 26 on July 1."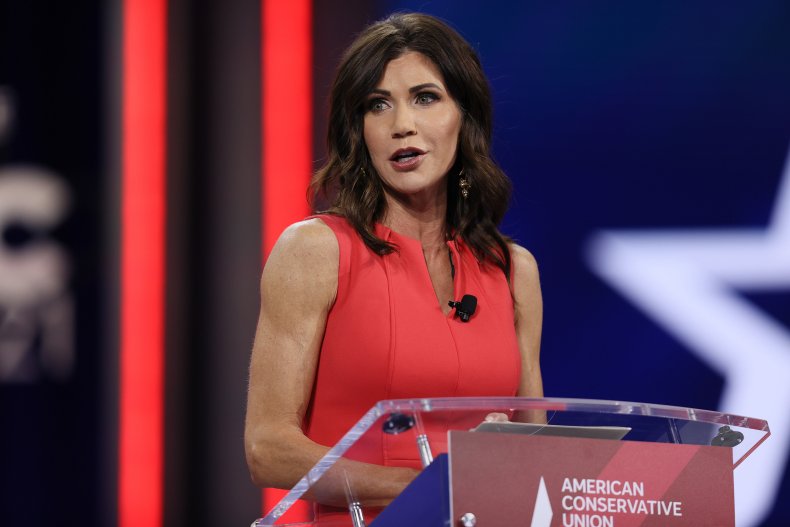 Noem's push will require the support of a two-thirds majority of the legislature in order to be successful. An earlier attempt to delay implementation of the law for a year to give a committee an opportunity to study it was blocked by Republicans. Voters also approved recreational marijuana last November, but Noem successfully led a legal effort to block it, with a judge declaring the measure unconstitutional in February.
The governor has recently come under fire from some in her own party for issuing a "style and form" veto of a GOP bill that would have blocked transgender women and girls, but not men, from participating in all sports in the state. Noem demanded that the bill be altered to not apply to college sports, arguing that leaving it fully intact would invite legal challenges.
"Unfortunately, as I have studied this legislation and conferred with legal experts over the past several days, I have become concerned that this bill's vague and overly broad language could have significant unintended consequences," Noem said in a statement announcing that although she did support what she called "the legislative intent of protecting girls' sports," she would not support the full bill.
Noem attempted to mitigate some of the ongoing conservative backlash over her position by issuing a new statement on the matter Friday, framing the battle to block transgender girls from participating in sports as an effort to ensure that "only girls should play girls' sports" and insisting that she was focused on banning transgender participation in a "smart way."
"We have to do this right," Noem said. "If we lose, we could set back protections for our girls. And that's not what anybody wants."
Update 3/26, 9:17 p.m.: This article has been updated to include an expanded excerpt from South Dakota Governor Kristi Noem's letter to the state legislature.