Kristin Chenoweth's NSFW 'Family Feud' Answer Shocks Fans: 'Forgive Me'
Kristin Chenoweth shocked Celebrity Family Feud host Steve Harvey and her fellow contestants with a very cheeky answer.
The actress who rose to fame playing Glinda in Wicked on Broadway faced off against Sister Act star, Kathy Najimy.
She had hoped to win big to raise money for the Arts & Education Fund, but ended up going viral with her NSFW response.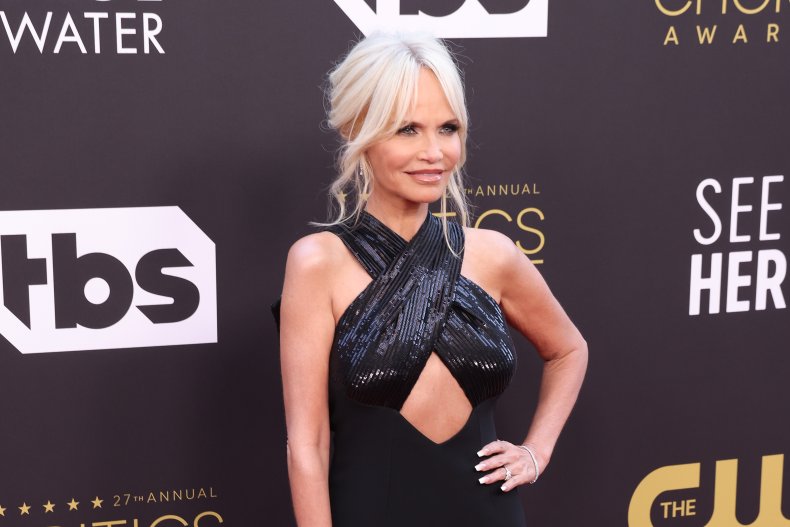 In Celebrity Family Feud the famous contestants must guess the most popular responses to questions based on answers given in a 100-person survey.
Host Harvey asked the two stars: "We asked 100 women, after the lips, what is your favorite part of a man to kiss."
The casually dressed Chenoweth was the first to jump in on the buzzer.
"Rhymes with heinous," she replied to the sounds of shocked gasps from the audience and fellow celebrities.
Harvey turned and walked away muttering: "Oh my goodness."
As Najimy held her hand over her mouth in horror, Chenoweth recoiled away from the podium and seem just as shocked with her response.
"I'm sorry," she said. "I'm a good Christian girl, forgive me."
Her answer was bleeped out in the broadcast, but that didn't stop Harvey from jokingly scolding the Broadway icon.
"You stay right over there, young lady," he warned and referred sarcastically to how he had introduced her earlier in the show, "nicest woman I've ever met."
Harvey added: "Welcome to Sunday night TV, folks."
Najimy then had the chance to guess more answers, getting the next four out of six questions.
When Chenoweth had the opportunity to answer again, she suggested "hands" as an option, but was incorrect.
Despite the awkward gaffe, the Bewitched star managed to raise $25,000 for the fund.
Chenoweth recently made headlines when she revealed her close connection to the "Oklahoma Girl Scout murders."
In 1977, Lori Lee Farmer, 8, Doris Denise Milner, 10, and Michele Heather Guse, 9, were found sexually assaulted and killed while attending their first Girl Scout camp.
The actress who appears in this year's Hulu true crime documentary about the unsolved case, Keeper of the Ashes: The Oklahoma Girl Scout Murders, revealed she was supposed to go on that very camping trip with the girls who were killed.
But Chenoweth's mother decided to keep her home because she was too sick to go.
Speaking in the documentary, Chenoweth states: "It has stuck with me my whole life. I could have been one of them.
"It haunts me every day, but this story needs to be told."
Celebrity Family Feud airs Sunday nights on ABC.