Who Is Kristof Milak? 19-year-old Hungarian Swimmer Breaks Michael Phelps' World Record
Hungarian teenager Kristof Milak shattered one of Michael Phelps' world records at the World Aquatics Championships in Gwangju, South Korea.
On Wednesday, the 19-year-old claimed the gold medal in the 200m butterfly, finishing in 1:50.73. That is .78 seconds faster than the time Phelps set at the 2009 World Championships.
Numerous tumbled at the World Championships a decade ago, largely thanks to high-tech swimsuits that have since been banned by the sport.
The reigning European champion in the event, Milak was considered the favorite for the gold medal but few expected him to break Phelps' record.
Speaking to reporters after his triumph, the Hungarian admitted his performance left him just as surprised.
"I tried to switch off everything, and I tried not to think of swimming at all before the race," he said in his press conference. "It's a tremendous honor to set such a great record."
To put Milak's dominance into context, he finished over three seconds ahead of Japan's Daiya Sato and South Africa's Chad Le Clos, who claimed the silver and bronze medal, respectively.
The Hungarian, who is also the current world junior record holder in the 200m butterfly, had never swum faster than 1:53.19 at professional level. By smashing Phelps' record, he is the first man to beat the American great since Serbia's Milorad Cavic did so in the 100m butterfly at the World Championships a decade ago.
Cavic's joy, however, was short-lived as the American reclaimed the record a day later.
Phelps became the youngest man to ever break a world record when he set the fastest time for a 200m butterfly in 2001, aged just 15. Later that year he won gold at the World Championships and over the course of his career he beat the world record in the discipline, which remained his signature event, eight times in total.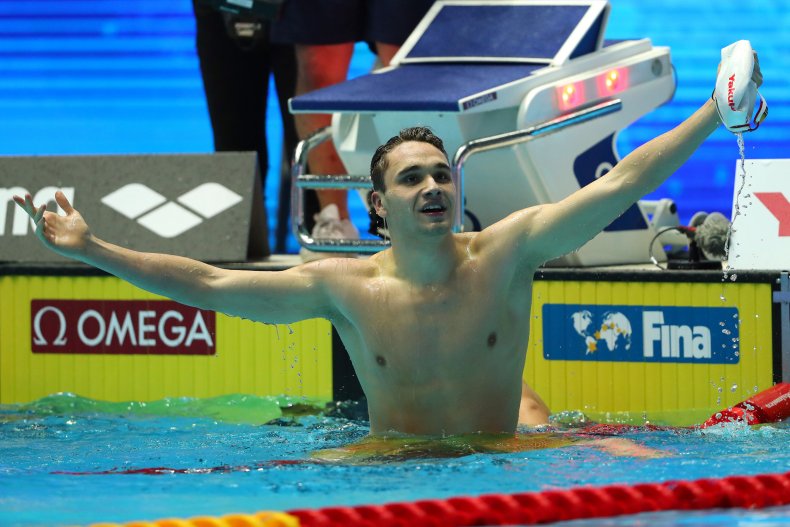 Overall, the Baltimore Bullet broke 39 world records across all events and still holds world records in the 100m butterfly and 400m medley.
While the world record in his signature event might have gone, some of Phelps' achievements are unlikely to ever be matched.
With 28 medals in total, the 34-year-old is the most successful and most decorated Olympian in history. Of those 28 medals, 23 were gold medals and 13 of them were won in individual events, both of which are also records.
With eight gold medals at the 2008 Beijing Olympics, Phelps also holds the record for the highest number of gold medals won in the same Olympic Games.