Kristy, Hector, Ileana, John: Four Tropical Cyclones Line Up in Pacific Ocean
On Tuesday morning, a satellite image captured four tropical cyclones—Ileana, John, Kristy and Hector—lined up in the Pacific Ocean, stretching from the Pacific Coast of Mexico to east of Hawaii.
Tropical Storm Ileana formed on Saturday as Tropical Depression Eleven-E but was named Ileana on Sunday and has moved along the southwestern coast of Mexico, according to the National Hurricane Center. Mexico's government issued a Tropical Storm Watch along the coast and though Ileana gained strength, the storm was expected to dissipate Tuesday after it was absorbed by Hurricane John.
After quickly gaining strength and intensifying, Tropical Storm John became a hurricane on Monday and the NHC believes it will turn into a major hurricane by Wednesday and pass Baja California Sur late Wednesday and Thursday.
"Swells generated by John are expected to begin affecting the coasts of southwestern Mexico and the southern portion of the Baja California peninsula during the next day or so," an NHC public advisory said. "These swells are likely to cause life-threatening surf and rip current conditions."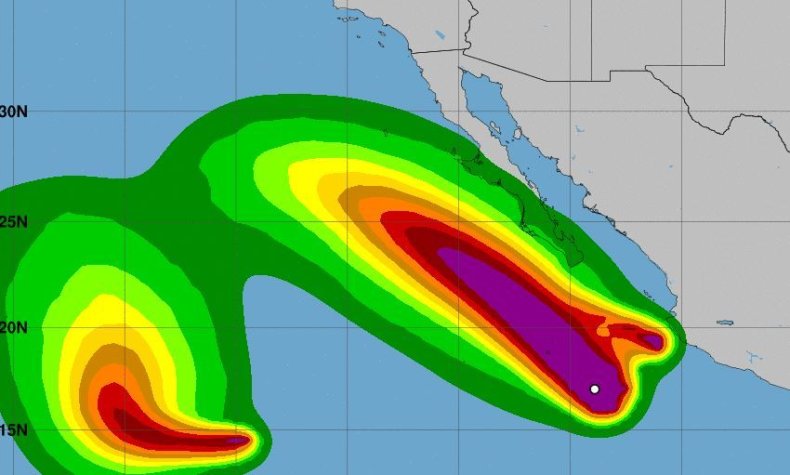 Although neither Ileana nor John is expected to make landfall, the close proximity to the coast could bring heavy rain, including a maximum of five inches from Ileana on Tuesday, and the NHC warned about possible flash flooding. John is moving northwest at about nine miles per hour but is expected to increase speeds within the next few days.
The Pacific Ocean is also currently hosting Tropical Storm Kristy, which formed on Monday and already has maximum sustained winds of 50 miles per hour, according to the NHC. The storm is moving toward the west at about 12 miles per hour and could turn into a hurricane within a day or two. It's currently located about 1,200 miles west-southwest of Baja California with winds extending about 35 miles from the center.
Located farthest to the west is Hurricane Hector and although the NHC forecasts that it will weaken over the next 48 hours, it remains a category 4 hurricane, bringing large swells to the Big Island and eastern Maui. It's moving west at about 16 miles per hour and is expected to pass within 165 miles of the Big Island on Wednesday. On Tuesday, maximum sustained winds reached 130 mph and extended 35 miles from the storm's center.

A tropical storm watch was issued for the Big Island and the National Weather Service tweeted that residents and tourists should expect high winds, rough surf and rip currents. Heavy rain could possibly cause flooding and prompt some evacuations. Residents were encouraged to review their emergency plan, check their supplies, and monitor various outlets for storm information and forecast changes.
As Hawaii prepares for Hector's imminent approach, the island is currently dealing with months-long eruptions from the Kilauea volcano. Since it first began erupting in May, Kilauea has destroyed homes, changed Hawaii's coastline and forced evacuations.
Stacy Welch, who has been living at an emergency shelter since evacuating her home, told Hawaii News Now that they're now preparing for the potential impacts of the hurricane.
"I have three vehicles I have to move," she explained. "I want to make sure those are on high ground, full of gas and parked, ready to go, in case we do have to evacuate for any reason."
Welch added that more people at the Pahoa shelter live in tents outside than sleep on cots inside, raising concern about what will happen to the people who have nowhere to go during the storm.
Officials with the Hawaii County Civil Defense agency told Hawaii News Now that there is a plan in place for volcano evacuees but that it won't be released unless an evacuation order for the hurricane is issued.