In a move to help preserve the planet, the grocery store chain Kroger announced on Thursday that its stores will be eliminating plastic bags and switching to reusable ones by the year 2025.
Kroger, which operates multiple grocery stores, such as Harris Teeter and Fry's, explained in a press release that plastic bags will be phased out and the transition to reusable bags will take place within the next seven years. This move is part of its Zero Hunger | Zero Waste commitment, which aims to not only eliminate waste that can be harmful to the environment, but also curb food waste to help feed people in its communities.
Rodney McMullen, Kroger's chairman and CEO, said in a press release that the elimination of plastic bags is a "bold move that will better protect our planet for future generations." In an email to Newsweek, Kristal Howard, Kroger's head of corporate communications and media relations, explained that reusable bags will be available for customers to purchase for one or two dollars.
Howard added that the company understands that not every customer has the means to purchase reusable bags, so paper bags will still be available free of charge.
"We want to make this easy, and we're committed to easing these burdens as much as possible," she explained. "Our goal is to offer reusable bags our customers will want to use, and reuse as intended. We are considering many ways to encourage customers to transition to reusable bags."
The press release cited estimates that 100 billion single-use plastic bags are thrown away each year in the United States and only less than 5 percent of plastic bags are recycled. Kroger explained that the company will work with non-government organizations (NGOs) and community partners, as well as gather customer feedback to help with the transition.
As part of the Zero Hunger initiative, Kroger aims to donate one billion meals by 2020 and achieve zero food waste by 2025. Similarly to the organization's plans for eliminating plastic bags to reach its goals of feeding communities, Kroger will work with outside organizations including Feeding America.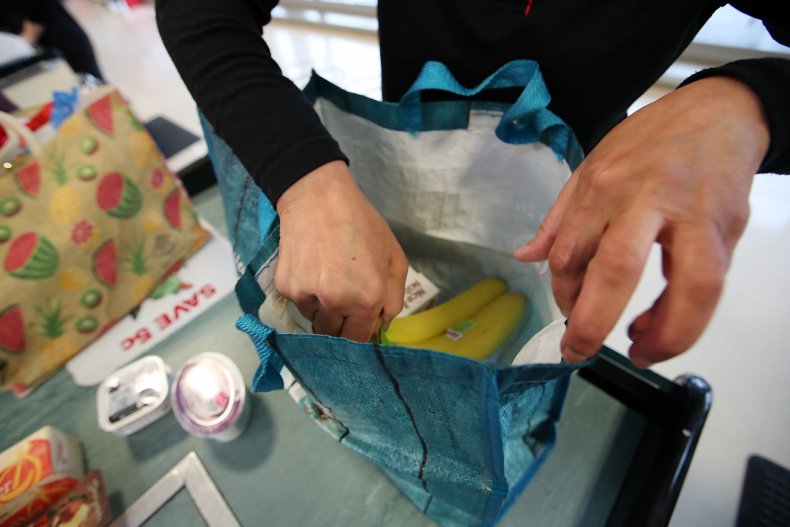 Kroger's commitment to eliminating plastic bags from its stores comes in the wake of Starbucks' announcement of its goal to remove plastic straws from its stores by 2020. On July 9, the coffee giant explained that instead of plastic straws, cups will come with a specially-designed straw-less lid or non-plastic straw options would be offered. Seattle and Vancouver, Canada, customers will be the first to see the move implemented with the change coming as soon as this fall.
"Starbucks goal to eliminate plastic straws by 2020 from their stores globally represents the company's forward thinking in tackling the material waste challenge in totality," Erin Simon, director of sustainability research & development and material science at World Wildlife Fund, U.S., said in the press release.
In June, Santa Barbara, California, passed a bill that banned the distribution or sale of plastic straws at bars, restaurants and other establishments, going into effect on January 1, 2019. Violating the ban is punishable by up to six months in jail or a maximum fine of $1,000. Santa Barbara followed Seattle's lead with the ban, but in the Washington state city, the maximum fine is $250.
Plastic has been found in over 60 percent of all seabirds and 100 percent of sea turtle species because animals can mistake plastic for food, according to the Ocean Conservancy, and a total of eight million metric tons of plastic enters the ocean annually.