Kroger Employees Describe 'Horrifying' Tennessee Shooting: 'I'm Gonna Die'
Employees at the Kroger grocery store in Collierville, Tennessee where a mass shooting took place Thursday, described running for their lives when the gunman opened fire.
Brignetta Dickerson told Tennessee television news station WREG that at first, she and others thought the shots ringing out were balloons popping.
But soon they realized the sound was gunshots, and she ran to the back of the store.
"And, here he comes right behind us and started shooting. And, he kept on shooting, shooting, shooting. He shot one of my co-workers in the head and shot one of my customers in the stomach," Dickerson said.
She said she heard her co-worker who was shot in the head say: "I want my mother. Call my mother."
Dickerson said she attempted to reach his mother and "left her a voicemail that he was alert and talking."
Eventually, police arrived.
"Police came to the back and said 'stay right there do not move,'" Dickerson told the outlet.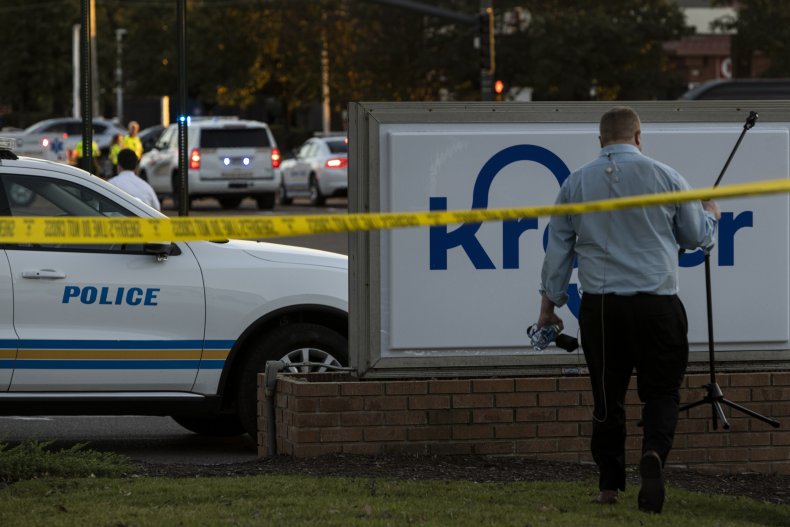 Another employee, Jean Kurzawski, said she was at the back of the store when the shooting happened. Shortly after, Kurzawski saw people running from the front of the store toward the back. She ran for an exit door.
"We were out in the open, so we found a place in the back of those buildings in a little corner, and we just stayed in that corner," Kurzawski WKRN.
She said she wasn't sure she would survive.
"I'm just thinking, 'Oh, I'm gonna die, I'm gonna die. He's gonna shoot me; he's going to shoot me.' That's the most horrifying experience I've ever, ever had," she added.
Collierville police said Friday morning the gunman who opened fire in the Kroger's on Thursday shot a total of 15 people, killing one, who police identified as Olivia King.
The suspect also died from what law enforcement officials believe was a self-inflicted gunshot wound.
Collierville Police Chief Dale Lane said during a press briefing Friday morning that those who are being treated for their injuries are in stable condition.
"Thankfully our prayers were answered, we didn't lose anybody overnight. There are still some people who are battling, so continue to pray for them as well," Lane said.
Lane declined to identify the shooter during Friday's briefing but said he was a third-party vendor for Kroger. But the Memphis Commercial Appeal reported that police have released the name of the gunman, who was identified as Uk Thang, 29.