Kroger, Largest Grocer in U.S., Drops Mask Requirement for Vaccinated Shoppers
Kroger, the country's largest supermarket, is joining other major retailers and dropping its mask requirement for vaccinated shoppers.
On Wednesday, company officials announced that fully vaccinated customers and associates will no longer need to wear masks in Kroger facilities beginning Thursday.
"Starting May 20, fully vaccinated customers and most fully vaccinated associates no longer need to wear a mask in our facilities, including stores, distribution centers, plants and offices, unless otherwise indicated by state or local jurisdiction," the statement read. "If there is a state or local mandate, please follow that requirement and timing."
Non-vaccinated employees and customers will still be required to wear masks in stores. Associates at the Cincinnati-based chains' pharmacy and clinic locations will still be required to wear a mask due to the Centers for Disease Control and Prevention's (CDC) existing guidance for health care settings.
Kroger said it will continue to implement enhanced cleaning and physical distancing at facilities and offer associates a one-time payment of $100 for receiving the COVID-19 vaccine.
The announcement comes less than a week after the company said masks would still be required, despite new guidance from the CDC that eased mask-wearing for fully vaccinated people.
On May 13, the CDC recommended that fully vaccinated individuals can safely stop wearing masks inside most locations.
"Based on the CDC's science-based guidance and the input of our associates, we are updating our mask policy in a way that balances our values of safety and respect," Kroger said Wednesday.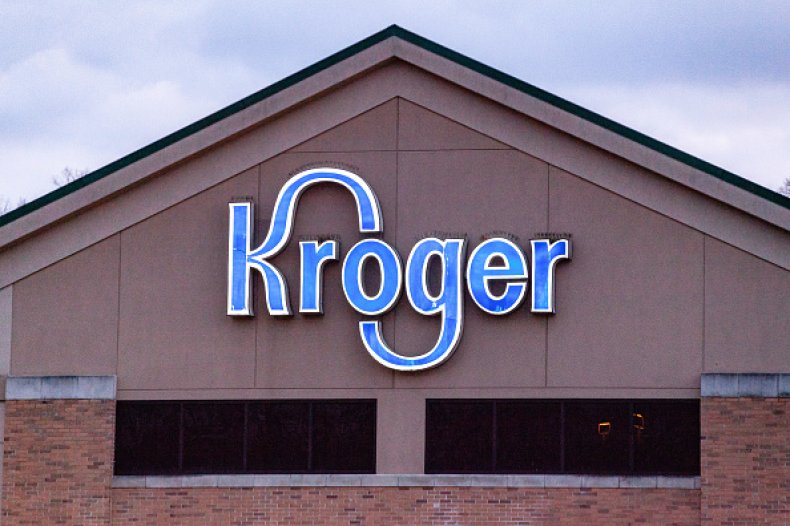 The chain was one of the last companies in Ohio to still require vaccinated customers to wear masks after Governor Mike DeWine lifted the state's mask mandate last week.
Kroger operates retail chains in 35 states including Fred Meyer, Harris Teeter, Ralphs, Mariano's, Fry's, Smith's, King Soopers, QFC and others.
The chain joins a growing number of grocery stores and retailers who have updated their mask guidelines for fully vaccinated shoppers and workers, including Target, Walmart, Costco, Trader Joe's, Meijer, Home Depot and Aldi.
Amazon also lifted its mask mandate on Wednesday, making it the U.S.' largest retailer to stop enforcing masks. Workers who verify they are fully vaccinated will no longer have to wear masks inside warehouses starting May 24, except where required by law.
Employees will also need to be 14 or more days past their final dose of vaccines. Visitors will still be required to wear masks under the company's safety procedures.
Newsweek reached out to Kroger for further comment, but did not hear back before publication.