Kroger has pledged to pay a $100 bonus to any of its employees who get vaccinated against COVID-19, making it the latest company to incentive getting the shots.
The one-off payment "will be offered to all associates who receive the full manufacturer-recommended doses" of the vaccine, a news release said on Friday.
The Cincinnati-based company, which owns Ralph's, Food 4 Less and Smith's Food and Drug, employs nearly 500,000 people across 35 states.
Those who cannot receive the vaccine because of medical or religious reasons can complete a health and safety course to receive the $100 payment, Kroger said.
It also promised a $100 store credit and 1,000 fuel points to frontline grocery, supply chain, call center, manufacturing and pharmacy hourly workers.
"As we move into a new phase of the pandemic, we're increasing our investment to not only recognize our associates' contributions, but also encourage them to receive the COVID-19 vaccine as it becomes available to them to optimize their well-being as well as the community's," Kroger's people officer Tim Massa said.
The move comes after the company, which reported revenues of $121.2 billion in 2019, was criticized for its plans to close two stores in Long Beach, California, citing the city's move to impose an $4 per hour pay rise for some grocery workers during the pandemic.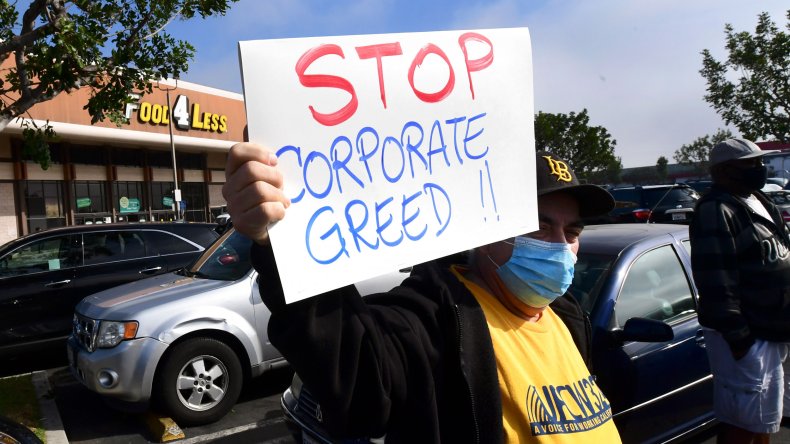 Vaccine bonus pledges
Its new vaccine bonus pledge follows similar moves by rival companies.
Aldi has said it will pay hourly workers two hours extra for each vaccine dose they get and will "cover costs associated with vaccine administration" for employees.
Dollar General (DG), which operates nearly 17,000 stores in 46 states, has announced its workers will get four hours extra pay after they complete the vaccination process.
Trader Joe's said it will give workers "an additional 2 hours of regular pay per dose."
Grocery delivery company Instacart has pledged to pay its workers $25 to help cover any potential costs incurred by them getting the COVID-19 vaccine.
Will enough Americans get vaccinated?
Americans' reluctance to get the COVID vaccine has diminished in recent weeks, polling suggests.
A Pew Research Center survey released in early December found 60 percent of respondents were interest in getting the vaccine— up from 51 percent in September, before any vaccine had been approved for use.
That figure rose to 66 percent in a similar poll conducted in January by SSRS.
Dr. Anthony Fauci, the U.S.'s leading immunologist, has estimated that between 70 to 85 percent of Americans will need to be vaccinated for a "dramatic decrease" in cases and to reach herd immunity—a state where a significant portion of a population has been inoculated against the virus thus preventing further spread.
Speaking to Newsweek in late December, Fauci said it is "very important to get the overwhelming majority of the people vaccinated."
That 70 to 85 percent level of vaccination equates to around 230 million to 279 million of the total U.S. population of 328,239,523 people
At least 39,037,964 vaccine doses had been administered to people in the U.S. as of 9 a.m. on February 6, according to the latest U.S. Centers for Disease Control and Prevention (CDC) data.