Union Blasts Kroger for Closing Stores Instead of Raising Wages Under COVID 'Hero Pay' Law
A union has expressed anger at Kroger's plan to close two of its supermarkets in southern California after the introduction of a local law ordering it to increase workers' hourly wage by $4 to compensate them for the additional risks posed by COVID.
Last March, the retailer introduced what it called a "hero bonus" for staff of an additional $2 per hour. It ended the hazard pay two months later, however, leading to criticism from unions. The company instead gave a one-off $400 bonus to full-time employees and $200 to part-time employees.
On Monday, Kroger announced that it would close a Ralphs store and a Food 4 Less store in Long Beach, California, on April 17—instead of paying staff an extra $4 an hour.
Under the ordinance passed last month by Long Beach City Council, grocery chains that employ more than 300 workers nationally and at least 15 workers locally would be obliged to give essential employees the additional hazard pay.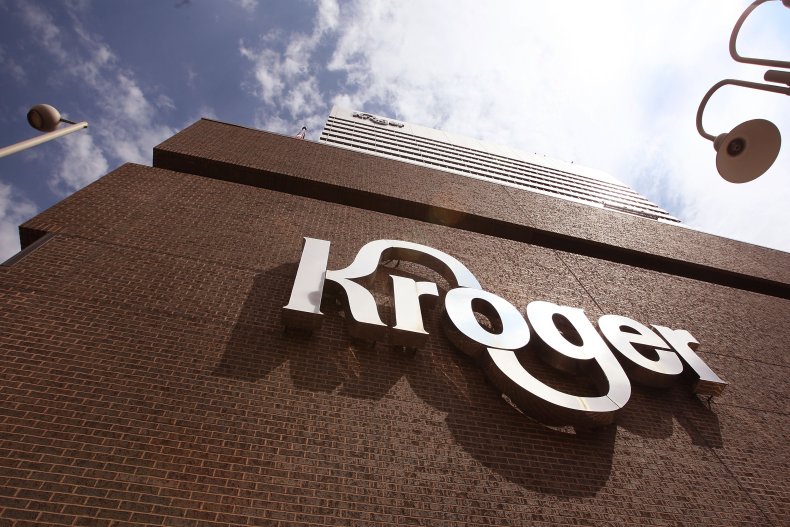 The local branch of the United Food and Commercial Workers International Union condemned Kroger, saying its decision was an attempt to "intimidate and discourage workers" from trying to fight for better conditions and wages.
"Our members, and all essential workers, have been working under enormous stress, exposed every single day they go into work to the virus with little support from their employer," said Andrea Zinder, president of UFCW Local 324, which represents 22,000 workers in Orange and Los Angeles counties, in a statement shared with Newsweek.
Zinder referred to Kroger's increase in profits during the COVID pandemic and said the two stores about to be closed had "seen sales increase significantly during this time, with little of these profits trickling back to workers."
"After everything they've been through and all the sacrifices and the service our members have provided Long Beach during the pandemic, Kroger responds with this chilling message to workers," Zinder added.
In the third quarter of last year, Kroger recorded operating profit of more than $2.9 billion—$1.2 billion higher than in the same period of 2019, according to the newsletter Popular Information.
Kroger described the order by the Long Beach City Council as a "misguided" move that "oversteps the traditional bargaining process and only applies to some, but not all, grocery workers in the city.
"The irreparable harm that will come to employees and local citizens is a direct result of the City of Long Beach's attempt to pick winners and losers, is deeply unfortunate," a company spokesperson said in a statement to Newsweek.
The retailer also said it had invested $1.3 billion since March in payments to staff and safety measures, adding that its $15 million Helping Hands fund gives financial help to workers "experiencing certain hardships due to COVID-19.
"We are truly saddened that our associates and customers will ultimately be the real victims of the city council's actions."
Santa Monica, California, has also passed a mandate requiring large grocery chains to increase pay during the pandemic. A Los Angeles Times op-ed last month noted that the rule would exclude a large number of front-line employees.
The graphic below provided by Statista shows the number of confirmed COVID-19 cases across the U.S.