Krystal Versace on Being Crowned the Youngest Winner in 'RuPaul's Drag Race' Herstory
Well, that is another season of Drag Race UK over and what a time it has been. Krystal Versace has made Drag Race herstory by becoming the youngest Queen to take home the crown.
Krystal was just 19-years-old when she strutted into the workroom announcing she was "sex on legs" and was still a teen when she made it all the way to the Top 3.
Everybody will agree it was a tough competition this season, with three incredible Queens in the final. Krystal was up against Birmingham's Kitty Scott Claus, 29, and four-time RuPeter badge winner, Ella Vaday, 33.
It is no secret all three Queen's blew judges RuPaul, Michelle Visage, Alan Carr and Graham Norton away with their Eleganza Extravaganza looks and rendition of RuPaul's "Hey Sis, It's Christmas." However, in the end, there could only be one winner and it was Krystal Versace who snapped up that crown.
She was a clear contender from the beginning, winning the first two challenges of the series and always slaying on the runway. Her performance in the Dragaton challenge solidified her place in the competition, with the judges and fellow Queen's surprised at her performance.
Speaking to Newsweek and other press after her win was announced at the Drag Race UK finale premiere event in London hosted by comedian and presenter Judi Love, Krystal said: "I feel like I'm in a dream. It feels a bit surreal."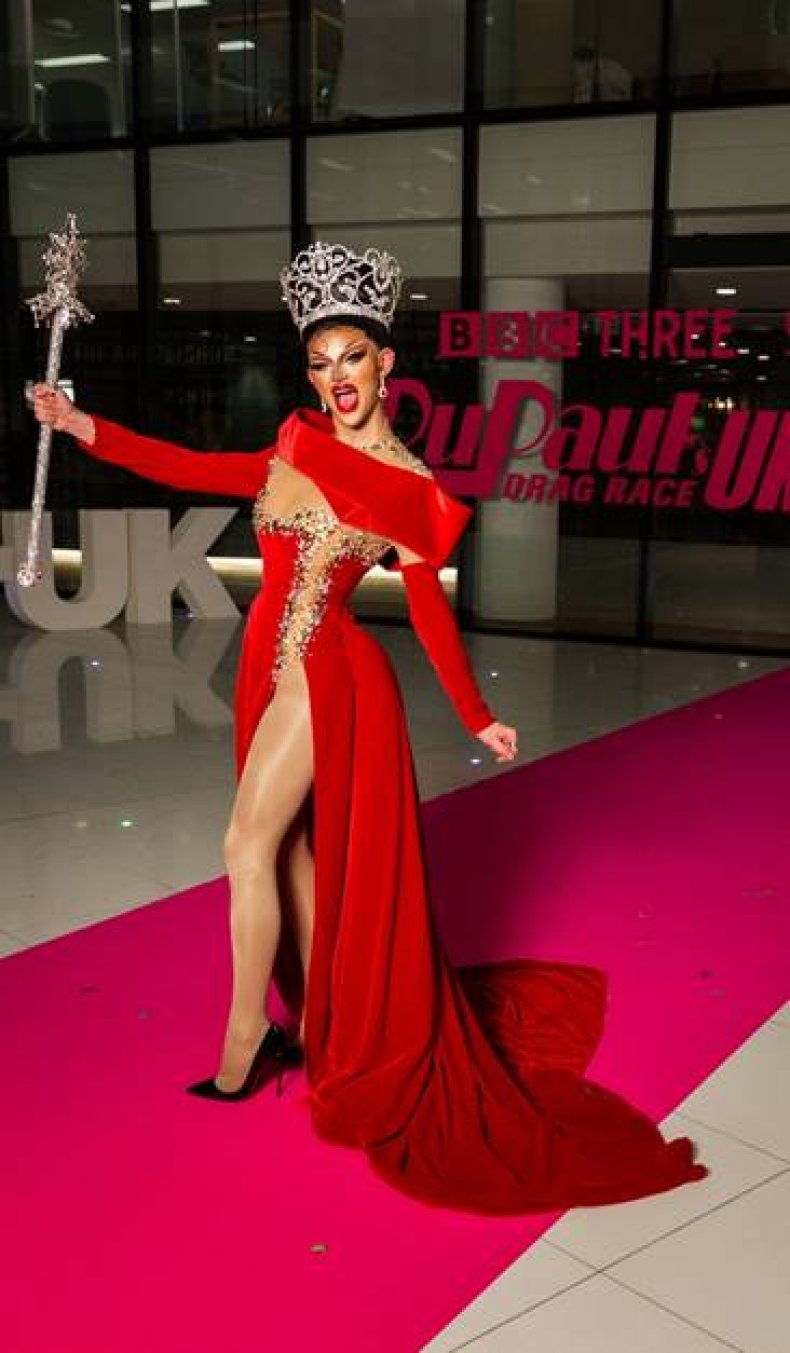 Dressed head to toe in a gorgeous red ball gown with a sexy thigh split, Krystal was in disbelief she was the next Drag Race Superstar.
She said: "Honestly, I would never have thought I'd win the show. It's mind-blowing to me."
Krystal also had a message for aspiring Drag Queens: "Anyone that is born to do drag out there and is the next superstar, can now have someone they can look at and be like, 'Okay, right I can do it.'"
She added: "If someone is telling you that you can't do something, or you're not good enough or shouldn't be doing something because of this, say no. Go with your heart, go with your gut and you could get a crown."
Runner-up Ella Vaday gushed: "Someone like Krystal, it's been so much easier for her in the current day and age compared to when I was 19 and I didn't know who I was and she is on Drag Race, she has won it. She knows who she is and I am so proud."
Holding back tears, Kitty shared: "Honestly, we are so proud of you. I love you and it couldn't have gone to a better Queen."
Not only does Krystal take home the title of the UK's next Drag Race Superstar alongside a beautiful crown and scepter, but Krystal will also go on an all-expenses-paid trip to Hollywood, where she will create and star in her own series with the producers of RuPaul's Drag Race.
At the moment, Krystal is not sure what her Hollywood series will include but she did tease it may have something to do with make-up and beauty.
But for now, Krystal insists she has no "solid plan" and is instead basking in her incredible success.
She said: "I've never really had a solid plan and I've got this far so I'm going to take the world by storm, I'm going to take every opportunity and I'm going to keep up with the times and educate and educate myself where necessary and just fill the world with love, passion, and inspiration and keep walking the walk baby!"
RuPaul's Drag Race is streaming on the BBC iPlayer now and WOW Presents Plus.