Kshama Stewart Seattle Recall Election Results As Votes Counted
Preliminary results show voters are narrowly in favor of recalling socialist Seattle councilmember Kshama Sawant.
About 53 percent voted in support of removing Sawant from office in the first count released by officials on Tuesday night, The Seattle Times reported.
The election is being conducted by mail-in vote, and additional votes will be counted in the coming days. The initial count represented about 41 percent of District 3's 77,579 registered voters, according to the Times.
Tuesday night's results were "strong and promising," Henry Bridger II, the manager of the Recall Sawant campaign, told the newspaper.
"People were really tired of not being listened to by Sawant. I think they stepped up and are telling her she finally has to listen to us," Bridger said.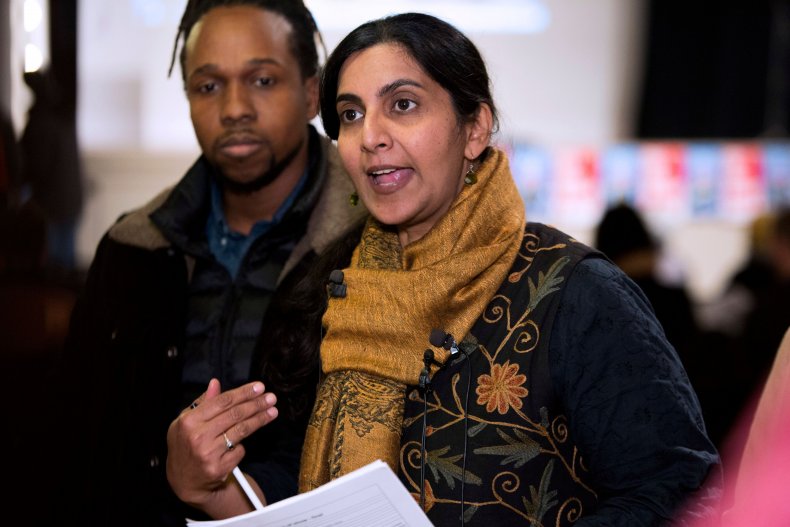 However, Sawant told supporters at a venue in the Capitol Hill neighborhood to wait until all the votes had been tallied. "In every one of our elections, there has been a dramatic swing after election night in our direction," she said, according to the Times. "While we cannot be sure of the final result, if past trends hold, it appears working people may have prevailed in this fight."
The recall question on the ballot cited a minor campaign finance violation that Sawant— the council's longest-tenured member—has acknowledged and paid a fine for.
It also cited her decision to let a crowd of racial justice protesters into City Hall while it was closed because of COVID-19 restrictions in June last year. She does not deny opening City Hall, but says her action did not violate any laws.
A third charge accuses her of leading a protest march to the home of Mayor Jenny Durkan, even though Durkan's address is protected by a state confidentiality law because of her prior work as a federal prosecutor. Sawant admits taking part in the march, but denies leading it to Durkan's house.
Sawant's supporters argue that the charges are a pretext for an effort by big business, developers and commercial real-estate interests to remove Sawant from office, and part of the backlash against Black Lives Matter protests.
She was re-elected by about 4 percentage points in 2019 when a late, million-dollar push by Amazon to defeat her and other progressive candidates backfired.
The Kshama Solidarity Campaign has called the effort to remove Sawant "a racist, right-wing attempt to recall one of the most fighting, most progressive elected officials in the country."
If Sawant is recalled, she would be removed from office on December 17. The other eight members of the council would appoint a replacement until a special election is held in November 2022.
The Recall Sawant campaign, Sawant's office and the Kshama Solidarity Campaign have been contacted for comment.
Update 12/08/21, 5:30 a.m. ET: This article was updated to add extra information.