Ku Klux Klan Members Defend Labor Day Weekend 'Kookout' in Indiana Park: 'We're Just Having A Cookout'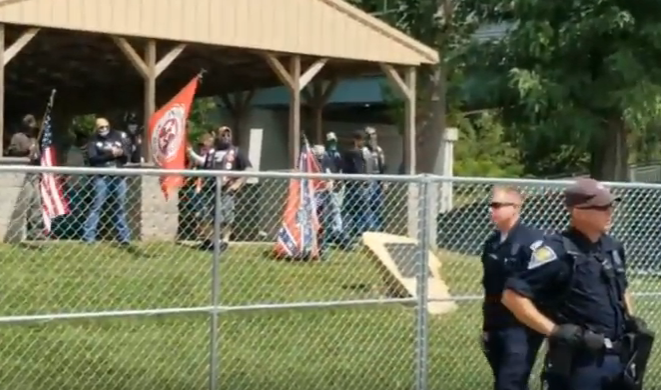 A small Ku Klux Klan "kookout" in Madison, Indiana was overshadowed by the hundreds of protesters who showed up to ridicule the members of the Honorable Sacred Knights of the KKK.
The 13 KKK members who came to Jaycee Park had reserved the public space for the cookout and placed several flyers advertising the "Ku Klux Kookout" over Labor Day weekend. The Saturday event, however, had its attendance dwarfed by the roughly 300 protesters who waved signs and gave speeches against hate throughout the two-hour cook out. In addition to flags representing their chapter of the Klan, the 13 KKK members could be seen waving Confederate and U.S. flags.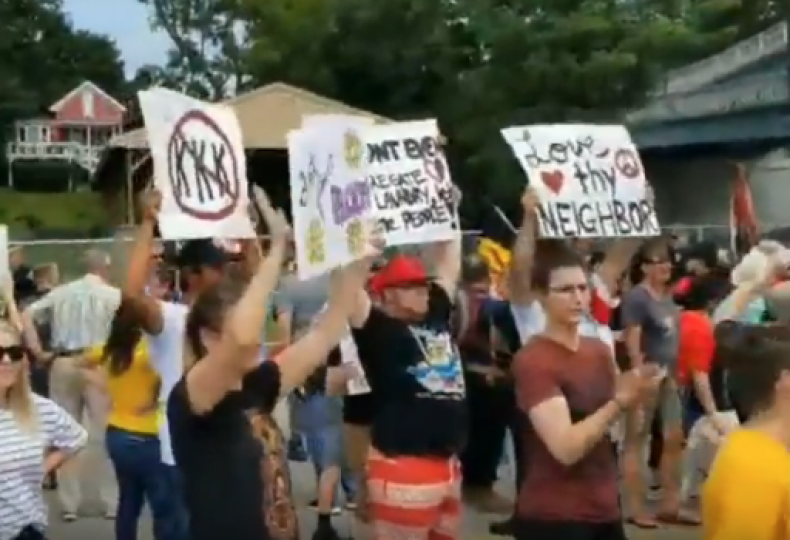 "There's no place for hatred in this community," Hanover College student Nick Vaughn, told the Indianapolis Star. Vaughn called for peace, love and understanding in addition to a "tactful" approach. "No hate in our state," yelled other members of the anti-Klan protests in the park.
Several members of the Klan shouted "white power" back at the protesters, and a couple members defended their presence in the park for the Saturday event. "I'm not out here calling you nothing," one Klan member was heard saying to the predominately white protesters WDRB-TV reported. "We're just having a cookout," said another Klan member.
Protesters appeared divided on whether to aggressively approach the small Ku Klux Klan gathering. But more than 50 police officers from four police agencies were present in the park to prevent any potential fights. Last year, the Klan met nearby for a similar rally right off the Ohio River in the small Indiana town.
"We like to prepare for the worst and hope for the best. We certainly don't want to be under prepared for these type of events." said Sheriff John Wallace, with the Jefferson County Indiana Sheriff's Department.