Kucinich Shows How Redistricting Could Trouble the Dems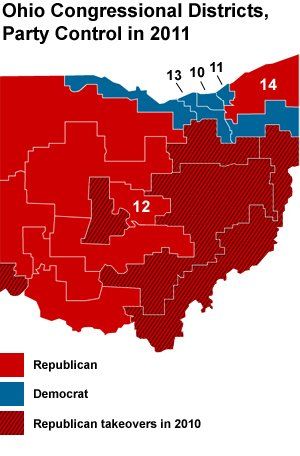 From 1998 to 2008, longtime Democratic Rep. Dennis Kucinich won each of his reelection campaigns by at least 49,000 votes. Even in the Democratic bloodbath that was the 2010 midterms, the former mayor of Cleveland and presidential candidate carried his district in northeast Ohio by a 16,000-vote margin, more than 8 percent. So why should he be worried about 2012?
Because it's redistricting season again, the time when legislators redraw district boundaries based on new census data, and Republicans in Ohio are holding the pen. The Ohio GOP won the governor's seat and took over the state legislature in the midterms, part of a nationwide statehouse surge that has placed Republicans in charge of redrawing congressional-district lines in 17 states, which account for a full 193 out of 435 seats in the House of Representatives, including all the seats from the swing states of Ohio, Pennsylvania, Michigan, and Wisconsin. Come 2011, the GOP will control more state legislatures than at any time since 1928. Democrats, by contrast, have maintained control of the redistricting process in six states and will have sole say over 44 districts (that will rise to seven states and 72 districts if Democrats end up holding the New York state Senate).
Is all that a prescription for Republican dominance until the next round of redistricting in 2020? Not quite. District borders are only part of the election equation. "You still have to have good candidates [and] good campaigns," says Tim Storey, senior fellow at the National Conference of State Legislatures. But redistricting can give certain candidates a "head start," as Storey puts it. And the quagmire Kucinich is facing illustrates how the GOP will be able to make life more difficult for Democrats across the country.
The five Democrats in Ohio's congressional delegation are crowded in and around Cleveland, Akron, and Youngstown (see map above), where an exodus of population in the last decade is part of the reason that Ohio is expected to lose two congressional seats after the Census Bureau releases its decennial population count on Dec. 31. If that prediction holds, new district lines will cut the state's 18 current representatives down to 16.
Republicans will push to lose Democratic districts, naturally, says GOP state chairman Kevin DeWine. "It's my job to go advocate for a map that finds a way for Ohio's 13 Republican members of Congress to have a district that is eminently winnable" in 2012, he says. "I see a path to making that happen." DeWine declined to name specific districts that the state legislature and governor, who will have to approve the plan like any other new law, might target. But political observers named Kucinich's 10th District, Rep. Marcia Fudge's 11th District, and Betty Sutton's 13th District as ripe for reworking.
To hurt those Democrats' chances in 2012, the GOP can employ a combination of the three well-worn redistricting techniques known as "packing," "cracking," and "kidnapping." Start with the 11th District, which includes part of Cleveland. Republicans might consider cracking this district by dividing it and moving its parts into several other districts in order to reduce the power of the city's Democratic voters. They can't do that without risking a lawsuit, however; more than half the residents of the district are African-American, and courts have said redistricting plans that eliminate so-called majority-minority districts without replacing them are unconstitutional.
But with a decreased population in the Cleveland area, Republicans could expand the 11th District into Democratic areas nearby, packing it with more Democratic supporters. That would likely leave fewer Democrats in the nearby 10th District, undermining Kucinich. Republicans could also crack Sutton's 13th District, which runs from Akron northwest to Lake Erie. The 13th includes parts of counties that went strongly for Obama in 2008 (an indication of how the local voters lean), but it also abuts the 14th District, where GOP Rep. Steve LaTourette won with 65 percent of the vote this year. Moving parts of Sutton's Democratic base into the 14th District would be possible without significantly diluting LaTourette's chances. "I don't think he's worried," a Democratic strategist who worked in Ohio this year says of LaTourette.
After packing the 11th and cracking the 13th, Republicans could follow with a kidnap: draw a new district that includes the homes of two of three Democrats (Fudge, Kucinich, and Sutton), forcing a primary race between two of those incumbents. Even if the GOP strategy packed Democrats into one area where Democrats will likely win a seat, the GOP would have made other races competitive and eliminated one Democrat from the rolls.
Not that the redistricting process will be a cakewalk for Ohio Republicans. Even with one party in control, a redistricting plan must balance all sorts of competing interests, from top party officials (likely speaker-to-be John Boehner, of the state's Eighth District, will surely have a say) to lower-ranking Republicans at the state level (what Ohio state senator has ambitions for a congressional seat and might call in a favor?). And even if the party were to eliminate one Democratic district, as in the scenario described above, the GOP would still have to find out where to eliminate the second seat that Ohio might lose after the new census numbers. If Republicans do that by making changes outside the northeastern part of the state, "inevitably they're going to be putting two Republicans together," says John Green, a political scientist at the University of Akron.
Still, the nationwide map holds little good news for Democrats when it comes to redistricting. Kucinich himself has seemed to acknowledge that his hands are tied: "As long as I have the seat in Congress, I'll keep doing the best job that I can and not worry about a process over which I have no control." Other congressional Democrats would do well to get to work also. Two years from now, the other team will have a head start.
Follow the author on Twitter or send him an e-mail at ryan.tracy@newsweek.com.