Trump Adviser Argues Quotes of G-7 Leaders Criticizing Trump's China Trade War Are 'Out of Context'
President Donald Trump's economic adviser Larry Kudlow attempted to argue quotes from Group of Seven (G-7) leaders criticizing the administration's ongoing trade war with China were "out of context," despite being confronted with the precise wording and even video footage of some of the remarks.
Kudlow stumbled to respond during an interview with CNN's State of the Union on Sunday. Anchor Brianna Kielar asked Kudlow, who serves as the director of Trump's National Economic Council, about quotes from G-7 leaders voicing their disapproval of Trump's trade war tactics, even playing a clip of British Prime Minister Boris Johnson pointing out that his country disagreed with the tariffs and favored free trade.
"Well, look, I'm not sure I agree [with] how you portrayed that, to be honest," Kudlow replied.
Kielar pushed back, asking: "What do you mean? That's a quote."
"Yeah, well that may be a quote, but sometimes you're taking a quote out of context," he argued, saying he wanted to add context. He then claimed that all the G-7 leaders had voiced support for Trump's efforts to hold China to account over its trade practices. "I was in that meeting for two hours with world leaders," he asserted.
But Kielar asked "What is out of context? We just rolled video." She pointed out that voicing support for addressing trade concerns with China was different than agreeing with the president's tactics.
"Larry, those words came out of Boris Johnson's mouth. How do you argue with that?" she pointed out later in the segment.
During a Sunday morning meeting with Trump, Johnson raised his government's concerns with Trump's ongoing trade dispute with China.
"Just to register a faint, sheeplike note of our view on the trade war: we're in favor of trade peace on the whole," the British prime minister said. "We think that on the whole, the UK has profited massively in the last 200 years from free trade and that's what we want to see. So, that's what we're keen to see. We don't like tariffs on the whole."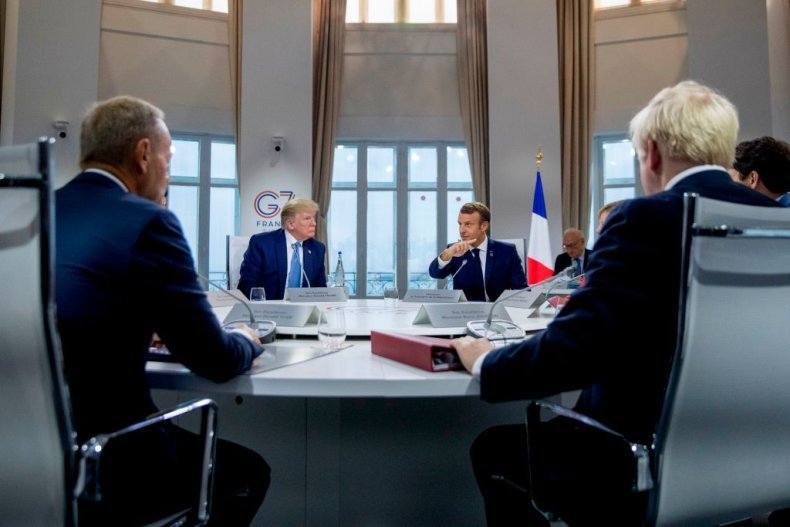 His comments came after Trump argued that he hadn't faced any pushback from world leaders at the conference over his China policy.
"I haven't heard that. I think they respect the trade war. It has to happen," the president argued.
But French President Emmanuel Macron had publicly criticized Trump's trade policies as well.
"I want to convince all our partners that tensions, and trade tensions in particular are bad for everybody," Macron said. "We must succeed in reaching a de-escalation, stabilise things and avoid this trade war which is already taking place everywhere," he added
Donald Tusk, president of the European Council, also pointed out on Saturday that Trump's trade policies could have serious economic repercussions for the world.
"Trade wars will lead to recession, while trade deals will boost the economy," Tusk said.