Kumail Nanjiani and Emily V. Gordon Share How the Immigration Experience Impacted 'Little America'
"An anthology show based on the true stories of immigrants. I can't believe that hasn't existed already," Nanjiani told Newsweek Conversations on a recent visit with his creative partner and wife, Emily V. Gordon. So the two of them, along with Lee Eisenberg, Alan Yang, Joshua Bearman and Joshua Davis, decided to create Little America, which premiered on Apple TV+ in January and has already been given a second season by the streaming platform.
"We don't want to show to be political, but it is undeniable that its very existence is seen as a political act," Nanjiani said. "We really wanted to make a show that was entertaining, moving, funny—all the things that we like and stuff we watched. We didn't want it to feel like a medicine show, you know?"
The first season tells eight different stories about the immigrant experience in the United States. Ranging from assimilation to maintaining a cultural connection to one's country of origin, Little America takes an entertaining and thought-provoking look at immigrant stories often ignored by mainstream Hollywood.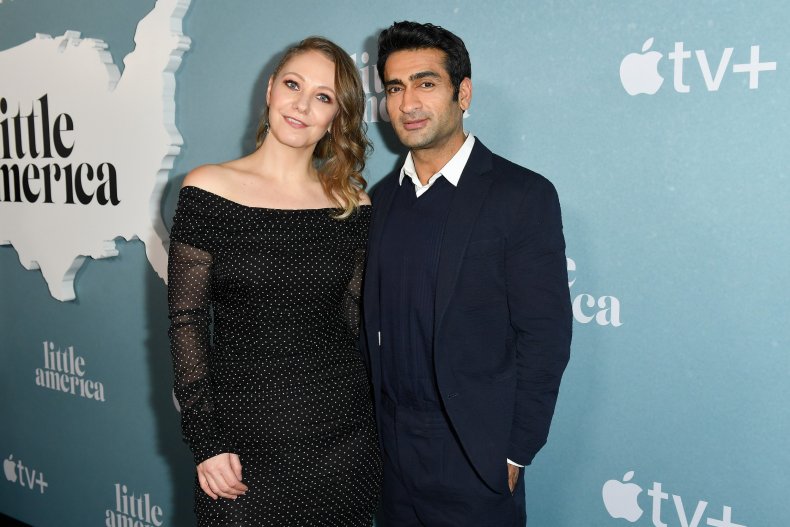 "We did our best to try and hire writers and directors and actors that all had personal connections to that part of the world," Gordon said. "Those writers and directors really pour themselves into making these stories feel very specific and detailed, but also kind of universal."
Nanjiani and Gordon are best known for their Oscar-nominated work on the 2017 romantic comedy The Big Sick, which is loosely based on how the two first came together despite their cultural differences and a dramatic medical diagnosis.
The success of The Big Sick allowed the couple to have their pick of projects to attach their names to, but Little America was the only one they committed to.
"After The Big Sick, we were approached by a lot of people to work on many different things... This was the only thing that we said yes to," Gordon said.
Nanjiani, who portrayed Pakistani immigrant Dinesh Chugtai in the HBO series Silicon Valley (2014-2019), also knows firsthand the immigrant experience in the United States. Raised in Pakistan, he immigrated to the United States for college, followed by his brother and then the rest of his family. Nanjiani said that his family initially had a smooth transition into American culture, but as of late that has become more nuanced, particularly for his mother.
"She came here and felt so accepted, and she really felt like there was so much diversity around and everybody was so open and welcoming. Then in the last couple of years, sort of the rhetoric around immigration has changed or become louder in a way that now she's like, well, I guess what I thought was true wasn't. She just has a much more complicated relationship with America," Nanjiani said.
Even though he doesn't feel like it's all bad for immigrants, or that the idea of the American veneer is completely tarnished, it undoubtedly has become more difficult.
"There are many different people who feel many different ways; I feel like in the last few years, there's sort of become two camps that are getting further and further away from each other," Nanjiani said.
All eight episodes of Little America are currently streaming on Apple TV+.
Watch the full interview with Little America's Kumail Nanjiani and Emily V. Gordon on Newsweek Conversations.