Kurdish Activists Shut Down London Underground Station in Anti-Isis Protest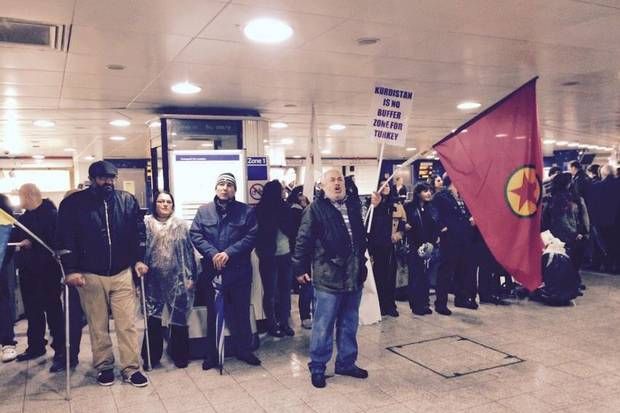 A protest condemning Islamic State (Isis) shut down London's central Oxford Circus station today, when 40 pro-Kurdish protesters blockaded the entrance barriers forcing British Travel Police to temporarily close the station.
"We occupied Oxford station to appeal for more support for Kurds fighting Isis", Memed, 29, a Kurdish activist and one of the organisers of the march who would only give his first name, told Newsweek.
"We held arm in arm in front of the tube barriers and stopped people, explaining our cause to them," he said, adding that protesters let through a pregnant woman and several doctors who needed to pass.
Protesters were heard chanting "Who is the enemy? - Isis!". Although Memed said the protest was in support of the YPG fighters battling Isis at the Syrian border town of Kobane, some were pictured waving flags associated with the Kurdistan Workers' Party (PKK), who are also involved in the fight against Isis. The PKK is regarded as terrorist organisation by the US and EU.
Disgruntled commuters allegedly shouted abuse at the protesters telling them they were "exactly like Isis", however organisers responded by warning Isis pose a danger to the West as well as Kurdistan.
"If Isis continue their massacre in Kobane their next stop will be London, New York and Paris. Kurds must be given the necessary weapons to fight Isis on equal footing," said Memed.
British Travel Police said that the station was closed for a short period, but re-opened shortly before 2pm, with officers accompanying the protesters onto a train, which then left the station. No arrests were made as far as they were aware, they added.