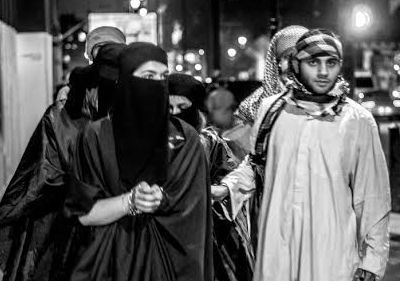 In a controversial publicity stunt, Kurdish protesters took to the streets of London to draw attention to the slave-trade tactics of Islamic State, a group more commonly known as ISIS, in a mock auction of captured women from territories in Iraq and Syria yesterday evening.
The protest led a group of chained veiled women and encouraged passers by to bid for them in front of the Houses of Parliament, Leicester Square and Downing Street.
"This is what Shariah means," the speaker for the mock ISIS group belted from a megaphone at the first of three protests.
"This happens every day in Iraq and Syria. We are bringing it to you," he yelled while leading a group of four chained and veiled women in front of Westminster Square, followed by 20 protesters chanting "ISIS, ISIS, terrorists!"
Once the group reached the entrance to Westminster Hall the leader proceeded in encouraging passersby to bid on the captured women "to serve them, for their pleasure."
The speaker for the "ISIS" auctioneers boasted he had "Christian women, Muslim women, women from Kobane, from Raqqah, from Mosul," before beginning the bidding with 14-year-old Yasmin whom bidders were assured was "pure" and "a virgin."
Each of the women was "sold" for several hundred dollars before the protesters cleared and went home.
One of the protest's organizers, who preferred not to be named, told Newsweek the stunt was intended to provoke an "aggravated reaction," highlighting the "crimes ISIS are committing in Iraq and Syria."
"What we wanted to show is that this could take place in London," he said.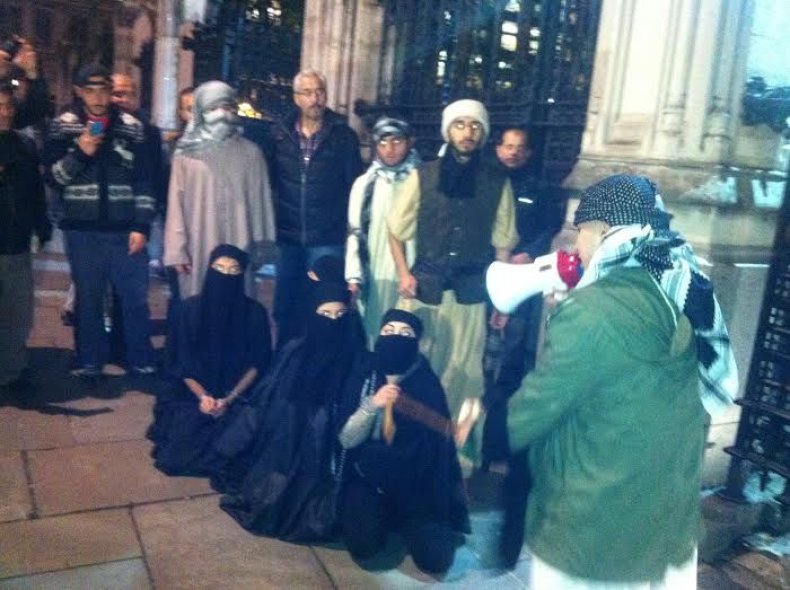 "This is not a myth. This is already happening on our streets," he added, alleging to the murder of Lee Rigby on a London street side last year at the hands of Islamist militants.
The protesters encountered some hostility on the way with one of the three mock auctions being interrupted by a complaints the protest "had put people off their drinks."
Police had to instruct some passersby from confronting protesters, however no arrests were made.
"The unfortunate truth is ISIS are already implementing their terror among us. We were trying to wake up the British public to the danger ISIS pose on humanity."