Kurdish Female Fighters Commandeer Tanks In Battle to Capture Aleppo Air Base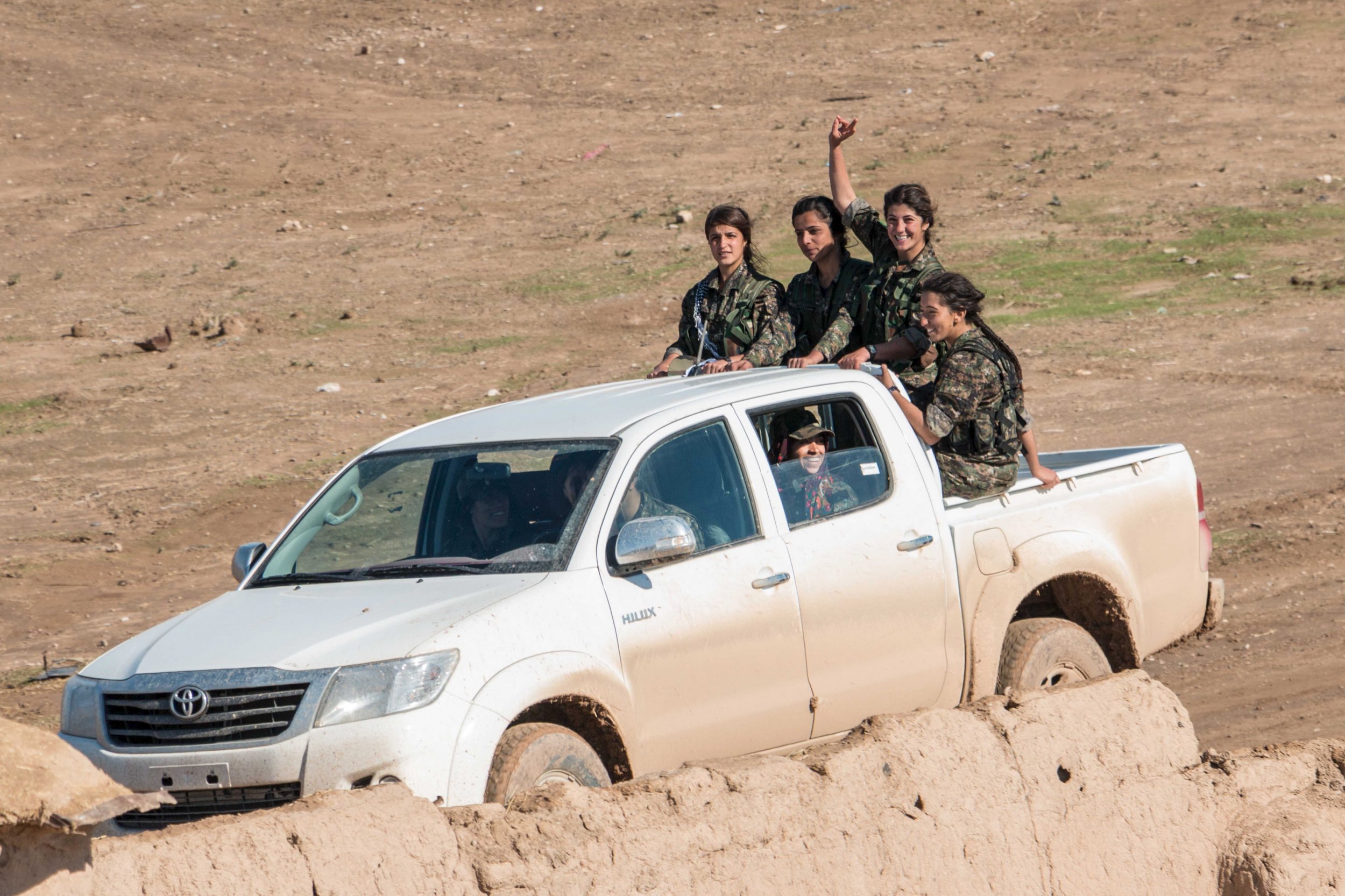 Footage emerged on Thursday of female Kurdish fighters commandeering tanks, sniper rifles and machine-gun mounted trucks in the successful offensive to capture the Mannagh air base from Islamist rebels in Syria's Aleppo province.
The video, released by the Kurdish AHNA news agency, begins with female voices before cutting to a tank with three female Kurdish fighters sitting atop the vehicle and another in a front seat.
It is unclear if a female fighter is driving the vehicle but it demonstrates the willingness of the Kurdish female fighters to be at the heart of the People's Protection Units' (YPG) battle for territory in northern Syria. A second shot of the tank, towards the end of the video, shows a tank firing into the distance with female voices shouting afterwards.
The footage then shows female fighters manning heavy weaponry, firing between sandbag protected walls, and machine-gun mounted trucks. It also shows what appears to be a female with long hair firing a sniper rifle through a hole that appears to have been created by a projectile.
The Syrian Observatory for Human Rights (SOHR) told AFP news agency that the Kurds captured the air base and the nearby village of Mannagh from anti-regime rebels late Wednesday. The U.K.-based monitoring group revealed that the Russian air force, allied to Syrian President Bashar al-Assad, supported the offensive with air strikes.
"With the defeat at Mannagh, Islamist fighters lost the only military airport they held in Aleppo province," SOHR founder Rami Abdel Rahman said.
The air base is located between two key roads that lead from Aleppo city to Azaz north of the city, giving them a strategic advantage to tackle jihadis further east, he added. The Assad regime lost control of the base in August 2013.
YPG forces have been battling Islamist rebels in Syria as well as the Islamic State militant group (ISIS) in eastern Syrian provinces of Raqqa and Hasakah. Arab rebels claim that Kurdish fighters are cleansing towns they capture of Arabs to claim more territory for an enclave they wish to build for themselves in northern Syria. The YPG denies this accusation.