With End to Syrian War In Sight, U.S.-Backed Kurdish Forces Hold First Official Talks in Damascus
A delegation from the U.S.-backed Syrian Democratic Forces (SDF) made its first official visit to Damascus on Friday to hold talks with the Syrian government.
Officials from the Syrian Democratic Council (SDC), the political wing of the SDF, hope to discuss the future of land held by the Kurdish-led coalition in the country's northeast.
"We are working towards a settlement for northern Syria," said Riad Darar, the council's co-chair. "We hope that the discussions on the situation in the north will be positive."
A Kurdish legislator said the government proposed that the SDF allow the Syrian government to retake control of areas east of the Euphrates River in exchange for the country's "constitutional recognition for the Kurdish community and its cultural rights."
Before the anti-government revolt began in 2011, the Baathist government of President Bashar al-Assad had persecuted the Syrian Kurdish population, prohibiting public gatherings, arresting political leaders and torturing detainees.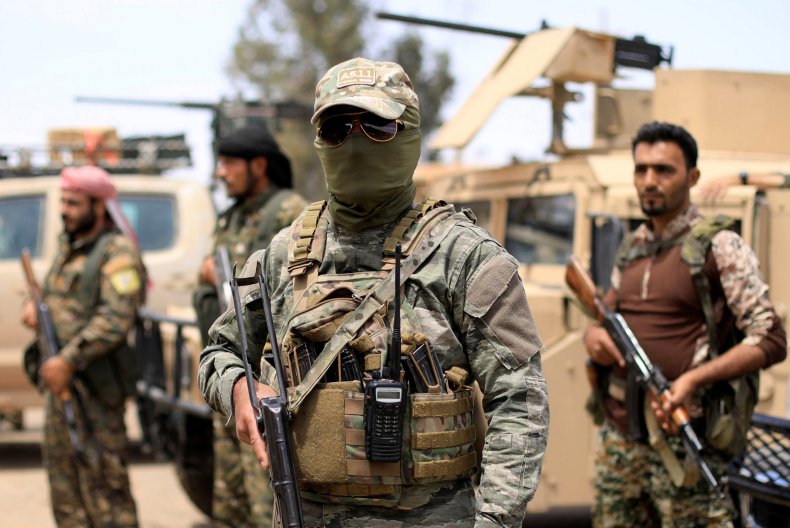 Assad views the Kurds' political aspirations with skepticism. But according to Reuters, Syria's Kurds have said they are not hoping to gain independence but instead seek a political deal that will protect their autonomy. The SDF has said it wants a federal Syria that includes autonomous regions.
Agence France-Presse reported that the Syrian government and SDF control most of the country. The SDF holds about 27 percent of the nation's territory, according to AFP, which cited the Syrian Observatory of Human Rights. Because they are the two most significant Syrian forces remaining in the war, a peace agreement could officially end the conflict, Reuters said.
The Kurdish group controls Raqqa, which it took from the Islamic State militant group (ISIS) with the support of the U.S.-led coalition in October 2017, as well as strategically important areas along the Syria-Turkey border.
Assad has repeatedly vowed to retake control of the entire country by force. "The only problem left in Syria is the SDF. We're going to deal with it by two options. The first one we started now, opening doors for negotiations, because the majority of them [SDF] are Syrians. Supposedly, they like their country, they don't like to be puppets to any foreigners" Assad said in May.
"If not, we're going to resort...to liberating those areas by force. It's our land, it's our right, and it's our duty to liberate it, and the Americans should leave. Somehow they're going to leave," he said.
More than 500,000 people are estimated to have died in Syria's civil war, which has involved intervention from a range of global actors, including Russia, Turkey, Iran and the United States.