#KurdsBetrayedByTrump Trends as Americans Condemn Trump for Pulling U.S. Troops From Northeastern Syria
The hashtag #KurdsBetrayedByTrump began trending on Twitter on Wednesday as Turkey's incursion into Syria sparked renewed condemnation of President Donald Trump over his recent decision to pull U.S. troops out of northeastern Syria.
Turkey launched long-expected airstrikes on suspected positions of Syrian Kurdish forces in Ras al Ayn, in northeastern Syria, on Wednesday just days after Trump announced a startling decision to move U.S. military forces away from the Turkish border. Kurdish fighters have been significant U.S. allies in the war against the Islamic State militant group (ISIS).
"The Turkish Armed Forces, together with the Syrian National Army, just launched Operation Peace Spring," Turkish President Recep Tayyip Erdogan tweeted. "Our mission is to prevent the creation of a terror corridor across our southern border, and to bring peace to the area."
Trump quickly moved to denounce the offensive, calling it a "bad idea," but stood by his decision to pull American soldiers from the area in a statement released by the White House.
"I did not want to fight these endless, senseless wars—especially those that don't benefit the United States," he said. "Turkey has committed to protecting civilians, protecting religious minorities, including Christians, and ensuring no humanitarian crisis takes place. We will hold them to this commitment."
Despite his remarks, tens of thousands of Americans took to Twitter to accuse Trump of abandoning the Kurdish allies. As of Wednesday afternoon, the hashtag #KurdsBetrayedByTrump rose to the top most-trending topic on the social media platform in the United States, with over 100,000 users tweeting in opposition to the current administration's decision.
The invasion also renewed harsh criticisms against Trump from some of his usually-reliable Republican allies—including Senator Lindsey Graham and Representative Liz Cheney—with some calling the president's move a "terrible mistake" and "sickening."
"Pray for our Kurdish allies who have been shamelessly abandoned by the Trump Administration. This move ensures the reemergence of ISIS," Graham said. "I urge President Trump to change course while there is still time."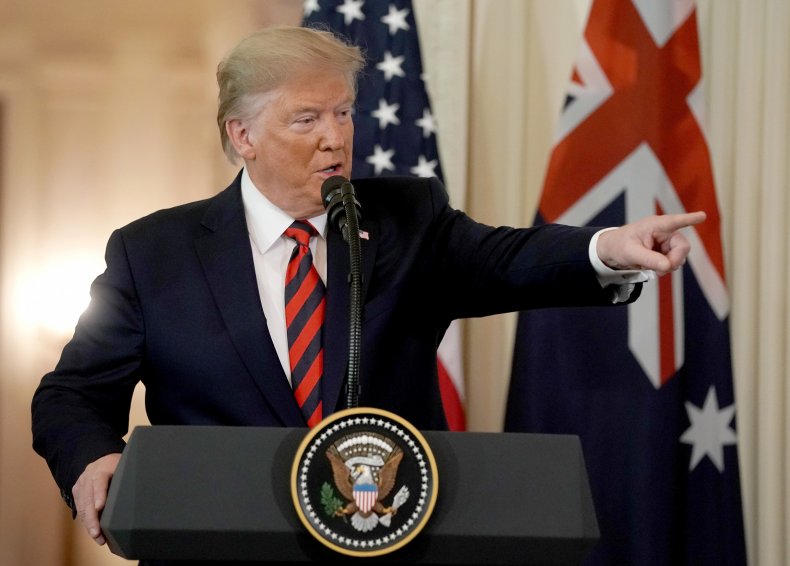 "The world will never forgive us. Nor should they. #KurdsBetrayedByTrump," Human Rights Campaign's Charlotte Clymer tweeted.
"NBC's @RichardEngel reports from Turkey as the Trump-enabled offensive in Syria begins, which "could become a campaign of ethnic cleansing." #KurdsBetrayedByTrump," Shareblue media senior writer Oliver Willis tweeted.
"Trump is a danger to our national security. He's betraying our allies and if he thinks the US can pursue its interests alone he's in way over his head," Democratic Rep. Bonnie Warson Coleman tweeted. "He's a drowning corrupt fool. We can't let him take our country down. #KurdsBetrayedByTrump."
"This has become a Republican tradition, betraying allies, starting wars, blaming everyone else for your failures. #KurdsBetrayedByTrump," author Grant Stern tweeted.
"We sent the world's largest terrorist organization ISIS to the bottom of hell. We will never give up. The Kurds are ready to die for their freedom. #KurdsBetrayedByTrump," Twitter user @47Kropotkin wrote, alongside an image of some Kurdish soldiers.
#KurdsBetrayedByTrump," Twitter user @DanielGinat wrote.
"Money over morals for Trump. #KurdsBetrayedByTrump," Twitter user @Goku1696 wrote, alongside a GIF of the U.S. president saying ,"So sad."
"There is something seriously wrong with a president who constantly praises our adversaries & cozies up to dictators while turning his back on our allies. And his latest betrayal is already resulting in the loss of life of people who fought by America's side. #KurdsBetrayedByTrump," Twitter user @ProudResister wrote.
"Not a good day to be America's friend #KurdsBetrayedByTrump," Twitter user @AthGeo wrote.
"Will you sleep comfortably in the coming days Mr.@realDonaldTrump #KurdsBetrayedByTrump," Twitter user @localkurds wrote.
"This is how your repay kurds? The men and woman who fought bravely against ISIS. a lot of them gave their lives for it, so the world would live in peace. This is how you repay them? #KurdsBetrayedByTrump," Twitter user @beyarhimself wrote.
"Tonight thousands of Kurds are unable to escape the inevitable massacre Trump signed off on. They fought with us & for us when it mattered," Twitter user @jn419 wrote. "Trump betrayed them, not patriotic Americans. Trump & those who support him have blood on their hands. #KurdsBetrayedByTrump."