Who Will Kurt Angle Face at WrestleMania 35? Angle Lists John Cena and Others as Possible Opponents
WWE Hall of Famer, Kurt Angle announced on RAW this Monday that his retirement match will take place at WrestleMania 35. He didn't name an opponent, which has fans wondering if he will face John Cena or some other WWE Superstar.
There are quite a few contenders for the honor. Angle himself named a few WWE superstars he would like to square off against during a backstage interview in in April.
Kurt named John Cena, AJ Styles, Samoa Joe, Drew McIntyre, Baron Corbin and Bobby Lashley as possible opponents.
So who will face Kurt Angle at WrestleMania 35? With just four weeks to build to the match, it's likely one of the men Angle mentioned in his interview. Here are the possible candidates and their chances at taking on the Olympic Gold Medalist in April.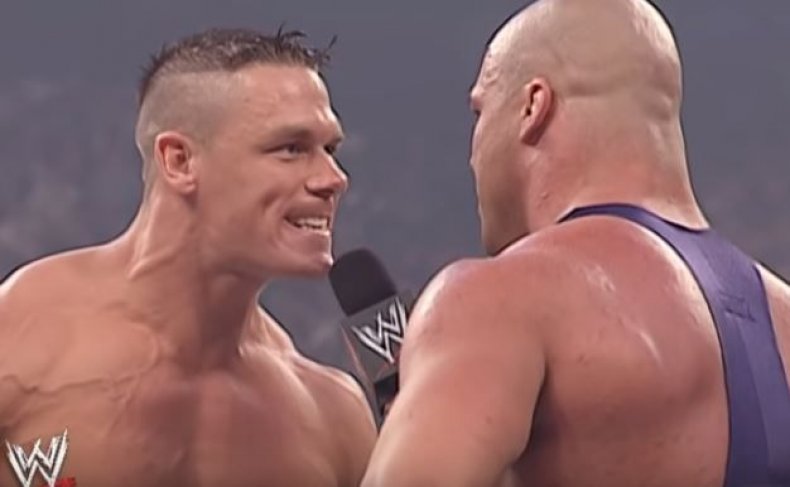 JOHN CENA
John Cena seems to be the most popular guess as his history with Angle is well-known. On the June 27, 2002 episode of SmackDown, Angle and Mr. McMahon were aligned. Following his victory over Hollywood Hulk Hogan at the King of the Ring pay-per-view to capture the WWE Championship, the Olympic gold medalist held an open challenge.
A young Cena came out and stood in front of the champ. Angle asks Cena what's the one quality he has that gives him a shot at facing the best in the WWE. Famously, Cena responds by saying "ruthless aggression" and strikes the champion leading to their match.
While Angle would win the fight, Cena put the champion through the ringer.
Cena is currently a part-timer, but WWE is looking to bring the superstar into a program heading into WrestleMania 35 and bring the story between him and Angle full circle. It also provides a low commitment, story-wise, for a Cena appearance as there won't be anything to resolve after the match.
AJ STYLES
Having a match with AJ Styles would be on anyone's bucket list. The Phenomenal One is a wrestling machine and the likelihood of a great match featuring Styles is very high.
Angle and AJ have had plenty of matches in TNA, the promotion Kurt would join after being released from the WWE, so revisiting their rivalry is a possibility. However, Styles is currently involved in a feud with Randy Orton which could spill into WrestleMania.
SAMOA JOE
Another TNA superstar who has history with Kurt is current U.S. Champion, Samoa Joe. Like with AJ Styles, the WWE could revisit their rivalry at 'Mania but Joe is likely going to defend his title at WrestleMania 35. But with Joe seemingly bringing back the U.S. Open Challenge, Kurt Angle could answer the call.
DREW MCINTYRE
McIntyre and Kurt Angle's history in the WWE is pretty short. After returning from his Stephanie McMahon-imposed vacation, Angle took on Drew McIntyre on an episode of Monday Night RAW where the Scottish Psychopath absolutely destroyed him.
McIntyre even had Angle tap out to his own submission, the Ankle Lock. Following this match, Angle was written off of television for months. Angle could face off against the man who put him on the shelf, but McIntyre seems to be on a collision course with Roman Reigns after he took out Reigns and Ambrose this week on RAW.
BARON CORBIN
When Angle was the general manager of RAW, Baron Corbin was given a constable role that oversaw Kurt's decisions. The two would verbally go at it each week and even meet in the ring a few times. However, when Stephanie forced Kurt on vacation Corbin took over as GM and didn't relinquish it even when Angle came back.
These two have a number of matches against each other under their belts and a possible WrestleMania match would finally put a bow on their feud.
BOBBY LASHLEY
Another rival from TNA, Lashley and Angle have had battles over the World Title in the past. Lashley also credits Kurt for leading him to the WWE and professional wrestling.
However, Lashley is the current Intercontinental Champion and has feuded with Finn Balor in recent weeks which could lead to a WrestleMania match so there may not be room for a one-on-one match.
WrestleMania 35 is set for Sunday, April 7.
What do you think of Angle's proposed opponents at 'Mania? Who do you want to see Angle face? Let us know in the comments section below.