Kurt Angle Announces Last WWE Match to Take Place at WrestleMania 35
In his hometown of Pittsburgh, WWE Hall of Famer Kurt Angle announced that he will have his final match in the company at this year's WrestleMania.
During the final hour of Monday Night RAW, the Olympic Gold Medalist trotted out to the ring to make his farewell announcement. He reminisced about his time in Pittsburgh while he trained for the Olympics. After winning a Gold Medal - "on a broken friggin' neck" - he went to the WWE. And now that he returned, he felt it was time to announce his farewell match in front of the home crowd.
Take a look at Kurt Angle's farewell announcement, below.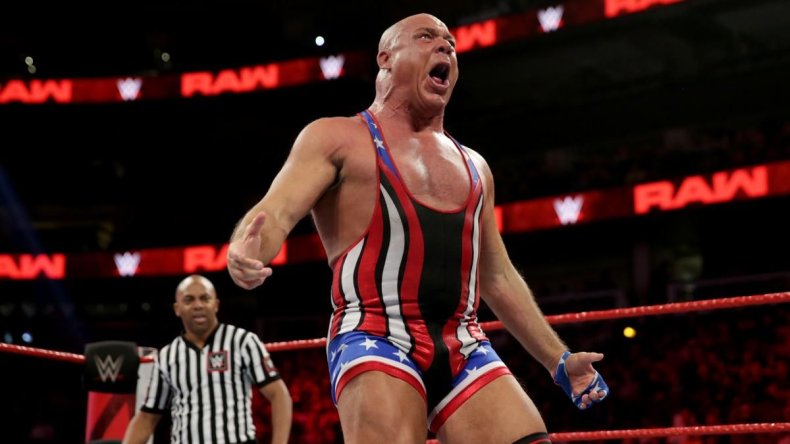 It's unclear who Kurt Angle will take on at WrestleMania in what will be his retirement match, but with only four weeks left it'll be built up soon enough.
Kurt Angle was inducted into the WWE Hall of Fame in 2017. Later that year, Angle would make his first on-camera appearance in the WWE in nearly 11 years. Vince McMahon appointed Angle the new General Manager of Monday Night RAW.
Angle would butt heads with Stephanie McMahon, the commissioner of RAW, and would eventually team with Ronda Rousey against Stephanie and Triple H at WrestleMania 34.
Another story beat involving Kurt Angle saw him finding out that WWE Superstar Jason Jordan, who at the time was one half of the team American Alpha, was his son. Jordan soon exploited Angle's position in the company to get title shots; however, this story remains unresolved as Jordan would suffer a neck injury he has yet to recover from.
Other highlights from Kurt's return to WWE include when he filled-in for Roman Reigns as part of the Shield during their scheduled match at the TLC pay-per-view. Roman fell ill and Kurt teamed with Dean Ambrose and Seth Rollins to take on The Miz, Braun Strowman, Kane, Sheamus and Cesaro in a five-on-three handicap match, a fight the Shield would win.
And, yes, Angle won his final match in his hometown, defeating Apollo Crews.
What do you think of Kurt Angle announcing his last match in the company? Who do you think he will face? Let us know in the comments section below.