Kurt Angle Loses in Farewell Match at WrestleMania 35; Thanks WWE Universe
In a surprising finish, Kurt Angle lost his last match in the WWE against Baron Corbin at WrestleMania 35.
Angle pulled out all the stops, hitting Corbin with four Angle Slams and an Ankle Lock, but nothing could fall the dastardly former RAW general manager. Angle went to the top rope to attempt a moonsault but would miss, which led to Corbin hitting the End of Days on the Olympic gold medalist.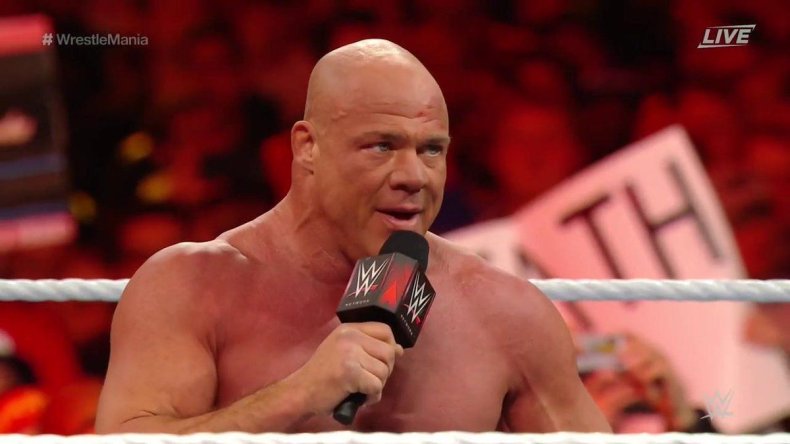 After the match, Angle made a speech to the MetLife Stadium crowd saying that the last 20 years was the best and he wanted to thank everyone in the WWE Universe. He then asked the WWE Universe to do his "you suck" chant one last time.
The road to WrestleMania 35 for Kurt Angle was more straightforward than normal feuds.
After weeks of teasing, Angle revealed on the March 18 episode of Monday Night RAW that he wanted to face Baron Corbin at WrestleMania - to the chagrin of the WWE Universe.
Following the announcement, Angle would have a farewell tour as he would face Apollo Crews, Chad Gable and Samoa Joe. Angle was scheduled to fight AJ Styles, but was interrupted by Randy Orton.
Corbin and Angle have a history, which made their WrestleMania 35 match make sense. Angle was the RAW general manager when Baron Corbin was hired to be "The Constable" to make sure Kurt was making the right decisions. After weeks of antagonizing and overstepping his power, Angle and Corbin would come to blows. However, Stephanie McMahon would put Angle on a mandatory vacation that he would not come back from. Baron would then become the general manager during what many believe to be one of the worst creative runs of RAW.
Baron would lose his job as GM but Angle still had beef with Corbin. The two would fight, but Corbin would defeat Kurt in a one-on-one match. Angle chose Baron as his opponent to get his win back.
What did you think of Kurt Angle's last match in WWE? Let us know in the comments section below.