Fans Remember Nirvana's Kurt Cobain on What Would Have Been His 53rd Birthday
Nirvana fans Thursday remembered the band's late singer and guitarist, Kurt Cobain, on what would have been his 53rd birthday.
Cobain formed Nirvana in 1987 in Aberdeen, Washington with bassist Krist Novoselic. The band released their debut album Bleach in 1989, with drummer Chad Channing. In 1990, future Foo Fighter Dave Grohl joined the band on drums before recording their mainstream breakthrough Nevermind. The album, which featured classics "In Bloom," "Come as You Are," and their signature song "Smells Like Teen Spirit," launched the group to superstardom and kicked off the grunge music revolution of the early '90s.
The band's third album In Utero was released in September 1993, which featured the hits "Heart-Shaped Box" and "All Apologies." In November of that same year, Nirvana recorded an acoustic set for MTV Unplugged.
Cobain died by suicide on April 5, 1994 at the age 27. Since his death, Nirvana, who were inducted into the Rock and Roll Hall of Fame in 2014, have put out several archival live albums and compilations. In 2015, a collection of Cobain's demos and solo recordings were released to accompany the HBO documentary Montage of Heck.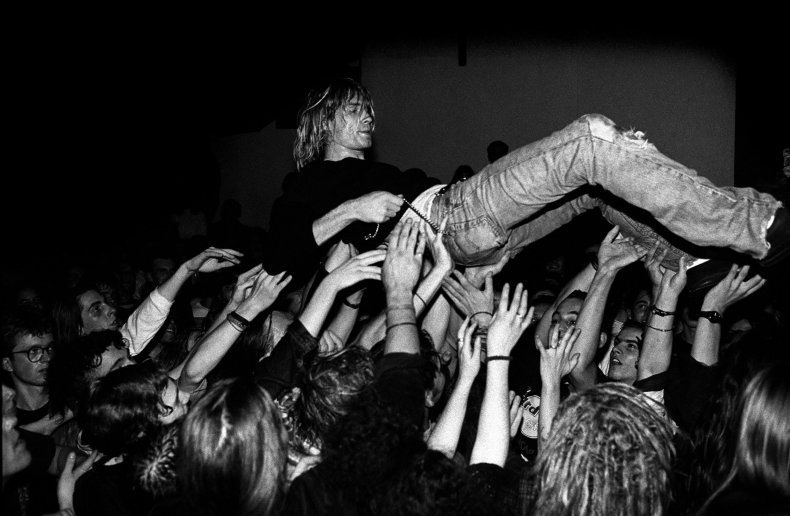 Many fans marked the singer's birthday by sharing moments from his life and how his views on feminism and racism are still relevant. One fan shared a clip taken during the In Utero tour where he intervened when he noticed a man in the crowd groping a female fan.
Another tweeted an excerpt from the liner notes of Incesticide--a 1992 collection of Nirvana's B-sides and rarities--in which Cobain told homophobic, racist and sexist fans that he didn't want them to listen to the band's music. He also wrote that he was upset to learn that two men had sexually assaulted a woman while singing "Polly."
"I have a hard time carrying on knowing there are plankton like that in our audience," Cobain remarked.
Far Out Magazine posted a clip from MTV Unplugged, where Cobain mumbled along to Lynyrd Skynyrd's "Sweet Home Alabama."
DJ Mike Jones tweeted a link to the "Jesus Doesn't Want Me for a Sunbeam" performance from Unplugged.
Other Twitter users focused on Nirvana's music, sharing records and songs that resonated with them. Comedian Sean Kent tweeted that In Utero was a "saved my life" album. Another fan wrote fondly about hearing Nirvana for the first time at 13.
Delmarva Now planning director Keith Demko tweeted that he spent most of the morning listening to the Bleach and In Utero albums. "[T]hey sound as revolutionary as ever," he wrote.
Some fans simply shared photos of the singer, from iconic live performance shots to candid photos. They wrote that they missed him and celebrated his legacy.
If you have thoughts of suicide, confidential help is available for free at the National Suicide Prevention Lifeline. Call 1-800-273-8255. The line is available 24 hours every day.