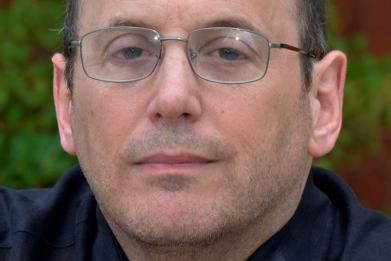 Updated | An alleged Twitter troll behind a virtual attack that caused Newsweek senior writer Kurt Eichenwald to suffer a seizure was arrested on Friday for cyberstalking. The suspect faces federal charges and could face additional counts in Dallas, where Eichenwald lives, according to the writer.
Steven Lieberman, Eichenwald's lawyer, named the suspect as John Rivello. A law enforcement official who spoke on the condition of anonymity initially confirmed the name, and a United States Department of Justice statement further confirmed it Friday evening. FBI officials arrested the man at his home in Salisbury, Maryland, around 7 a.m. Friday, according to Lieberman. Rivello was expected to appear at a hearing in federal court in Baltimore on Friday afternoon, the lawyer said.
Related: Newsweek writer takes action after tweet causes seizure
"What Mr. Rivello did with his Twitter message was no different from someone sending a bomb in the mail or sending an envelope filled with anthrax spores," Lieberman says. "It wasn't the content of the communication that was intended to persuade somebody or make them feel badly about themselves; this was an electronic communication that was designed to have a physical effect."
On December 15, hours after Eichenwald appeared on Tucker Carlson Tonight, the Twitter user @jew_goldstein tweeted a strobing image to the writer that allegedly said, "You deserve a seizure." Later that night, in a reply to @jew_goldstein, a post appeared on the Eichenwald's Twitter feed that said, "This is his wife, you caused a seizure. I have your information and have called the police to report the assault."
The next day, Eichenwald tweeted that he would be working with lawyers and law enforcement. "Last night, for the second time, a deplorable aware I have epilepsy tweeted a strobe at me with the message 'you deserve a seizure' on it," he wrote. "It worked. This is not going to happen again. My wife is terrified. I am...disgusted."
Eichenwald had previously written for Newsweek about his being epileptic and about how another person had sent him a strobing message. That attack did not cause a seizure.
Eichenwald filed a petition in a Dallas County court on December 19, requesting an expedited discovery process so that he could seek records from Twitter. A judge granted the petition later that day.
In January, the individual behind the attack, named in court documents as John Doe, filed a motion to prevent Twitter from disclosing his identity. A lawyer for that person wrote in the motion that Eichenwald was making an "attempt to use his suit to chill the First Amendment and further embarrass and harass Doe." Days later, Eichenwald's lawyer told the court that because they had figured out the identity of the "assailant," they would withdraw the request for Twitter's help.
Lieberman declined to say how they learned of the suspect's identity.
"We're very gratified that the government has worked hard and promptly to make sure that the person who was responsible for this attack is held to account," Lieberman says. "It sends an important message that there is no free shot against journalists in the country."
Rivello was a student at Wor-Wic Community College in Salisbury until December 2014 and did not graduate, according to the school. Salisbury's Trinity United Methodist Church also listed a person with that name in a 2016 newsletter. Rivello is 29 and registered as a Republican, according to public records.
The Justice Department released additional details Friday afternoon after Rivello appeared in court. A search warrant found that in direct messages to other Twitter users, Rivello wrote, "I hope this sends him into a seizure," "Spammed this at [victim] let's see if he dies," and "I know he has epilepsy." The search warrant also found screenshots on Rivello's iCloud account "from epilepsy.com with a list of commonly reported epilepsy seizure triggers," the Justice Department said, and other screenshots related to Eichenwald.
Since the December incident, more than 40 other people have sent similar strobing images to Eichenwald, the writer tweeted on Friday. He said that "details of their cases are with the FBI." A spokesperson for the FBI office in Dallas said she could not comment on ongoing investigations.
This article has been updated to include the name of the person authorities arrested, details about that person and information from a United States Department of Justice statement.