'Mayans M.C.' and 'Sons of Anarchy' Creator Kurt Sutter Takes Shots at Disney After Being Fired: 'They Threw Me Under the F***ing Bus'
Mayans M.C. and Sons of Anarchy creator says he feels thrown "under the f***ing bus" after being fired from the show he created by Disney.
On Thursday, it was reported that Sutter was fired by long-time collaborators Disney Television Studios chairman Dana Walden and FX network chairman John Landgraf, ending an 18-year career with FX on shows including Mayans, Sons and The Shield.
In a letter sent to close friends, obtained by Deadline, Sutter said that he was fired after Disney received complaints from Mayans M.C. producers, writers, cast and crew, claiming that he "created a climate of hostility, favoritism and enabled a set where no one felt safe or appreciated."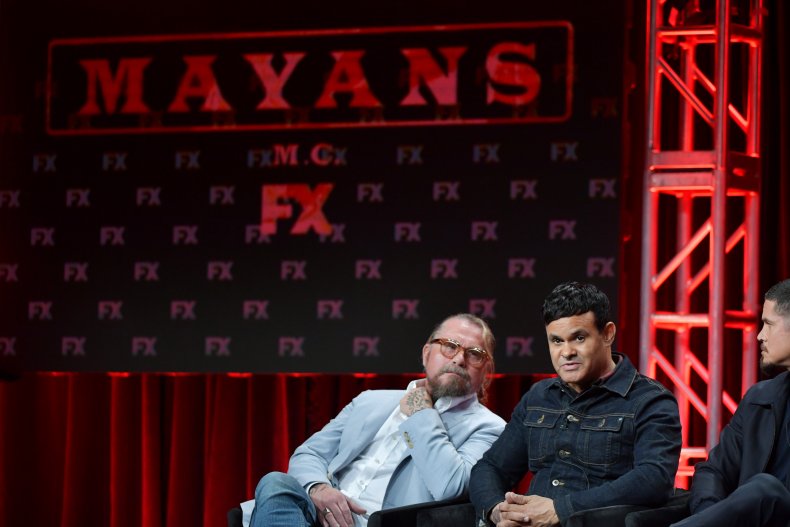 Disney took over ownership of FX and 20th Century Fox Television, which produces Mayans M.C., earlier this year.
Sutter said in the letter that he pulled back on some of his responsibilities as showrunner on Mayans for its second season—currently airing on FX—in order to empower the show's co-creator Elgin James, who served as showrunner for the latest season. He said his hands-off approach to Season 2 led to complaints about his management, or lack thereof.
Sutter blamed his firing on executives at Disney, whom he had clashed with, and that Disney "blamed my dismissal on the cast and crew."
"The truth is, the suits wanted me gone. I stepped on toes and bruised egos. And in this Disney regime, I'm dangerous to the wholesome brand. And clearly not worth the trouble," said Sutter.
Sutter has been open about his atypical style of management on Sons of Anarchy and Mayans M.C., both known for their adult content and themes, in the past, and said he found it difficult working under the auspices of Disney, which is better known for its brand of family entertainment.
"I've felt the creative scrutiny of Disney from day one. Notes on scripts and cuts have been heavy handed. Demanding a level of dumbing-down story and inane PC restraints like I've never experienced before," said Sutter.
In another letter to the show's cast and crew, obtained by The Hollywood Reporter, Sutter said he was fired for being an "abrasive dick."
On social media Thursday, Sutter appeared to take shots at Disney and make light of his firing.
On Instagram, Sutter posted a picture of a theme park ride bearing Mickey Mouse's likeness and ironically captioned it: "The happiest place on earth..."
On Twitter, Sutter posted a job advertisement for a Disney World singer, writing: "Thanks for all the love and support. I've been vocalizing all day. So ready to nail this audition and start my next gig. Hakuna matata, motherf***ers."
Mayans M.C. has not yet been renewed for a third season.