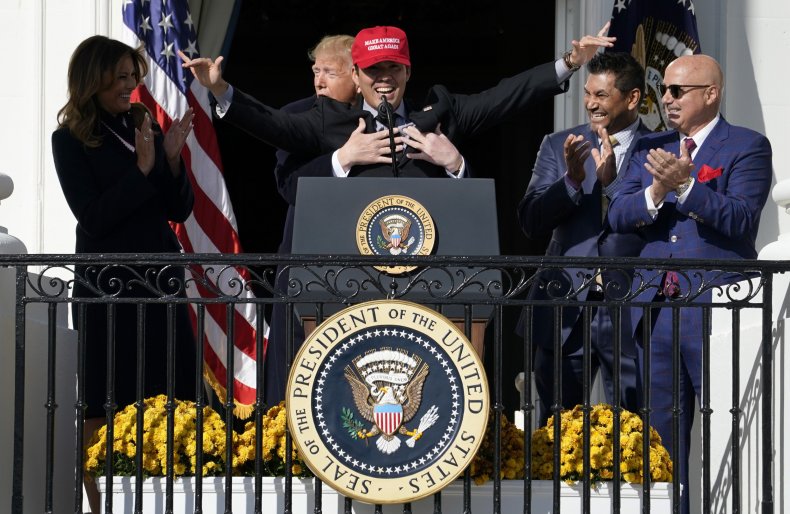 "Kurt Suzuki" began trending in the United States on Monday afternoon after a video of President Donald Trump giving the Washington Nationals catcher a hug from behind—striking a pose reminiscent of the famous "I'm the king of the world!" scene from 1997's Titanic—was shared on social media.
The 36-year-old professional baseball player and his teammates were invited to visit the White House to celebrate their victory in the 2019 World Series, the annual Major League Baseball championship.
It is customary for the president to invite championship-winning sports teams to the White House, a tradition that can be traced at least as far back as 1924 and possibly to 1865, according to Rolling Stone. Such invitations have taken on a political dimension under the Trump administration, however, with many teams and star players declining the honor.
This year, as in previous years, some players from the winning team declined the president's invitation in protest. Relief pitcher Sean Doolittle, the first Nationals player to publicly demur at the president's invitation, told The Washington Post that he would not attend the ceremony today because of Trump's "divisive rhetoric and the enabling of conspiracy theories and widening the divide in this country."
But Suzuki, had no problem accepting Trump's invitation and showing appreciation for the president.
In his speech at the White House on Monday praising the Nationals for their performance and sportsmanship, Trump mentioned an "amazing three-run homer by Kurt Suzuki." He then called the 36-year-old player to the podium.
Suzuki appeared on cue, donning a red ball cap emblazoned with Trump's motto, "Make America Great Again"—an article of clothing emblematic of Trump's supporters since his 2016 campaign—and raised both of his hands triumphantly.
The president appeared surprised by Suzuki's show of support, and gave him a hug from behind.
"I love him!" Trump exclaimed as he gave the ball player what ABC News called an "awkward" embrace.
"I love you. I love you all, thank you. Thank you, Mr. President," Suzuki said.
"What a job he did," Trump said, after the two men shook hands and Suzuki left the podium. "I didn't know that was going to happen."
The president received a very different response when he attended Game 5 of the World Series with the first lady last week.
On Twitter, some users responded positively to Suzuki's gesture, while others mocked him for his apparent support of Trump and joked that the president's hug resembled fondling of a sexual nature.
The Daily Wire, tweeted that the internet should prepare for an incoming "cancel campaign" intended to label Suzuki persona non grata.
Artist Tony Posnanski wrote that Suzuki "went full Curt Schilling," referring to another baseball player who was met with some criticism for openly supporting Trump.
Suzuki, perhaps in anticipation of negative backlash for his gesture, had made his Twitter account private as of 4 p.m. EST on Monday.